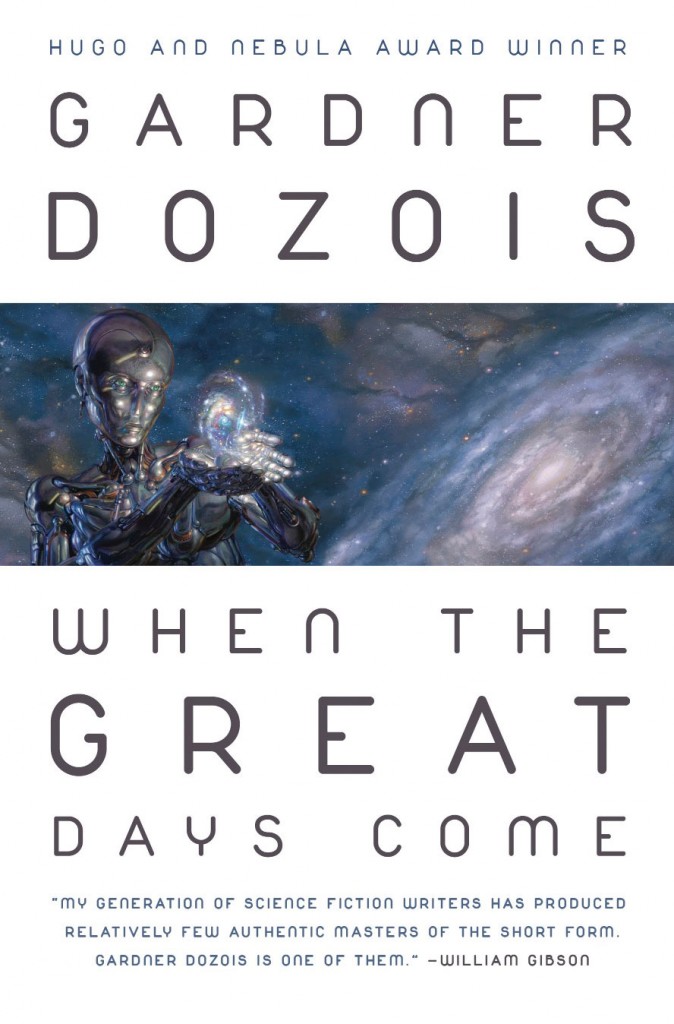 When the Great Days Come by Gardner Dozois (Trade Paperback)
A collection of science fiction and fantasy stories.
[Starred] This emotionally moving collection of Dozois's recent writing and a selection of his best earlier pieces–including his two Nebula winners, "The Peacemaker" and "Morning Child"–is a valuable reminder that the renowned Asimov's editor and anthologist also continues, if sporadically, to write significant fiction. Concentrating on the dilemma of how a rational species deals with its irrational urges, Dozois investigates the value and limits of forgiveness ("Dinner Party"), atonement ("Solace"), and religious belief ("Community," "Disciples"). Humans struggle to communicate with alien colonists ("Chains of the Sea"), rebellious computers ("Recidivist"), and animals ("A Cat Horror Story"). What redeems us are empathy ("A Special Kind of Morning") and the evergreen possibilities of life ("A Knight of Ghosts and Shadows"). Dozois demonstrates his range with classic fantasy, alternate history, and golden age–style horror as well as hard SF.
Read more about the author, Gardner Dozois
"My generation of science fiction writers has produced relatively few authentic masters of the short form. Gardner Dozois is one of them."
—William Gibson
"One of the most gifted writers in the United States."
—Robert Silverberg
"Dozois has been so conspicuously and justifiably honored as an editor during the past decades that his excellence as a writer has tended to be forgotten."
—Booklist
"Gardner Dozois is one of the pre-eminent authors in the history of science fiction and fantasy. One of the strongest talents to enter the field in the last half of the century, Dozois's stories, be they set in a wildly imaginative future or the recent past, are never less than supremely literate, and profoundly human."
—Lucius Shepard
"Gardner Dozois's ear for dialogue never falters, nor does his ability to capture the essence of character in diverse situations. His vision is bleak, yet his words, in contrast, sing. Dozois is a great, neglected American writer."
—Ellen Datlow
"A story from Gardner—all too rare an event—is cause for celebration. A whole collection is a literary milestone. Gardner Dozois is one of the best writers we have. His range and power are astonishing."
—Nancy Kress
"His work is bitter, subtle, exotic, unique: science fiction for the true connoisseur."
—Joe Haldeman
"Intense, well-rendered and colorfully done . . . a careful sculptor of ideas, a sensitive observer of human responses and a narrator who cares about the way things are said."
—Roger Zelazny
"Dozois is a writer who prowls the terrain of nightmare, bringing back strange loves and horrors you will not soon forget. Included here are some of the most imaginative and poignant concepts in recent fiction, incarnated in a sustained, almost tangible realness that holds your eyes to the page."
—James Tiptree, Jr.
Contents
Introduction by Robert Silverberg
Counterfactual
The Hanging Curve
Recidivist
When the Great Days Came
The Peacemaker
Fairy Tale
Chains of the Sea
Solace
A Cat Horror Story
Disciples
Ancestral Voices (with Michael Swanwick)
Dinner Party
A Dream at Noonday
A Special Kind of Morning
Morning Child
A Kingdom by the Sea
Community
A Knight of Ghosts and Shadows
Buy from one of these retailers