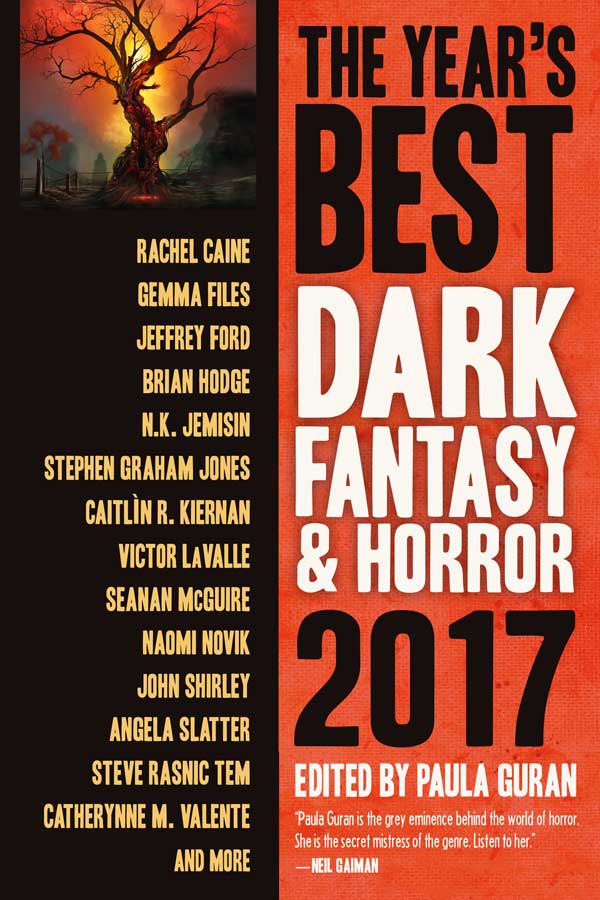 The Year's Best Dark Fantasy & Horror: 2017 edited by Paula Guran
The supernatural, the surreal, and the all-too real... tales of the dark. Such stories have always fascinated us, and modern authors carry on the disquieting traditions of the past while inventing imaginative new ways to unsettle us. Chosen from a wide variety of venues, the stories for the latest volume of the series are as eclectic and varied as shadows.
Contents (in alphabetical order by author's last name)
"Lullaby for a Lost World," Aliette de Bodard (Tor.com 06/16)
"Our Talons Can Crush Galaxies," Brooke Bolander (Uncanny #13)
"Wish You Were Here," Nadia Bulkin (Nightmare # 49)
"A Dying of the Light," Rachel Caine (The Gods of H.P. Lovecraft)
"Season of Glass and Iron," Amal El-Mohtar (The Starlit Wood: New Fairy Tales)
"Grave Goods," Gemma Files (Autumn Cthulhu)
"The Blameless,"Jeffrey Ford (The Natural History of Hell)
"As Cymbals Clash," Cate Gardner (The Dark #19)
"The Iron Man," Max Gladstone (Grimm Future)
"Surfacing," Lisa L. Hannett (Postscripts 36/37: The Dragons of the Night)
"Mommy's Little Man," Brian Hodge (DarkFuse, October)
"The Sound of Salt and Sea," Kat Howard (Uncanny #10)
"Red Dirt Witch," N. K. Jemisin (Fantasy #60)
"Birdfather," Stephen Graham Jones (Black Static #51)
"The Games We Play," Cassandra Khaw (Clockwork Phoenix 5)
"The Line Between the Devil's Teeth (Murder Ballad No. Ten)," Caitlin Kiernan (Sirenia Digest #130)
"Postcards from Natalie," Carrie Laben (The Dark #14)
"The Finest, Fullest Flowering," Marc Laidlaw (Nightmare #45)
The Ballad of Black Tom, Victor LaValle (Tor.com)
"Meet Me at the Frost Fair," Alison Littlewood (A Midwinter Entertainment)
"Bright Crown of Joy," Livia Llewellyn (Children of Lovecraft)
"The Jaws That Bite, The Claws That Catch," Seanan McGuire (Lightspeed #72)
"My Body, Herself," Carmen Maria Machado (Uncanny #12)
"Spinning Silver," Naomi Novik (The Starlit Wood: New Fairy Tales)
"Whose Drowned Face Sleeps," An Owomoyela & Rachael Swirsky (Nightmare # 46/What the #@&% Is That?)
"Grave Goods," Priya Sharma (Albedo One #6)
"The Rime of the Cosmic Mariner," John Shirley (Lovecraft Alive!)
"The Red Forest," Angela Slatter (Winter Children and Other Chilling Tales)
"Photograph," Steve Rasnic Tem (Out of the Dark)
"The Future is Blue," Catherynne M. Valente (Drowned Worlds)
''October Film Haunt: Under the House'', Michael Wehunt (Greener Pastures)
"Only Their Shining Beauty Was Left," Fran Wilde (Shimmer 13)
"When the Stitches Come Undone," A.C. Wise (Children of Lovecraft)
"A Fist of Permutations in Lightning and Wildflowers," Alyssa Wong (Tor.com 03/16)
"An Ocean the Color of Bruises," Isabel Yap (Uncanny #11)
"Fairy Tales are for White People," Melissa Yuan-Innes (Fireside Magazine Issue 30)
"Braid of Days and Wake of Nights," E. Lily Yu (F&SF, Jan-Feb)
Also available as ebook!