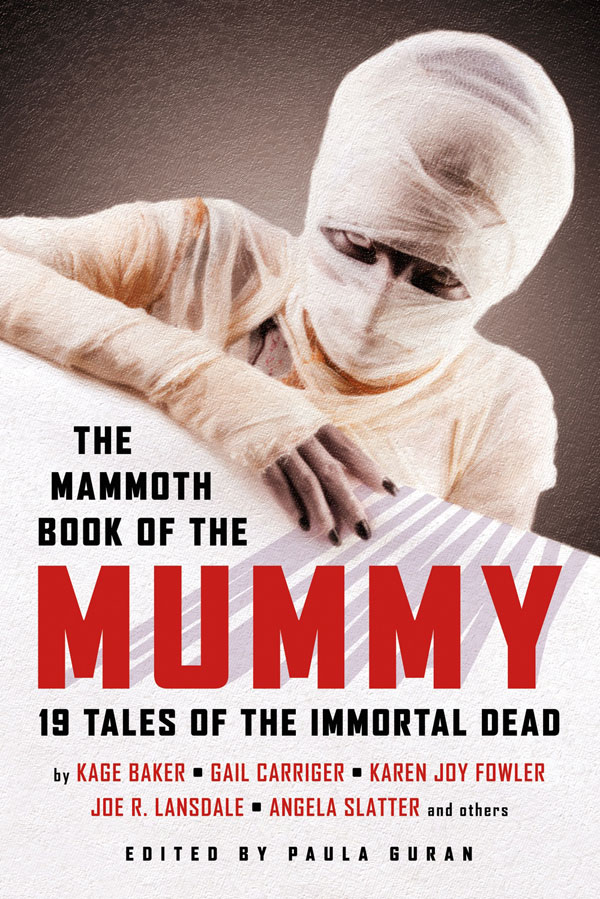 The Mammoth Book of the Mummy edited by Paula Guran
The Mummy Lives!
As a figure of the supernatural the mummy has attained iconic status in the popular imagination. For the first time, The Mammoth Book of the Mummy presents a collection of tales written for the twenty-first century—including four brand-new stories—that explore, subvert, and reinvent the mummy mythos. Some delve into the past, others explore alternative histories, and some bring mummies into our own world. Within these covers lie stories of revenge, romance, monsters, and mayhem, ranging freely across time periods, genres, and styles sure to please both mummy-lovers and those less wrapped up in mummy lore.
Contents Alphabetical by Author (* indicates original story)
Kage Baker, "The Queen in Yellow"
Gail Carriger, "The Curious Case of the Werewolf That Wasn't, the Mummy That Was, and the Cat in the Jar"
Paul Cornell, "Ramesses on the Frontier"
Terry Dowling, "The Shaddowes Box"
Carole Nelson Douglas, "Fruit of the Tomb"
Steve Duffy, "The Night Comes On"
Karen Joy Fowler, "Private Grave 9"
Will Hill, "Three Memories of Death"
*Stephen Graham Jones, "American Mummy"
John Langan, "On Skua Island"
Joe R. Lansdale, "Bubba-Ho-Tep"
*Helen Marshall, "The Embalmer"
Kim Newman, "Egyptian Avenue"
Norman Partridge, "The Mummy's Heart"
Adam Roberts, "Tollund"
Robert Sharp, "The Good Shabti"
*Anglea Slatter, "Egyptian Revival"
Keith Taylor, "The Emerald Scarab"
Lois Tilton & Noreen Doyle, "The Chapter of Coming Forth by Night"
Also available as ebook!