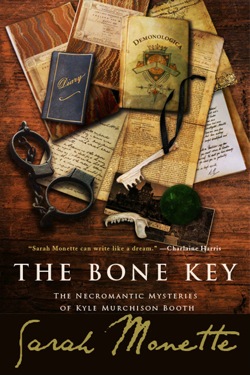 The Bone Key: The Necromantic Mysteries of Kyle Murchison Booth by Sarah Monette
Kyle Murchison Booth is the unlikeliest of characters to gain a cult following, yet he has. Eccentric, socially awkward Booth is an introverted museum archivist, descended from a most unusual family, who frequently finds himself in the midst of most unsettling supernatural experiences and involved in strange necromantic mysteries. A gentleman and a scholar, this unwilling hero persevered through THE BONE KEY, a series of interconnected short stories, to win readers' hearts (and possibly their souls).
This new edition—with a "puzzle" cover and a new introduction by one of Booth's "successors" at the Samuel Mather Parrington—will please current fans and allow even more to discover its dark charms.
"Sarah Monette writes like a dream." – Charlaine Harris
"This entrancing collection will appeal to fans of literary horror, dark fantasy and supernatural mystery." – Publishers Weekly
Buy from one of these retailers