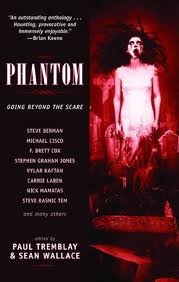 Phantom edited by Paul Tremblay & Sean Wallace
No ax murderers hunting sexy teens. No brutal torture for torture's sake. Phantom goes beyond the scare! Paranoid gold prospectors, lonely curators, Satan-worshiping Long Island teens, metaphysics-obsessed television reporters, a couple with a devastating choice to make... the stories of Phantom ask: How does anyone live through this? Fourteen stories by some of today's most thoughtful writers of horror including Steve Rasnic Tem, Lavie Tidhar, F. Brett Cox, Stephen Graham Jones, Steve Berman, Nick Mamatas, Michael Cisco, and others.
Publishers Weekly:
Ghosts, disaffected wives, deserted towns, obsessive journalists and children who never existed haunt the pages of this stunning, elegant and frightful anthology of literary horror assembled by Stoker nominee Tremblay and World Fantasy Award–winning Wallace . There are no chainsaw massacres in these 14 exquisite tales, which range from Steve Berman's hilarious Kafkaesque "Kinder," about an infestation of German children, to Stephen Graham Jones's "The Ones Who Got Away," a riveting account of a kidnapping gone wrong. The most outstanding piece is Lavie Tidhar's "Set Down This," a devastating story of YouTube videos, the Iraq War and the unknown lives on both sides of the conflict.... [A] deliciously creepy book of horrors that prove all the more terrifying for their everyday nature.
Booklist:
[T]his slender volume of highbrow horror stories offers superlative craftsmanship without sacrificing the indispensable chills. The assembled authors...have in common twisted imaginations and respect for literary distinction. In Steve Eller's "The End of Everything," a killer is astounded and relieved to discover that the post-apocalyptic zombies roaming the streets aren't the least interested in feasting on him. Two teen-aged kidnappers in Stephen Graham Jones' "The Ones Who Got Away" get more than they bargained for when they realize their intended victim is the child of a machete-wielding judge.... [The creators] startle the reader with unusual premises and unsettling imagery. --Carl Hays
Buy from one of these retailers