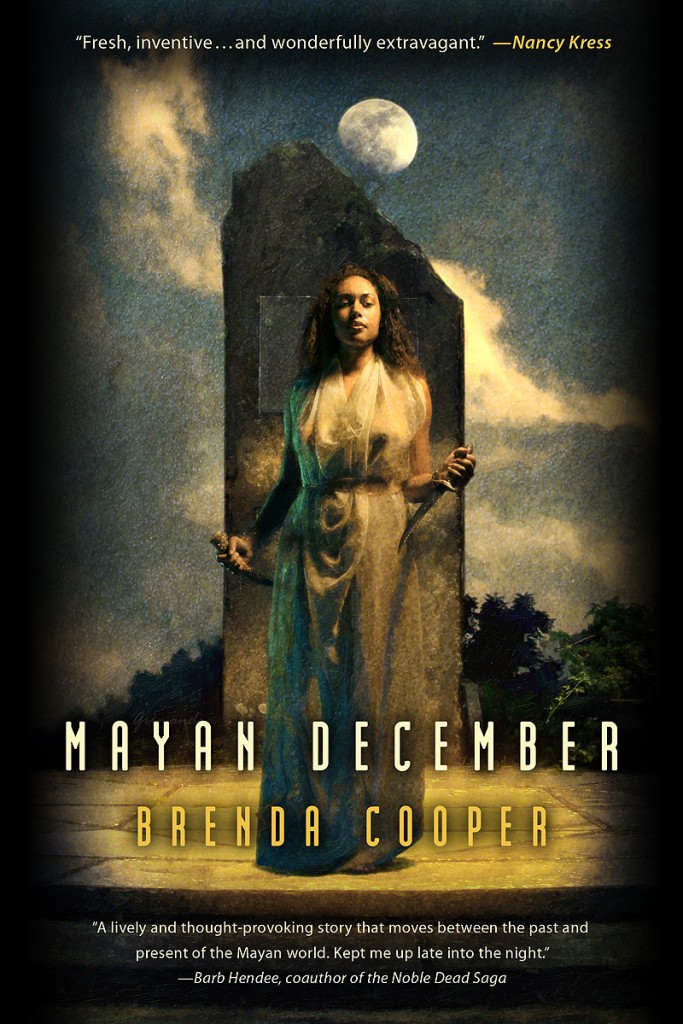 Mayan December by Brenda Cooper
"Wonderful read! A lively and thought-provoking story that moves between the past and present of the Mayan world, filled with engaging characters, vivid descriptions, and unexpected turns. Kept me up late into the night."—Barb Hendee co-author of the Noble Dead Saga
"A fresh, inventive look at the 2012 end of the world. Whatever you're expecting, this will be different, including a rich portrayal of vanished Mayan culture and wonderfully extravagant ending. Journey with Alice and Nixie and Ah Bahlam to places we would all like to go; the journey will repay you tenfold."—Nancy Kress
Dr. Alice Cameron is a famous scientist - an archeoastronomer - devoted to studying ancient Mayan culture. The era driving her career has always been the end of the Mayan baktun, so she's on the Yucatan Peninsula in December 2012 with her daughter Nixie...and so are fellow serious scholars, plenty of end-of-the-world crazies, and - at an international summit - the President of the United States and other heads of state. When Nixie disappears into the past in the Mayan jungle, rationality and mysticism, the present and the past start merging. Meanwhile, Alice is drawn into the machinations of statecraft by an old friend. A savvy scientist, a handsome dreadlocked time-traveler, an ancient shaman, a Mayan couple, a computer nerd, and an 11-year old traverse the past and present in a search for the meaning of life and a way to save two worlds.
Publishers Weekly Review:
Cooper interweaves past and present in this elegantly understated narrative of the Mayan calendar ending in 2012…Alice Cameron is an archeoastronomer visiting the Yucatán to view the December 2012 celestial alignment. Her 11-year-old daughter, Nixie, sees the trip as an adventure, but she gets more excitement than she bargains for when she walks into the past and meets Ah Bahlam, a young Mayan lord, and a weeping young woman named Hun Kan. As time thins, the two Mayans, their world crumbling into war, will have their destinies altered by the encounter, and the changes may ripple through Alice's and Nixie's increasingly grim present…Nixie is delightful, and Cooper illuminates the colorful Mayan world with imagination-hugging historical and cultural detail.
Locus Review:
[A] seemingly fictional oddity that appears in our own world is predictions of impending doom based on ancient Mayan religious beliefs that place the drastic end of an epoch this year or next, according to their ideas about celestial cycles. Though modern scientists don't buy the prediction, it did come from a civilization with sophisticated knowledge of astronomy. It's that, rather than the crazies ranting about the end days, which inspires archaeo-astronomer Dr. Alice Cameron to make her latest visit to the Yucatan Peninsula during the fated final month of 2012, in Brenda Cooper's fantasy Mayan December. As the book begins, the scientist's preteen daughter Nixie prefers immediate things like "a thousand tiny patterns in the sand" beneath her feet, the "stench of stale frying oil mixed with the scent of salt and seaweed," and the babble of languages from visitors and natives who throng this beach. Switching between perspectives that include Alice's educated skepticism, Nixie's attention to details, and some early Mayans' very different notions of their world, Mayan December achieves the unlikely feat of making a novel about time travelers at a crucial (shared) moment not just vivid but convincing. It never loses all connection with sanity or hope, despite threats ranging from the possibility of wholesale collapse for two great civilizations to more specific elements like Mayan religious rites of human sacrifice: a weird belief which becomes a very real possibility for Hun Kan, the young woman captured while our time-traveling moderns look on but cannot help her. (In a gory vignette, that fate does befall one of Hun's friends.) Though she becomes a kind of tribal Juliet to the tyro priest/shapechanger Ah Balam's Romeo, almost resigned to early death, in more optimistic moments she can still picture a happy ending: just herself and Ah Balam, together in a household with their very own slaves. After Nixie abruptly disappears, her mother and a little band of misfits—an educated local woman, a geek, and an obsessed explorer whose growing interest in Alice rattles her just when she needs all her wits about her—try to find the girl in a zone where time has become strangely porous. Even those seeming opposites, magic and technology, don't always stay where they belong. Things like a quetzal's gorgeous feather shifting between centuries, cell-phone snapshots of Itza's temples in their original gaudy paint-jobs, and the gift of a modern watch to a baffled Mayan girl lead to some bloodshed and may portend far worse. These dangers concentrate the mind, heart and spirit (and produce internal quarrels). Cooper handles one further complication, an international conference that brings world leaders to the Yucatan, through a deft interplay of scenes in the two eras. How is an archaeological tour for VIPs like a ritual dance for one's own fetish beast? Mayan December provides some provocative answers.
Book Trailer:
Buy from one of these retailers