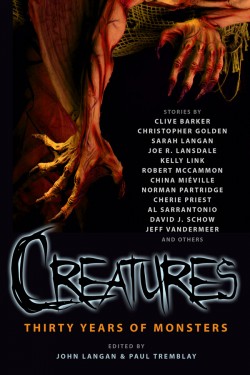 Creatures: Thirty Years of Monsters edited by John Langan & Paul Tremblay
Monsters: As old as the oldest of stories, as new as our latest imaginings. From the ancient stone corridors of the labyrinth to the graffitied alleyways of the contemporary metropolis, they stalk the shadows. Leering from the darkness of the forest, jostling for space in our closets, they walk, crawl, creep and scuttle through our nightmares. Close as the clutter under the bed or waiting just the other side of the mirror, they are our truest companions.
Creatures! The best monster fiction from the past thirty years offers a wide variety of the best monster tales--including three original stories--from speculative fiction's most relevant names and hottest newcomers including Clive Barker, Sarah Langan, Joe R. Lansdale, Kelly Link, China Miéville, and Cherie Priest.
Creatures! Contents
IT CAME AND WE KNEW IT
"Godzilla's Twelve-Step Program," Joe R. Lansdale
"The Creature from the Black Lagoon," Jim Shepard
"After Moreau," Jeffrey Ford
"Among Their Bright Eyes," Alaya Dawn Johnson
"Under Cover of Night," Christopher Golden
"The Kraken," Michael Kelly
"Underneath Me, Steady Air," Carrie Laben
IT CAME WE COULD NOT STOP IT
"Rawhead Rex," Clive Barker
"Wishbones," Cherie Priest
"The Hollow Man," Norm Partridge
"Not from Around Here," David J. Schow
"The Ropy Thing," Al Sarrantonio
"The Third Bear," Jeff Vandermeer
IT CAME FOR US
"Monster," Kelly Link
"Keep Calm and Carillon," Genevieve Valentine
"The Deep End," Robert R. McCammon
"The Serpent and the Hatchet Gang," F. Brett Cox
"Blood Makes Noise," Gemma Files
"The Machine Is Perfect, the Engineer Is Nobody," Brett Alexander Savory
"Proboscis," Laird Barron
IT CAME FROM US
"Familiar," China Miéville
"Replacements," Lisa Tuttle
"Little Monsters," Stephen Graham Jones
"The Changeling," Sarah Langan
"The Monsters of Heaven," Nathan Ballingrud
"Absolute Zero," Nadia Bulkin
Buy from one of these retailers