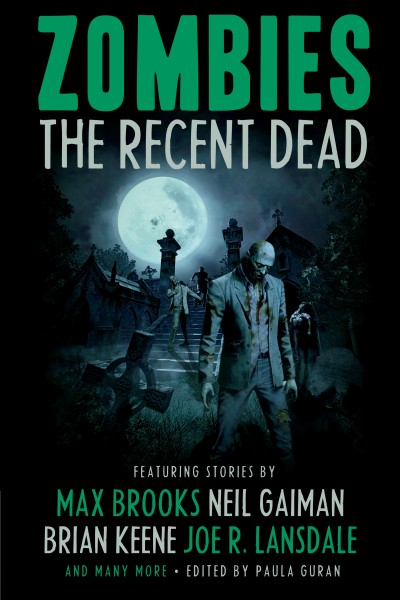 Zombies: The Recent Dead edited by Paula Guran
You can't kill the dead.
Like any good monster, the zombie has proven to be ever-evolving, monumentally mutable, and open to seemingly endless
imaginative interpretations: the thralls of voodoo sorcerers, George Romero's living dead, societal symbols, dancing thrillers, viral victims reanimated ramblers, video gaming targets, post-apocalyptic permutations, shuffling sidekicks, literary mash-ups, the comedic, and, yes, even the
romantic.
They just keep shambling back.
Evidently, we have an enduring hunger for this infinite onslaught of the ever-hungry dead. Hordes of readers are now devouring zombie fiction faster than armies of the undead could chow down their brains. It's a sick job, but somebody had to do it: explore innumerable necrotic nightmares of the latest, greatest, most fervent devotion in the history of humankind and dig up the best of new millennial zombie stories.
Contents
PRESHAMBLE, Paula Guran
INTRODUCTION, David J.Schow
DEADITORIAL NOTE, Paula Guran
TWISTED, Kevin Veale
THE THINGS HE SAID, Michael Marshall Smith
NAMING OF PARTS, Tim Lebbon
DATING SECRETS OF THE DEAD, David Prill
LIE STILL, SLEEP BECALMED, Steve Duffy
THE GREAT WALL: A STORY FROM THE ZOMBIE WAR, Max Brooks
FIRST KISSES FROM BEYOND THE GRAVE, Nik Houser
ZORA AND THE ZOMBIE, Andy Duncan
OBSEQUY, David J. Schow
DEADMAN'S ROAD, Joe R. Lansdale
BITTER GROUNDS, Neil Gaiman
BEAUTIFUL WHITE BODIES, Alice Sola Kim
GLORIETTA, Gary A. Braunbeck
FAREWELL, MY ZOMBIE, Francesca Lia Block
TRINKETS, Tobias S. Buckell
DEAD MAN'S LAND, David Wellington
DISARMED AND DANGEROUS, Tim Waggoner
THE ZOMBIE PRINCE, Kit Reed
SELECTED STORIES FROM THE END OF THE WORLD, Brian Keene
THE HORTLAK, Kelly Link
DEAD TO THE WORLD, Gary McMahon
THE LAST SUPPER, Scott Edelman
Publishers Weekly: "In this hefty anthology of 22 short stories originally published between 2000 and 2010, zombies run the gamut from shambling, mindless killers to transformed super-cool high school students. Introductions by Guran and David J. Schow contextualize the zombie oeuvre. In Kevin Veale's darkly hilarious "Twisted," two men manage to escape the zombies by ingesting huge amounts of drugs. In Kit Reed's call-and-response "The Zombie Prince," a strange creature and a recently rejected woman have an increasingly intimate conversation about loss and life. Tim Lebbon's coming-of-age novella, "Naming of Parts," in which a boy and his parents flee zombies across postapocalyptic England, delivers an emotional punch despite its by-the-numbers adult-child role reversal. In "Zora and the Zombie," Andy Duncan combines fact and fiction as Zora Neale Hurston confronts zombies in Haiti. This collection has something for every zombie fan."
Necroscope: [A] reprint anthology comprising twenty-three 'new millennial' zombie stories by many current heavyweights of the zombie and horror genres. While a number of the tales may now be overly-familiar to zombie obsessives like myself, due to their inclusion in numerous recent anthologies, editor Guran has done a wonderful job of casting the net wide and including a range of lesser-known, though still quite excellent pieces of short fiction. From modern classics such as Neil Gaiman's 'Bitter Grounds', Scott Edelman's 'The Last Supper' and David J. Schow's 'Obsequy', to rarer gems such as Tim Lebbon's 'Naming of Parts', Alice Sola Kim's 'Beautiful White Bodies', and Gary McMahon's 'Dead to the World', there's truly something here for every reader. Zombies: The Recent Dead is a must-read for zomfans, and a terrific addition to the genre.
Buy from one of these retailers