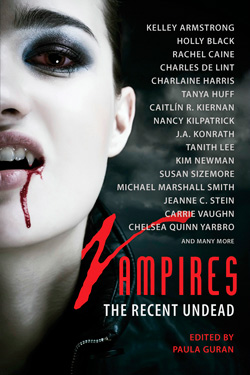 Vampires: The Recent Undead, edited by Paula Guran
The undead are more alive today than ever. Immortal? Indeed.
Nothing has sunk its teeth into twenty-first century popular culture as pervasively as the vampire. The fangsters have the freedom to fly across all genres and all mediums—there are even apps for vamps. Whether roaming into romance, haunting horror, sneaking into science fiction, capering into humor, sucking on the sociopolitical, titillating teens, meandering through mystery, heating up supernatural sex, or charming children—no icon is more versatile than the vampire.
Slake your insatiable thirst and drink deeply of twenty-five of the best sanguinary stories of the new millennium: terrifying or tender, deadly or delicious, badass or beneficent, romantic or rude, funny or frightening, wily or weary, classic or cutting edge...
Contents
* The Coldest Girl in Coldtown * Holly Black
* This Is Now * Michael Marshall Smith
* Sisters * Charles de Lint
* The Screaming * J.A. Konrath
* Zen and the Art of Vampirism *Kelley Armstrong
* La Vampiresse * Tanith Lee
* Dead Man Stalking * Rachel Caine
* The Ghost of Leadville * Jeanne C. Stein
* Waste Land * Stephen Dedman
* Gentleman of the Old School * Chelsea Quinn Yarbro
* No Matter Where You Go * Tanya Huff
* Outfangthief * Conrad Williams
* Dancing with the Star * Susan Sizemore
* A Trick of the Dark * Tina Rath
* When Gretchen was Human * Mary Turzillo
* Conquistador de la Noche * Carrie Vaughn
* Endless Night * Barbara Roden
* Dahlia Underground * Charlaine Harris
* The Belated Burial * Caitlín R. Kiernan
* Twilight States * Albert Cowdrey
* To the Moment * Nisi Shawl
* Castle in the Desert: Anno Dracula 1977 * Kim Newman
* Vampires in the Lemon Grove * Karen Russell
* Vampires Anonymous * Nancy Kilpatrick
* The Wide, Carnivorous Sky * John Langan
* Selected Vampire Anthologies: 2000-2010
REVIEWS:
Library Journal: Guran...has selected 25  vampire stories of the "new millennium" that reflect a diversity of  themes. Holly Black's "The Coldest Girl in Cold Town" provides a  bleak look at what it means to trade your humanity for immortality  and eternal thirst. On the other hand, Tanya Huff's heroine, Vicki  Nelson, in "No Matter Where You Go" unselfishly follows three  desperate teens into a hellish alternate universe. Tanith Lee uses  her wonderfully bizarre imagination for an unusual take on the  vampire theme in "La Vampiresse." Nisi Shawl's "To the Moment"  combines the themes of love and the predatory nature of the vampire,  while Johan Langan chills the reader with a horrifying tale of a creature haunting four American soldiers in "The Wide, Carnivorous  Sky." Other noted fantasy authors, including Carrie Vaughn, Jeanne  C. Stein, Kelley Armstrong, Nancy Kilpatrick, and Chelsea Quinn  Yarbro, are well represented here. VERDICT: This splendid collection will appeal to readers of the vampire genre  as well as fantasy in general.—Patricia Altner, BiblioInfo.com,  Columbia, MD
Publishers Weekly: Guran  compiles 25 21st-century vampire stories, with an all-star author lineup. Several stories focus on vampirism as a cure for disease, as in Mary A. Turzillo's "When Gretchen Was Human," in which a mother sacrifices her humanity for the chance of curing her daughter's cancer, and Charles de Lint's "Sisters," in which a lonely vampire persuades herself that her frail human sister ought to be turned. Tanith Lee's "La Vampiresse" has a satisfyingly twisty ending. In "Dahlia Underground," Charlaine Harris's titular character, a vampire who hates humans, finds herself forced to work with them. In Kelley Armstrong's hilarious "Zen and the Art of Vampirism," vampire Zoe repels a team of takeover wannabes. The stories mostly harp on familiar themes: death, immortality, loss. Only a few standouts provide real insight into the (in)human condition.
Buy from one of these retailers