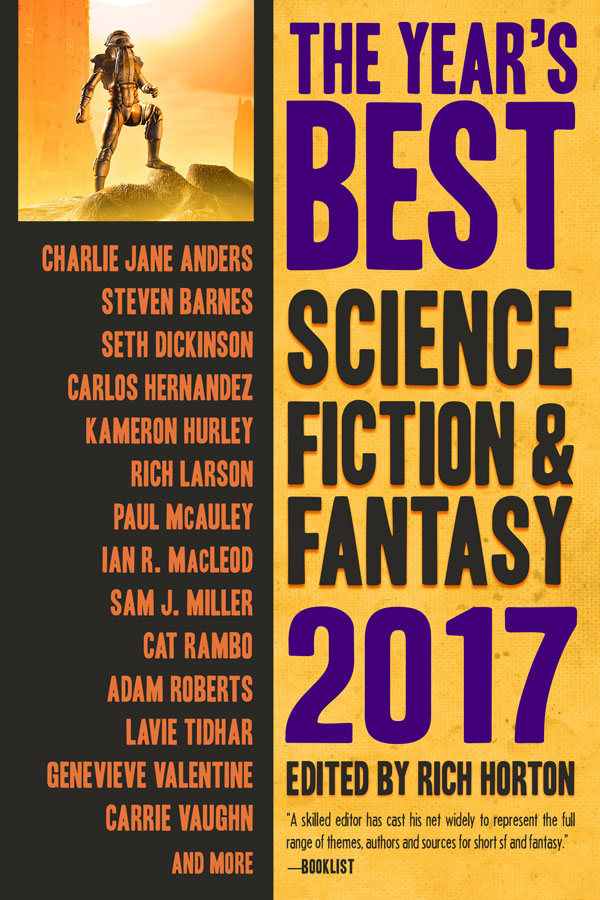 The Year's Best Science Fiction & Fantasy: 2017 edited by Rich Horton
Portals to all the knowledge in the world, libraries are also created universes of a multitude of imaginations. Librarians guide us to enlightenment as well as serving as the captains, mages, and gatekeepers who open the doors to delight, speculation, wonder, and terror. This captivating compilation of science fiction and fantasy short fiction showcases stories of librarians—mysterious curators, heroic bibliognosts, arcane archivists, catalogers of very special collections—and libraries—repositories of arcane wisdom, storehouses of signals from other galaxies, bastions of culture, the last outposts of civilization in a post-apocalyptic world...
CONTENTS
"Seven Ways of Looking at the Sun-Worshippers of Yul-Katan" by Maggie Clark (Analog)
"All that Robot Shit" by Rich Larson (Asimov's)
"Project Empathy" by Dominica Phetteplace (Asimov's)
"Lazy Dog Out" by Suzanne Palmer (Asimov's)
"The Visitor from Taured" by Ian R. MacLeod (Asimov's)
"Openness" by Alexander Weinstein (Beloit Fiction Journal)
"In Skander, for a Boy" by Chaz Brenchley (Beneath Ceaseless Skies)
"Laws of Night and Silk" by Seth Dickinson (Beneath Ceaseless Skies)
"Blood Grains Speak Through Memories" by Jason Sanford (Beneath Ceaseless Skies)
"Rager in Space" by Charlie Jane Anders (Bridging Infinity)
"Ozymandias" by Karin Lowachee (Bridging Infinity)
"The Bridge of Dreams" by Gregory Feeley (Clarkesworld)
"Everyone from Themis Sends Letters Home" by Genevieve Valentine (Clarkesworld)
"Things with Beards" by Sam J. Miller (Clarkesworld)
"Innumerable Glimmering Lights" by Rich Larson (Clockwork Phoenix 5)
"Between Nine and Eleven" by Adam Roberts (Crises and Conflicts)
"Red of Tooth and Cog" by Cat Rambo (The Magazine of Fantasy & Science Fiction)
"The Vanishing Kind" by Lavie Tidhar (The Magazine of Fantasy & Science Fiction)
"A Fine Balance" by Charlotte Ashley (The Magazine of Fantasy & Science Fiction)
"Empty Planets" by Rahul Kanakia (Interzone)
"Fifty Shades of Grays" by Steven Barnes (Lightspeed)
"I've Come to Marry the Princess" by Helena Bell (Lightspeed)
"RedKing" by Craig deLancey= Lightspeed
"A Non-Hero's Guide to The Road of Monsters" by A.T. Greenblatt, (Mothershipship Zeta)
"Dress Rehearsal" by Adrian Tchaikovsky, (Now We Are Ten)
"The Plague Givers" by Kameron Hurley, (Patreon)
"Gorse Daughter, Sparrow Son" by Alena Indigo Anne Sullivan (Strange Horizons)
"The Magical Properties of Unicorn Ivory" by Carlos Hernandez (The Assimilated Cuban's Guide to Quantum Santeria)
"Something Happened Here, But We're Not Quite Sure What It Was" by Paul McAuley (Tor.com)
"That Game We Played During the War" by Carrie Vaughn (Tor.com)
Also available as an ebook!