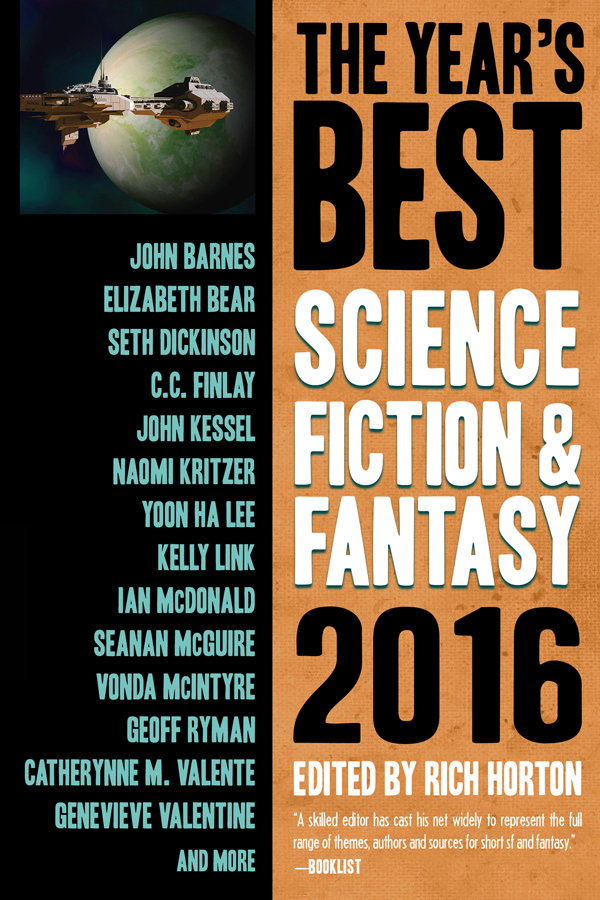 The Year's Best Science Fiction & Fantasy: 2016, edited by Rich Horton
This eighth volume of the year's best science fiction and fantasy features over thirty stories by some of the genre's greatest authors, including John Barnes, Elizabeth Bear, C.C. Finlay, Yoon Ha Lee, Kelly Link, Ian McDonald, Seanan McGuire, Vonda N. McIntyre, Geoff Ryman, Catherynne M. Valente, Genevieve Valentine, and many others. Selecting the best fiction from periodicals including  Analog, Asimov's, Clarkesworld,  Lightspeed) as well as top anthologies (Meeting Infinity, Old Venus, Operation Arcana, Stories for Chip) and other  venues, The Year's Best Science Fiction & Fantasy is your guide to magical realms and worlds beyond tomorrow.
About the Editor: A software engineer for a "Large Aerospace Concern," Rich Horton reads a great deal. A lot of it is science fiction and fantasy. He is a short fiction reviewer for Locus and also spotlights older books (and other neat stuff) on his blog, Strange at Ectaban.
Contents:
"The Daughters of John Demetrius" by Joe Pitkin (Analog)
"Endless Forms Most Beautiful" by Alvaro Zinos-Amaro (Analog)
"Twelve and Tag" by Gregory Norman Bossert (Asimov's)
"Mutability" by Ray Nayler (Asimov's)
"Acres of Perhaps" by Will Ludwigsen (Asimov's)
"Unearthly Landscape by a Lady" by Rebecca Campbell (Beneath Ceaseless Skies)
"The King in the Cathedral" by Rich Larson (Beneath Ceaseless Skies)
"Little Sisters" by Vonda M. McIntyre (Book View Cafe)
"The Long Goodnight of Violet Wild" by Catherynne M. Valente (Clarkesworld)
"Asymptotic" by Andy Dudak (Clarkesworld)
"Cat Pictures Please" by Naomi Kritzer (Clarkesworld)
"Today I Am Paul" by Martin Shoemaker (Clarkesworld)
"The Deepwater Bride" by Tamysn Muir (F&SF)
The Two Paupers by C.S.E. Cooney (Fairchild Books)
"Hello Hello" by Seanan McGuire (Future Visions)
"The Astrakhan, the Homburg, and the Red, Red Coal" by Chaz Brenchley (Lightspeed)
"Time Bomb Time" by C.C. Finlay (Lightspeed)
"And You Shall Know Her by the Trail of Dead" by Brooke Bolander (Lightspeed)
"The Karen Joy Fowler Book Club" by Nike Sulway (Lightspeed)
"My Last Bringback" by John Barnes (Meeting Infinity)
"Drones" by Simon Ings (Meeting Infinity)
"The Heart's Filthy Lesson" by Elizabeth Bear (Old Venus)
"Botanica Veneris: Thirteen Papercuts by Idea Countness Rathagan" by Ian McDonald (Old Venus)
"The Graphology of Hemorrhage" by Yoon Ha Lee (Operation Arcana)
"Capitalism in the 22nd Century" by Geoff Ryman (Stories for Chip)
"The Game of Smash and Recovery" by Kelly Link (Strange Horizons)
"This Evening's Performance" by Genevieve Valentine (The Mammoth Book of Dieselpunk)
"Please Undo This Hurt" by Seth Dickinson (Tor.com)
"Consolation" by John Kessel (Twelve Tomorrows)
"Folding Beijing" by Hao Jingfang (Uncanny)


ALSO AVAILABLE IN EBOOK EDITION
Buy from one of these retailers