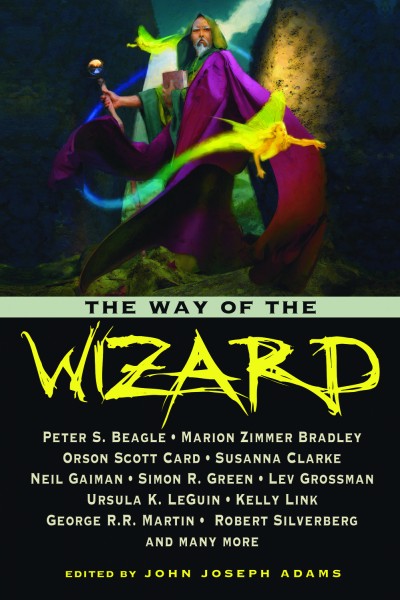 The Way of the Wizard edited by John Joseph Adams
Power. We all want it, they've got it—witches, warlocks, sorcerers, necromancers, those who peer beneath the veil of mundane reality and put their hands on the levers that move the universe. They see the future in a sheet of glass, summon fantastic beasts, and transform lead into gold...or you into a frog. From Gandalf to Harry Potter to the Last Airbender, wizardry has never been more exciting and popular. Acclaimed editor John Joseph Adams brings you 32 of the most spellbinding tales ever written, by some of today's most magical talents, including Neil Gaiman, Ursula K. Le Guin, George R. R. Martin, Robert Silverberg, Kelly Link, and many more. Enter a world where anything is possible, where imagination becomes reality. Experience the thrill of power, the way of the wizard.
"Anthologist extraordinaire Adams once again strikes gold with 33 original and reprinted tales of wizardry in a wide variety of settings, from the medieval (Mike Resnick's "Winter Solstice") to the modern (Jeremiah Tolbert's "One-Click Banishment"). ... Adams just keeps getting better and this anthology is no exception."—(Starred Review) Publishers Weekly
"I'd recommend picking up this book because it has a variety of authors, topics, and views on wizardry--you're bound to enjoy at least a few of the tales in its 450+ pages."—Tor.com
The Way of the Wizard includes the following stories. Click on the titles below to read the introductory notes to each story, or visit the WotW Free Fiction page to read selections from the anthology.
Buy from one of these retailers