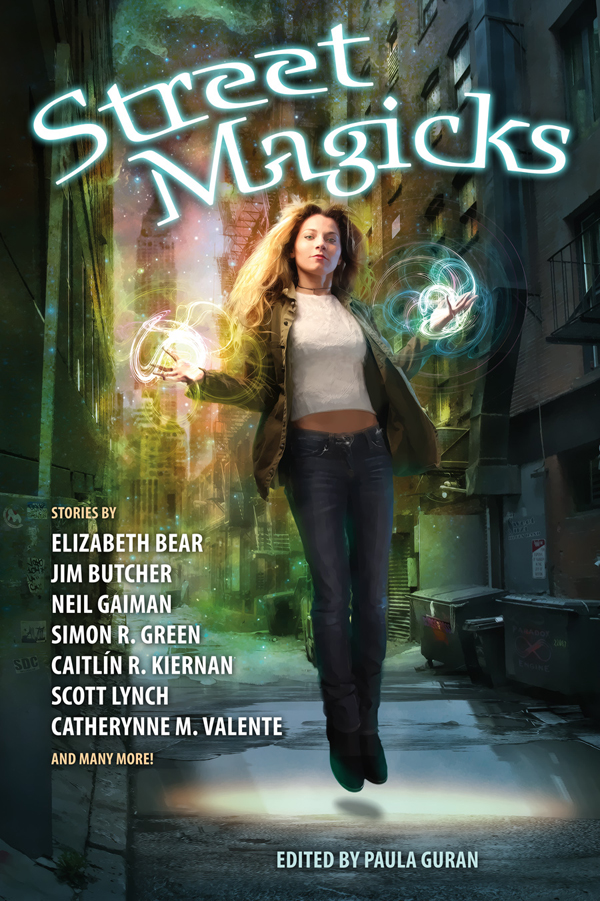 Street Magicks, edited by Paula Guran
Streets are more than thoroughfares: they are sources of knowledge, points of connection, routes to hidden levels. In worlds where magic is real, streets can be full of dangerous shadows or paths to salvation. Wizards walk them, transformations abound, boulevards might seethe with sorcery, roads can lead to delightful enchantment . . . and, often, dead ends. Cobblestone or concrete, state of mind or situation, with magic in the equation these street stories from the minds of some of fantasy's finest writers and myriad sources will take you for a walk through wild realms of imagination.
Read the introduction here!
Contents:
Introduction: "Practices and Paved Paths" by Paula Guran
"Freewheeling" by Charles de Lint
"A Year and a Day in Old Theradane" by Scott Lynch
"Caligo Lane" by Ellen Klages
"Socks" by Delia Sherman
"Painted Birds and Shivered Bones" by Kat Howard
"The Goldfish Pond and Other Stories" by Neil Gaiman
"One-Eyed Jack and the Suicide King" by Elizabeth Bear
"Street Worm" by Nisi Shawl
"A Water Matter" by Jay Lake
"Last Call" by Jim Butcher
"Bridle" by Caitlín R. Kiernan
"The Last Triangle" by Jeffrey Ford
"Working for the God of the Love of Money" by Kaaron Warren
"Hello, Moto" by Nnedi Okorafor
"The Spirit of the Thing: A Nightside Story" by Simon R. Green
"A Night in Electric Squidland" by Sarah Monette
"Speechless in Seattle" by Lisa Silverthorne
"Palimpsest" by Catherynne M. Valente
"Ash" by John Shirley
"In Our Block" by R. A. Lafferty
ALSO AVAILABLE IN EBOOK EDITION
Buy from one of these retailers