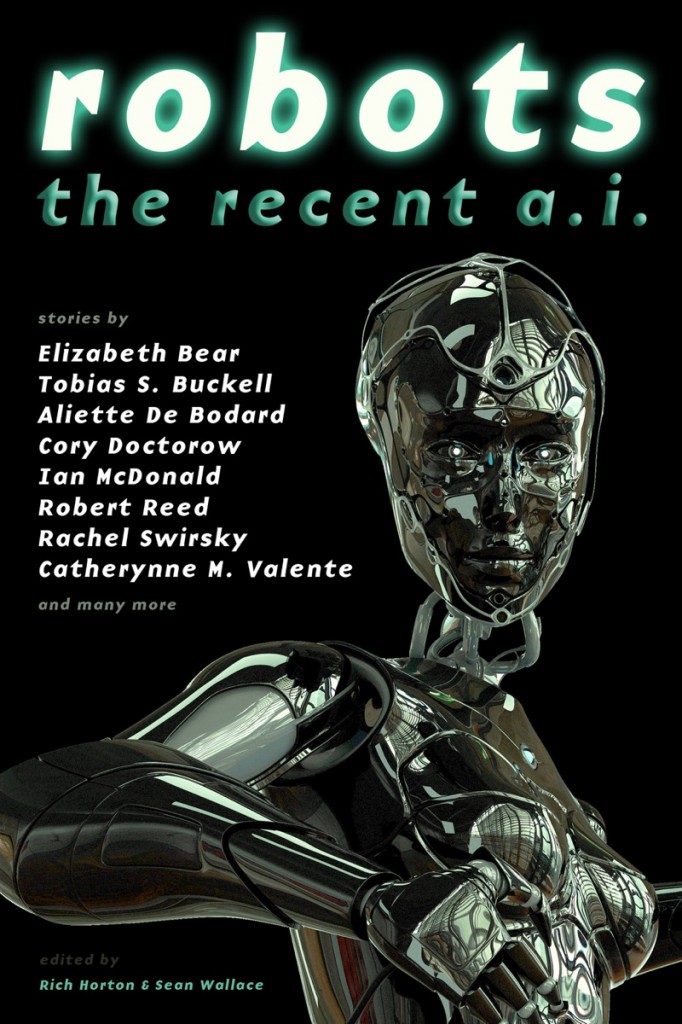 Robots: The Recent A.I. edited by Rich Horton & Sean Wallace
From Karel Čapek's biotech machines of R.U.R....to Henry Kuttner & C.L. Moore's "The Proud Robot"...to Isaac Asimov's positronic robots...to the many stories, films, cartoons, and games that have come since featuring cybertronic sex toys, robotic rebels, grandmothers with artificial intelligence, automatons, bots, droids, and so many other variations—these machines have represented our dreams as well as our anxieties. We love these literary creations but fear them as well. Stories from the last decade by top science fiction authors representing the many facets of robots in the twenty-first century: beautiful, hideous, and everything in between.
Table of Contents
"Tideline" by Elizabeth Bear
"A Jar of Goodwill" by Tobias S. Buckell
"Balancing Accounts" by James Cambias
"The Rising Waters" by Benjamin Crowell
"The Shipmaker" by Aliette De Bodard
"I, Robot" by Cory Doctorow
"Kiss Me Twice" by Mary Robinette Kowal
"Algorithms for Love" by Ken Liu
"Alternate Girl's Expatriate Life" by Rochita Loenen-Ruiz
"The Djinn's Wife" by Ian McDonald
"Houses" by Mark Pantoja
"Artifice and Intelligence" by Tim Pratt
"Stalker" by Robert Reed
"Droplet" by Benjamin Rosenbaum
"Eros, Philia, Agape" by Rachel Swirsky
"Under the Eaves" by Lavie Tidhar (original)
"Silently and Very Fast" by Catherynne M.Valente
"The Nearest Thing" by Genevieve Valentine
Library Journal:
This anthology spans a decade of robot literature, from "Droplet" (2002), Benjamin Rosenbaum's story of two robots unexpectedly given their freedom with no idea how to use it, to Lavie Tidhar's "Under the Eaves" (2012), a previously unpublished tale about a forbidden love between human and robot. In between, other stories explore the idea of djinns as artificial intelligences (Ian McDonald's "The Djinn's Wife"), pay homage to Isaac Asimov's classic in an updated tale of robots, their duties, and their rights (Cory Doctorow's "I Robot"), and more. VERDICT­ Lovers of all things robotic will enjoy this 21st-century collection of stories about the attempt to create an artificial human.
Buy from one of these retailers