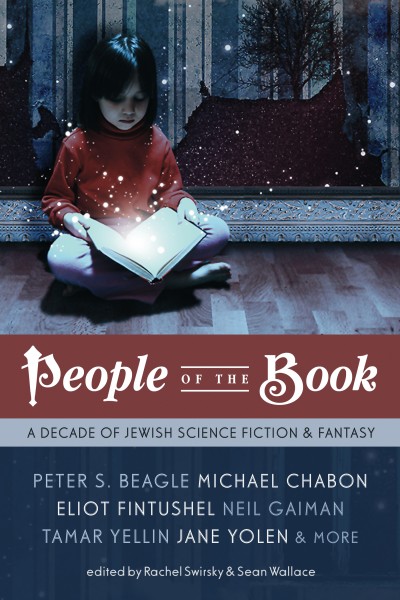 People of the Book: A Decade of Jewish Science Fiction & Fantasy edited by Rachel Swirsky & Sean Wallace
Introduction by Ann VandeMeer
From Sholom Aleichem to Avram Davidson, Isaac Bashevis Singer to Tony Kushner, the Jewish literary tradition has always been one rich in the supernatural and the fantastic. In these pages, gathered from the best short fiction of the last ten years, twenty authors prove that their heritage is alive and well – in the spaces between stars that an alphabet can bridge, folklore come to life and histories become stories, and all the places where old worlds and new collide and change.
"From tales of golems and dybbukim to stories that touch on the Holocaust, this sampling of tales from the last decade will appeal to both sf fans and readers interested in Jewish literature."—Library Journal
"This strong and varied anthology...includes stories that will appeal to nearly every taste in short fiction...People of the Book: A Decade of Jewish Science Fiction and Fantasy is a book that belongs in every Jewish library with an acquisitions budget and on the desk of every Jewish educator, especially those who assemble curricula, as well as readers who enjoy Jewish short fiction."— NY Journal of Books
"Swirsky and Wallace did a wonderful job choosing which works to include.... as a whole, the book struck me as more successful. One reason for this was unexpected: the writing—particularly the descriptions of people and places— was far richer in the science and fantasy stories. These works also left me more satisfied, as if their unreality opened a window to inner truths, ones beyond the scope of everyday life."—The Reporter Group, published by the Jewish Federation of Broome County.
Contents
Introduction by Ann VanderMeer
Burning Beard: The Dreams and Visions of Joseph ben Jacob, Lord Viceroy of Egypt by Rachel Pollack
How the Little Rabbi Grew by Eliot Fintushe
Geddarien by Rose Lemberg
The Wings of Meister Wilhelm by Theodora Goss
The Dybbuk in Love by Sonya Taaffe
Fidelity: A Primer by Michael Blumlein
Niels Bohr and the Sleeping Dane by Jonathon Sullivan
The Tsar's Dragons by Jane Yolen
Going East by Elana Gomel
Dark Coffee, Bright Light and the Paradoxes of Omnipotence by Ben Burgis
Biographical Notes to "A Discourse on the Nature of Causality, with Air-planes" by Benjamin Rosenbaum
Alienation and Love in the Hebrew Alphabet by Lavie Tidhar
The Problem of Susan by Neil Gaiman
Uncle Chaim and Aunt Rifke and the Angel by Peter S Beagle
Eliyahu ha-Navi by Max Sparber
Reuben by Tamar Yellin
The Muldoon by Glen Hirshberg
Semaphore by Alex Irvine
Golems I Have Known, or, Why My Elder Son's Middle Name Is Napoleon: A Trickster's Memoir by Michael Chabon
The History Within Us by Matthew Kressel
Buy from one of these retailers