More Details
Book 1: Diamond
Book 2: Corona's Children
Book 3: The Great Day
Diamond: a small weak child, a fragile little shadow of an odd boy sure to die any time…who proves to be anything but. An epic story begins when he steps into the world his parents have so carefully kept him from, a world where gigantic trees each house thousands of humans…and another human species, the papio, live on a great coral reef. Much of civilization's needs are provided by the coronas, strange huge beasts that—for reasons unknown—float into the human world only to be slain for the riches they provide.
But Diamond, in Corona's Children, becomes an irresistible prize. A human who isn't quite human, a blessing…or a curse…who holds the promise to remake one species and, perhaps, all of the Creation. As with anything of great value to so many, conflict arises. With conflict comes drastic change—but no one is prepared for what that conflict ultimately brings or what will happen in the final book, The Great Day.
About Robert Reed:
Robert Reed is the author of a dozen novels, and almost 200 shorter works. He's had stories appear in at least one of the annual "Year's Best" anthologies in every year since 1992 and is a perennial favorite in science fiction readers polls. The winner of the Hugo Award and the Grand Prix de l'Imaginaire, Reed has also received nominations for the Nebula, World Fantasy, Sturgeon, Tiptree, and Campbell Awards among others. His novel Beyond the Veil of Stars was a New York Times Notable Book of the Year. Reed lives in Lincoln, Nebraska, with his wife, Leslie, and daughter, Jessie. An ardent long-distance runner, he can frequently be seen jogging through the parks and hiking trails of Lincoln. His website is www.robertreedwriter.com.

Praise for Robert Reed
"Even for a genre like SF, where limitless flights of imagination are as highly valued as they are rare, Robert Reed is sui generis. His mind is a bottomless well of mind-boggling ideas."—SFReview.net
"Wonderful far-future SF of the best kind! imaginative, epic, mind-blowing—the new century's most compelling SF voice."—Stephen Baxter
"Read has achieved something remarkable."—Larry Niven on Marrow
"Relentless. A bold work by a visionary writer."—David Brin on Marrow
More Details
With an Introduction by Patrick Rothfuss
Celebrated as the author of the five acclaimed historical fantasy novels of the Glamourist series, Mary Robinette Kowal is also well known as an award-winning author of short science fiction and fantasy. Her stories encompass a wide range of themes, a covey of indelible characters, and settings that span from Earth's past to its near and far futures as well as even farther futures beyond. Alternative history, fairy tales, adventure, fables, science fiction (both hard and soft), fantasy (both epic and cozy)—nothing is beyond the reach of her unique talent. WORD PUPPETS—the first comprehensive collection of Kowal's extraordinary fiction—includes her two Hugo-winning stories, a Hugo nominee, an original story set in the world of "The Lady Astronaut of Mars," and fourteen other show-stopping tales.
Content
The Bound Man
Chrysalis
Rampion
At the Edge of Dying
Clockwork Chickadee
Body Language
Waiting for Rain
First Flight
Evil Robot Monkey
The Consciousness Problem
For Solo Cello, op. 12
For Want of a Nail
The Shocking Affair of the Dutch Steamship Friesland
Salt of the Earth
American Changeling
The White Phoenix Feather: A Tale of Cuisine and Ninjas
We Interrupt This Broadcast
Rockets Red
The Lady Astronaut of Mars
Publishers Weekly STARRED Review:
Kowal's short works are difficult to classify, often poignant or tragic, and always spectacularly written. These 19 tales vary widely. "The Bound Man" spans ages within a dramatic alternate world; "Chrysalis" examines a single segment of an alien life cycle. Characters struggle to sort out difficult interfamilial relationships on a generation ship in "For Want of a Nail." Readers will sympathize with a teenage girl who is both stereotypically American and undeniably fae in "American Changeling." Some stories, such as "The White Phoenix Feather," offer a moment of laughter to lighten the mood, but even within the humor, the writing is serious in execution, style, and timing. Kowal sends readers off on a breathless trip to the stars.
About the Author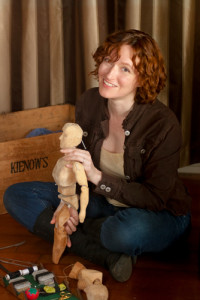 Hugo-award winning author, Mary Robinette Kowal is a novelist and professional puppeteer. Her debut novel Shades of Milk and Honey (Tor 2010) was nominated for the 2010 Nebula Award for Best Novel. In 2008 she won the Campbell Award for Best New Writer, while three of her short fiction works have been nominated for the Hugo Award: "Evil Robot Monkey" in 2009 and "For Want of a Nail" in 2011, which won the Hugo for short story that year. Her stories have appeared in Strange Horizons, Asimov's, and several Year's Best anthologies, as well as in her collection Scenting the Dark and Other Stories from Subterranean Press.
Kowal is also an award-winning puppeteer. With over twenty years of experience, she has performed for LazyTown (CBS), the Center for Puppetry Arts, Jim Henson Pictures and founded Other Hand Productions. Her designs have garnered two UNIMA-USA Citations of Excellence, the highest award an American puppeteer can achieve.
When she isn't writing or puppeteering, Kowal brings her speech and theater background to her work as a voice actor. As the voice behind several audio books and short stories, she has recorded fiction for authors such as Kage Baker, Cory Doctorow and John Scalzi.
Mary lives in Chicago with her husband Rob and over a dozen manual typewriters. Sometimes she even writes on them.
More Details
More than five-hundred pages, over one-quarter of a million words… Space Opera spans a vast range of epic interstellar adventure stories told against a limitless cosmos filled with exotic aliens, heroic characters, and incredible settings. A truly stellar compilation of tales from one of the defining streams of science fiction, old and new, written by a supernova of genre talent.
"The Knight of Chains, the Deuce of Stars" by Yoon Ha Lee (Lightspeed)
"The Wreck of the Godspeed" by James Patrick Kelly (Between Worlds)
"Saving Tiamaat" by Gwyneth Jones (The New Space Opera)
"Six Lights Off Green Scar" by Gareth L. Powell (Aphelion)
"Glory" by Greg Egan (The New Space Opera)
"The Mote Dancer and the Firelife" by Chris Willrich (Beneath Ceaseless Skies)
"On Rickety Thistlewaite" by Michael F. Flynn (Analog)
"War Without End" by Una McCormack (Conflicts)
"Finisterra" by David Moles (F&SF)
"Seven Years from Home" by Naomi Novik (Warriors)
"Plotters and Shooters" by Kage Baker (Fast Forward 1)
"The Muse of Empires Lost" by Paul Berger (Twenty Epics)
"Boojum" by Elizabeth Bear and Sarah Monette (Fast Ships and Black Sails)
"Lehr Rex" by Jay Lake (Forbidden Planets)
"Cracklegrackle" by Justina Robson (The New Space Opera 2)
"Hideaway" by Alastair Reynolds (Interzone)
"Isabel of the Fall" by Ian R. MacLeod (Interzone)
"Precious Mental" by Robert Reed (Asimov's)
"Two Sisters in Exile" by Aliette de Bodard (Solaris Rising 1.5)
"Lode Stars" by Lavie Tidhar (The Immersion Book of SF)
"Silent Bridge, Pale Cascade" by Benjanun Sriduangkaew (Clarkesworld)
"The Tear" by Ian McDonald (Galactic Empires)
More Details
From fantastic legends and science fictional futures come compelling tales of powerful women—or those who discover strength they did not know they possessed—who fight because they must, for what they believe in, for those they love, to simply survive, or who glory in battle itself. Fierce or fearful, they are courageous and honorable—occasionally unscrupulous and tainted—but all warriors worthy of the name.
Content (alphabetical order by author's last name):
"They Tell Me There Will be No Pain" by Rachel Acks
"Love Among the Talus" by Elizabeth Bear
"The Days of the War, as Red as Blood, as Dark as Bile" by Aliette de Bodard
"Anukazi's Daughter" by Mary Gentle
"England Under the White Witch" by Theodora Goss
"Soul Case" by Nalo Hopkinson
"Not That Kind of War" by Tanya Huff
"Wonder Maul Doll" by Kameron Hurley
"Joenna's Ax" by Elaine Isaak
"The Sea Troll's Daughter" by Caitlín R. Kiernan
"Eaters" by Nancy Kress
"Northern Chess" by Tanith Lee
"The Knight of Chains, The Deuce of Stars" by Yoon Ha Lee
"In the Loop" by Ken Liu
"Dying With Her Cheer Pants On" by Seanan McGuire
"The Lonely Songs of Laren Dorr" by George R. R. Martin
"Naratha's Shadow" by Sharon Lee & Steve Miller
"Hand to Hand" by Elizabeth Moon
"And Wash Out by Tides of War" by An Owomoyela
"Prayer" by Robert Reed
"The Application of Hope" by Kristine Kathryn Rusch
"Boy Twelve" by Jessica Reisman
"The Girls From Avenger" by Carrie Vaughn
"Become a Warrior" by Jane Yolen
Publishers Weekly Starred Review:
Two dozen stories of women warriors form this epic anthology of stories about those forced to fight, those who chose to fight regardless of odds, those who ran from their destiny as warriors, and those who will end war at any cost. In Caitlín R. Kiernan's "The Sea Troll's Daughter," the titular daughter of a fearsome beast reluctantly confronts the woman who slew her father. In Carrie Vaughn's nonspeculative "The Girls from Avenger," a WWII pilot tries to determine the cause of her friend's mysterious crash. An immortal wandering warrior meets an immortal prisoner in George R.R. Martin's hopeful but bleak "The Lonely Songs of Laren Dorr." Spaceship captain Tory Sabin must battle bureaucracy and physics to locate a missing friend in "The Application of Hope" by Kristine Kathryn Rusch. The warriors include girls as well as grown women: young Thien Bao is offered the chance to end a cataclysmic war at an unimaginable cost in Aliette de Bodard's "The Days of the War, as Red as Blood, as Dark as Bile," and a girl who discovers her father is a "monster" grows into a woman who tries to save others from his fate in Ken Liu's "In the Loop." Each story contains strength and compassion, even when the personal cost is high. The depictions of battle and trauma are rarely graphic, but they're as hard-hitting as the subject demands. This is a truly impressive accomplishment for Guran and her contributors.
More Details
Bright lights, big city… magic spells, witchcraft, wizardry, fairies, devilry, and more. Urban living, at least in fantasy fiction, is full of both magical wonder and dark enchantment. Street kids may have supernatural beings to protect them or have such powers themselves. Brujeria may be part of your way of life. Crimes can be caused (and solved) with occult arts and even a losing sports team's "curse" can be lifted with wizardry. And be careful of what cab you call—it might take you on a journey beyond belief! Some of the best stories of urban enchantment from the last few years gathered in one volume full of hex appeal and arcane arts.
Contents (authors in alphabetical order):
"Paranormal Romance," Christopher Barzak
"The Slaughtered Lamb," Elizabeth Bear
"The Land of Heart's Desire," Holly Black
"Seeing Eye," Patricia Briggs
"De la Tierra," Emma Bull
"Curses," Jim Butcher
"Dog Boys," Charles de Lint
"Snake Charmer," Amanda Downum
"Street Wizard," Simon R. Green
"-30-," Caitlín R. Kiernan
"Stone Man," Nancy Kress
"Pearlywhite" Mark Laidlaw & John Shirley
"In the Stacks," Scott Lynch
"Spellcaster 2.0," Jonathan Maberry
"Kabu Kabu," Nnedi Okorafor
"Stray Magic," Diana Peterfreund
"The Woman Who Walked with Dogs," Mary Rosenblum
"Wallamelon," Nisi Shawl
"Grand Central Park," Delia Sherman
"Words," Angela Slatter
"Alchemy," Lucy Sussex
"A Voice Like a Hole," Catherynne M. Valente
"The Arcane Art of Misdirection," Carrie Vaughn
"Thief of Precious Things," A.C. Wise
More Details
This sixth volume of the year's best science fiction and fantasy features over thirty stories by some of the genre's greatest authors, including James Patrick Kelly, Yoon Ha Lee, Ken Liu, Robert Reed, Lavie Tidhar, Carrie Vaughn, and many others. Selecting the best fiction from Asimov's, Clarkesworld, F&SF, and other top venues, The Year's Best Science Fiction & Fantasy is your guide to magical realms and worlds beyond tomorrow.
"Social Services" by Madeline Ash (An Aura of Familiarity)
"Out in the Dark" by Linda Nagata (Analog)
"The End of the World as We Know It, and We Feel Fine" by Harry Turtledove (Analog)
"The Oracle" by Lavie Tidhar (Analog)
"Call Girl" by Tang Fei (Apex)
"Ilse, Who Saw Clearly" by E. Lily Yu (Apex)
"They Shall Salt the Earth With Seeds of Glass" by Alaya Dawn Johnson (Asimov's)
"The Wildfires of Antarctica" by Alan De Niro (Asimov's)
"The Discovered Country" by Ian R. MacLeod (Asimov's)
"A Stranger from a Foreign Ship" by Tom Purdom (Asimov's)
"On the Origin of Song" by Naim Kabir (Beneath Ceaseless Skies)
"Effigy Nights" by Yoon Ha Lee (Clarkesworld)
"Soulcatcher" by James Patrick Kelly (Clarkesworld)
"Found" by Alex Dally MacFarlane (Clarkesworld)
"The Bees Her Heart, the Hive Her Belly" by Benjanun Sriduangkaew (Clockwork Phoenix 4)
"Loss, With Chalk Diagrams" by E. Lily Yu (Eclipse Online)
"A Brief History of the Trans-Pacific Tunnel" by Ken Liu (F&SF)
"Kormak the Lucky" by Eleanor Arnason (F&SF)
"Grizzled Veterans of Many and Much" by Robert Reed (F&SF)
"Rosary and Goldenstar" by Geoff Ryman (F&SF)
"The Dragons of Merebarton" by K.J. Parker (Fearsome Journeys)
"Martyr's Gem" by C. S. E. Cooney (Giganotosaurus)
"Such & Such Said to So & So" by Maria Dahvana Headley (Glitter & Mayhem)
"Killing Curses, a Caught-Heart Quest" by Krista Hoeppner Leahy (Lady Churchill's Rosebud Wristlet)
"A Fine Show on the Abyssal Plain" by Karin Tidbeck (Lightspeed)
"Paranormal Romance" by Christopher Barzak (Lightspeed)
"The Dead Sea-Bottom Scrolls" by Howard Waldrop (Old Mars)
"Blanchefleur" by Theodora Goss (Once Upon a Time)
"The Memory Book" by Maureen McHugh (Queen Victoria's Book of Spells)
"Live Arcade" by Erik Amundsen (Strange Horizons)
"Town's End" by Yukimi Ogawa (Strange Horizons)
"A Window or a Small Box" by Jedediah Berry (Tor.com)
"Trafalgar and Josefina" by Angelica Gorodischer (Trafalgar)
"Firebrand" by Peter Watts (Twelve Tomorrows)
"Game of Chance" by Carrie Vaughn (Unfettered)
More Details
No matter your expectations, the dark is full of the unknown: grim futures, distorted pasts, invasions of the uncanny, paranormal fancies, weird dreams, unnerving nightmares, baffling enigmas, revelatory excursions, desperate adventures, spectral journeys, mundane terrors and supernatural visions. You may stumble into obsession or find redemption. Often disturbing, occasionally delightful, let The Year's Best Dark Fantasy and Horror be your annual guide through the mysteries and wonders of dark fiction.
Publishers Weekly Review: In Guran's fifth edition of eclectic nightmares, new and veteran authors blend psychological terror and supernatural wonder into disturbing hybrid tales, which confront "that which we do not know." Many of these stories first appeared in small-press collections and other independent fiction venues that are willing to challenge convention. Steve Rasnic Tem's "Wheatfield with Crows," a shadow-show of dark conscience, is both an emotionally searing ghost story and a commentary on the genre. David Schow's "Blue Amber" resembles a graphic and splattery Outer Limits script. Mystical scribe Laird Barron marries grim violence with supernatural ambiguity in the chilling "Termination Dust," and Neil Gaiman's use of Greek myth evokes contemporary lust and self-destruction in "A Lunar Labyrinth." A few pieces, like Dale Bailey's "The Creature Recants," set tongue too firmly in cheek to elicit pathos or wonder. Despite those misses, this fearful feast of revelations, hauntings, and shattered realities reveals the horror genre's enduring power and creativity.
Contents (in alphabetical order by author's last name):
"Postcards from Abroad," Peter Atkins (Rolling Darkness Revue 2013, Earthling Publications)
"The Creature Recants," Dale Bailey (Clarkesworld, Issue 85, October 2013)
"The Good Husband," Nathan Ballingrud (North American Lake Monsters, Small Beer Press)
"Termination Dust," Laird Barron (Tales of Jack the Ripper, ed. Ross Lockhart, Word Horde)
"The Ghost Makers," Elizabeth Bear (Fearsome Journeys, ed. Jonathan Strahan, Solaris)
"The Marginals," Steve Duffy (The Moment of Panic, PSPublishing)
"A Collapse of Horses," Brian Evenson (The American Reader, Feb/Mar 2013)
"A Lunar Labyrinth," Neil Gaiman (Shadows of the New Sun: Stories in Honor of Gene Wolfe, eds. J. E. Mooney & Bill Fawcett, Tor)
"Pride," Glen Hirshberg (Rolling Darkness Revue 2013, Earthling Publications)
"Let My Smile Be Your Umbrella," Brian Hodge (Psycho-Mania!, ed. Stephen Jones, Robinson)
"The Soul in the Bell Jar," K. J. Kabza (The Magazine of Fantasy & Science Fiction, Nov/Dec 2013)
"The Prayer of Ninety Cats," Caitlín R. Kiernan (Subterranean Online, Spring 2013)
"Dark Gardens," Greg Kurzawa (Interzone # 248)
"A Little of the Night," Tanith Lee (Clockwork Phoenix 4, ed. Mike Allen, Mythic Delirium)
"The Gruesome Affair of the Electric Blue Lightning," Joe R. Lansdale (Beyond Rue Morgue: Further Tales of Edgar Allan Poe's First Detective, ed. Paul Kane & Charles Prepole, Titan)
"Iseul's Lexicon," Yoon Ha Lee (Conservation of Shadows, Prime Books)
"The Plague" Ken Liu (Nature, 16 May 2013)
"The Slipway Gray," Helen Marshall (Chilling Tales 2, ed. Michael Kelly, Edge Publications)
"To Die for Moonlight," Sarah Monette (Apex Magazine, Issue #50)
"Event Horizon," Sunny Moraine (Strange Horizons, 21 Oct 2013)
"The Legend of Troop 13," Kit Reed (Asimov's Science Fiction, Jan 2013 / The Story Until Now: A Great Big Book of Stories, Wesleyan)
"Shadows for Silence in the Forests of Hell," Brandon Sanderson (Dangerous Women, eds. George R. R. Martin & Gardner Dozois, Tor)
"Phosphorous," Veronica Schanoes, (Queen Victoria's Book of Spells: An Anthology of Gaslamp Fantasy, eds. Ellen Datlow & Terri Windling, Tor)
"Blue Amber," David J. Schow (Impossible Monsters, ed. Kasey Lansdale, Subterranean Press)
"Rag and Bone," Priya Sharma (Tor.com, 10 April 2013)
"Our Lady of Ruins", Sarah Singleton (The Dark 2, Dec 2013)
"Cuckoo," Angela Slatter (A Killer Among Demons, ed. Craig Bezant, Dark Prints Press)
"Wheatfield with Crows," Steve Rasnic Tem (Dark World: Ghost Stories, ed. Timothy Parker Russell, Tartarus Press)
"Moonstruck," Karin Tidbeck (Shadows and Tall Trees, Vol. 5, ed. Mike Kelly, Undertow)
"The Dream Detective," Lisa Tuttle (Lightspeed, Mar 2013)
"Fishwife," Carrie Vaughn (Nightmare, Jun 2013
"Air, Water and the Grove," Kaaron Warren (The Lowest Heaven, eds Anne C. Perry & Jared Shurin, Jurassic London)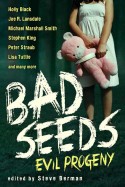 More Details
Children are supposed to be all sugar and spice and everything nice . . . but we know that's not the truth. Dark tales of wicked tykes and dangerous kids playing vicious games that lead adults—sometimes their own parents—to their demise are a staple of frightening fiction. Beware the schoolyards and playgrounds, even the sanctity of the familial home, especially after dark. And don't be fooled by a trickle of tears or tiny hands reaching for you. These youngsters do not want to love or comfort—only to inflict pain!
CONTENTS:
"If Damon Comes" by Charles Grant
"Treats" by Norman Partridge
"The Family" by Halli Villegas
"The Horse Lord" by Lisa Tuttle
"My Name Is Leejun" by John Schoffstall
"Princess of the Night" by Michael Kelly
"Duck Hunt" by Joe R. Lansdale
"The Choir" by Joel D. Lane
"Children of the Corn" by Stephen King
"Yellowjacket Summer" by Robert McCammon
"The Stuff that Goes on in Their Heads" by Michael Marshall Smith
"Second Grade" by Charles Antin
"Respects" by Ramsey Campbell
"Melanie Klein Said" by Robert McVey
"Gaslight" by Jeffrey Ford
"Endless Encore" by Will Ludwigsen
"Cockroach" by Dale Bailey
"By the Mark" by Gemma Files
"The Disappearance of James H___" by Hal Duncan
"I Was a Teenage Slasher Victim" by Stephen Graham Jones
"Blue Rose" by Peter Straub
"Making Friends" by Gary Raisor
"You Deserve" by Alex Jeffers
"The Queen of Knives" by Georgina Bruce
"The Naughty List" by Christine Morgan
"The Perfect Dinner Party" by Cassandra Clare & Holly Black
"Make Believe" by Michael Reaves
More Details
A Promethean Age Novel
The One-Eyed Jack and the Suicide King: personifications of the city of Las Vegas—its history, mystery, mystical power, and heart…
When the Suicide King vanishes—possibly killed—in the middle of a magic-rights turf war started by the avatars of Los Angeles, a notorious fictional assassin, and the mutilated ghost of Benjamin "Bugsy" Siegel—his partner, the One-Eyed Jack, must seek the aid of a bizarre band of legendary and undead allies: the ghosts of Doc Holliday and John Henry the steel-driving man; the echoes of several imaginary super spies, decades displaced in time; and a vampire named Tribute, who bears a strikingresemblance to a certain long-lost icon of popular music.

All stories are true, but some stories are truer than others.
About the Author:
Elizabeth Bear was born on the same day as Frodo and Bilbo Baggins, but in a different year. With the exception of seven years in Faerie, or perhaps Las Vegas (they are not so different, really) she has been a New Englander all my life—Connecticut, Vermont, and now Massachusetts. The author of a number of novels and short stories in the science fiction and fantasy genre, she has received a good deal of recognition for her work including two Hugo Awards, the John W. Cambell Award for Best New Writer (2005), a Sturgeon Award, a Locus Award, an Asimov's Reader's Choice award, a Spectrum Award, and an honorable mention for the Philip K. Dick Award. I have also been nominated for the World Fantasy Award, the British Science Fiction Award, the Lambda Award, the Romantic Times Reader's Choice Award, and several others. Her work has been translated into Japanese, Italian, Spanish, Czech, Russian, Polish, and Portuguese, among other languages. Her partner is a fantasy novelist who lives in Wisconsin. Find out more at www.elizabethbear.com
More Details
The idea of time travel has been with us since ancient times; now the concept of time travel seems… almost… plausible. Today, tales of chrononauts are more imaginative and thought-provoking than ever before: new views, cutting-edge concepts, radical notions of paradox and possibility—state-of-the-art speculative stories collected from those written in the twenty-first century. Forward to the past, back to the future—get ready for some fascinating trips!
CONTENTS (Alphabetically by author):
"The Time Travel Club," Charlie Jane Anders
"Mating Habits of the Late Cretaceous," Dale Bailey
"The Carpet Beds of Sutro Park," Kage Baker
"The Ile of Dogges," Elizabeth Bear & Sarah Monette
"The Ghosts of Christmas," Paul Cornell
"Thought Experiment," Eileen Gunn
"First Flight," Mary Robinette Kowal
"Blue Ink," Yoon Ha Lee
"The Man Who Ended History: A Documentary," Ken Liu
"The Lost Canal," Michael Moorcock
"The Mists of Time," Tom Purdom
"September at Wall and Broad," Kristine Kathryn Rusch
"Two Shots from Fly's Photo Gallery," John Shirley
"With Fate Conspire," Vandana Singh
"Twember," Steve Rasnic Tem
"Bespoke," Genevieve Valentine
"The King of Where-I-Go," Howard Waldrop
"Number 73 Glad Avenue," by Suzanne J. Willis
Cover art: Julie Dillion