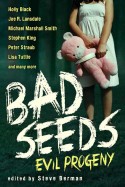 More Details
Children are supposed to be all sugar and spice and everything nice . . . but we know that's not the truth. Dark tales of wicked tykes and dangerous kids playing vicious games that lead adults—sometimes their own parents—to their demise are a staple of frightening fiction. Beware the schoolyards and playgrounds, even the sanctity of the familial home, especially after dark. And don't be fooled by a trickle of tears or tiny hands reaching for you. These youngsters do not want to love or comfort—only to inflict pain!
CONTENTS:
"If Damon Comes" by Charles Grant
"Treats" by Norman Partridge
"The Family" by Halli Villegas
"The Horse Lord" by Lisa Tuttle
"My Name Is Leejun" by John Schoffstall
"Princess of the Night" by Michael Kelly
"Duck Hunt" by Joe R. Lansdale
"The Choir" by Joel D. Lane
"Children of the Corn" by Stephen King
"Yellowjacket Summer" by Robert McCammon
"The Stuff that Goes on in Their Heads" by Michael Marshall Smith
"Second Grade" by Charles Antin
"Respects" by Ramsey Campbell
"Melanie Klein Said" by Robert McVey
"Gaslight" by Jeffrey Ford
"Endless Encore" by Will Ludwigsen
"Cockroach" by Dale Bailey
"By the Mark" by Gemma Files
"The Disappearance of James H___" by Hal Duncan
"I Was a Teenage Slasher Victim" by Stephen Graham Jones
"Blue Rose" by Peter Straub
"Making Friends" by Gary Raisor
"You Deserve" by Alex Jeffers
"The Queen of Knives" by Georgina Bruce
"The Naughty List" by Christine Morgan
"The Perfect Dinner Party" by Cassandra Clare & Holly Black
"Make Believe" by Michael Reaves
More Details
A Promethean Age Novel
The One-Eyed Jack and the Suicide King: personifications of the city of Las Vegas—its history, mystery, mystical power, and heart…
When the Suicide King vanishes—possibly killed—in the middle of a magic-rights turf war started by the avatars of Los Angeles, a notorious fictional assassin, and the mutilated ghost of Benjamin "Bugsy" Siegel—his partner, the One-Eyed Jack, must seek the aid of a bizarre band of legendary and undead allies: the ghosts of Doc Holliday and John Henry the steel-driving man; the echoes of several imaginary super spies, decades displaced in time; and a vampire named Tribute, who bears a strikingresemblance to a certain long-lost icon of popular music.

All stories are true, but some stories are truer than others.
About the Author:
Elizabeth Bear was born on the same day as Frodo and Bilbo Baggins, but in a different year. With the exception of seven years in Faerie, or perhaps Las Vegas (they are not so different, really) she has been a New Englander all my life—Connecticut, Vermont, and now Massachusetts. The author of a number of novels and short stories in the science fiction and fantasy genre, she has received a good deal of recognition for her work including two Hugo Awards, the John W. Cambell Award for Best New Writer (2005), a Sturgeon Award, a Locus Award, an Asimov's Reader's Choice award, a Spectrum Award, and an honorable mention for the Philip K. Dick Award. I have also been nominated for the World Fantasy Award, the British Science Fiction Award, the Lambda Award, the Romantic Times Reader's Choice Award, and several others. Her work has been translated into Japanese, Italian, Spanish, Czech, Russian, Polish, and Portuguese, among other languages. Her partner is a fantasy novelist who lives in Wisconsin. Find out more at www.elizabethbear.com
More Details
Lord Yamada is called away—one last time—from his newly restored estates in Kamakura to help Prince Kanemore ensure that Princess Teiko's son, Takahito, inherits the Chrysanthemum Throne. Unfortunately, assuming the throne proves to be the easy part. Yamada must then help Takahito renounce that throne in such a way as to hobble the power of the Fujiwara clan forever!
Other Books in the Series:
About the Author: Richard Parks published his first story in Amazing in 1981. He has published about ninety more in the years since. Yamada Monogatari: Demon Hunter was his fourth collection, but the only themed one. His three previous collections are The Ogre's Wife: Fairy Tales for Grownups, Worshipping Small Gods, and On the Banks of the River of Heaven. Other books by Parks include the novella Hereafter and After, The Heavenly Fox, and novel, The Long Look. He has also authored two other Yamada Monogatari novels: To Break the Demon Gate and The War God's Son. He's been a finalist for both the World Fantasy Award and the Mythopoeic Award for Adult Literature. Parks lives in Mississippi with his wife and a varying number of cats.


ALSO AVAILABLE IN EBOOK EDITION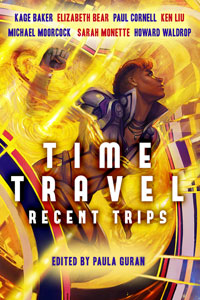 More Details
The idea of time travel has been with us since ancient times; now the concept of time travel seems… almost… plausible. Today, tales of chrononauts are more imaginative and thought-provoking than ever before: new views, cutting-edge concepts, radical notions of paradox and possibility—state-of-the-art speculative stories collected from those written in the twenty-first century. Forward to the past, back to the future—get ready for some fascinating trips!
CONTENTS (Alphabetically by author):
"The Time Travel Club," Charlie Jane Anders
"Mating Habits of the Late Cretaceous," Dale Bailey
"The Carpet Beds of Sutro Park," Kage Baker
"The Ile of Dogges," Elizabeth Bear & Sarah Monette
"The Ghosts of Christmas," Paul Cornell
"Thought Experiment," Eileen Gunn
"First Flight," Mary Robinette Kowal
"Blue Ink," Yoon Ha Lee
"The Man Who Ended History: A Documentary," Ken Liu
"The Lost Canal," Michael Moorcock
"The Mists of Time," Tom Purdom
"September at Wall and Broad," Kristine Kathryn Rusch
"Two Shots from Fly's Photo Gallery," John Shirley
"With Fate Conspire," Vandana Singh
"Twember," Steve Rasnic Tem
"Bespoke," Genevieve Valentine
"The King of Where-I-Go," Howard Waldrop
"Number 73 Glad Avenue," by Suzanne J. Willis
Cover art: Julie Dillion
More Details
A Feast of Sorrows—Angela Slatter's first U.S. collection—features twelve of the World Fantasy and British Fantasy Award-winning Australian author's finest, darkest fairy tales, and adds two new novellas to her marvelous cauldron of fiction. Stories peopled by women and girls—fearless, frightened, brave, bold, frail, and fantastical—who take the paths less traveled by, accept (and offer) poisoned apples, and embrace transformation in all its forms. Reminiscent of Angela Carter at her best, Slatter's work is both timeless and fresh: fascinating new reflections from the enchanted mirrors of fairy tales and folklore.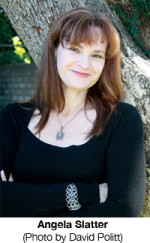 About the Author: Specializing in dark fantasy and horror, Angela Slatter has won a World Fantasy Award, a British Fantasy Award (the first—and so far, only—Australian to do so), and five Aurealis Awards. She's the author of, among others things, The Girl with No Hands and Other Tales, Sourdough and Other Stories, and The Bitterwood Bible and Other Recountings, as well as the Tor.com novella Of Sorrow and Such. Forthcoming from Jo Fletcher Books is the novel Vigil (2016) and its sequels Corpselight (2017) and Restoration (2018). She blogs about shiny things that catch her eye and haunts Twitter as @AngelaSlatter.
Advance Praise for A Feast of Shadows: Stories:
"An evocative, mysterious and memorable collection of stories told with wit, wisdom and humour; combined with a perfect pinch of dread and darkness." — Garth Nix, New York Times best-selling author of The Old Kingdom and The Keys to the Kingdom series
"Angela Slatter's newest collection is an exemplary specimen of that endangered genre: fairy-tale retellings that read as something wholly original and fresh. Dark, bold, visceral, and sly, full of smart fierce girls and women saving each other. One of the strongest thematic undercurrents in Feast of Sorrows is that of transformation, as expected of most folklore worth its salt. These, however, are transformations couched in a metafictional nesting-doll of source material. Here are heroines who are aware not only of the well-worn paths they tread, not only of the dark woods of which they are on all sides beset, but also that some paths are meant to be strayed from, and that new paths are made in so doing." — Nicole Kornher-Stace, author of Archivist Wasp
"Angela Slatter's stories pierce your skin and burrow deep, never to be forgotten." — Marianne de Pierres, author of the Peacemaker and the Sentients of Orion series
"Angela Slatter's new collection is full of heart-breaking fairy tales—not in the sanitized modern sense, but in the original style which used compelling stories to mask warnings. They combine timeless peril and beauty." — Mary Robinette Kowal, Hugo Award-winning author of The Glamourist Histories series
ALSO AVAILABLE IN EBOOK EDITION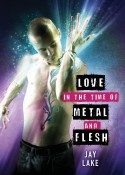 More Details
A Novella
Markus Selvage has been bent by life, ground up and spit out again. In San Francisco's darkest sexual underground, he is a perpetual innocent, looking within bodies—his own and others'—for the lost secrets of satisfaction. But extreme body modification is only the beginning of where he will go before he's finished .. .
Lake's stand-alone novella is a horror-tinged departure from his popular fantasy epics (Green, etc.). Markus Selvage, a Texas native living in approximately present-day San Francisco, gets involved in that city's deep-underground scene of extreme body modification—readers watch as Markus cuts off his left pinky finger and eventually has it replaced with a syringe—and equally extreme sex. Markus's lover, Danni, introduces him to this world, draws him in deeper, and then disappears…the threads are expertly woven together. The writing is graceful and sometimes even poetic…the subject matter tests the bounds of the word "explicit"…
About Jay Lake:
• Award-winning author of ten novels and over 300 short stories
• Cancer survivor who blogs about politics, technology and health
• Frequent headliner at conventions, conferences and workshops
• Acclaimed anthology editor
• Winner of the 2004 John W. Campbell Award for Best New Writer
• Multiple Hugo and World Fantasy Award nominee
More Details
Yamada no Goji is a minor nobleman of ancient Japan who has lost everything—except a single purpose: keep a promise to the woman he loved. In order to fulfill his vow, all he has to do is fight a horde of demons and monsters, bargain with a few ghosts, outwit the sinister schemers of the emperor's court, find a way to defeat an assassin who cannot be seen, heard, or touched – and change the course of history. Fortunately, Yamada specializes in achieving the seemingly impossible, so he is sure in some way to succeed… if he doesn't drink himself into oblivion first.
Publishers Weekly: STARRED REVIEW
Prolific writer Parks's superb supernatural page-turner, the second in the Yamada Monogatari series (after Demon Hunter), takes readers to medieval Japan, where Yamada, a minor nobleman, agrees to help the emperor's wife, Teiko, to dispel rumors about her son's parentage. Yamada enlists the help of his supernatural allies to find a letter that would clear Teiko's name, but this does not prevent the young woman's exile and suicide. When evidence emerges that Teiko was framed, Yamada seeks to right the wrongs of the royal court. Meanwhile, a menacing pall hangs over the city, growing darker with every passing day. Parks creates a fascinating world, where cutthroat court intrigue and the beings of the underworld collide. Yamada and his friends are well-rounded, believable characters, and the witty prose maintains mystery and suspense throughout. Playing with Japanese demonology and political scandal, Parks creates an absorbing and original tale.
More Details
Giant monsters whose every roar and footstep shakes the earth, whose simple stroll through a city wreaks havoc: KAIJU! And even though humankind has never really seen such monsters—we tremble at the thought of them and love to shiver as their screen versions make mayhem: the beast from twenty-thousand fathoms, Godzilla demolishing Tokyo, the massive creature in Cloverfield destroying New York, all of Earth warring with the colossal monsters in Pacific Rim. Now, for the first time, a definitive anthology that gathers a wide range of larger-than-life short fiction with creatures that run a gargantuan gamut: the stealthy gabbleduck of Neal Asher's Polity universe; Gary McMahon's huge sea-born terror; An Owomoyela's incredibly tall alien invaders; Frank Wu's city-razing, eighty-foot-high, fire-breathing lizard; Lavie Tidhar's titanic ship-devouring monstrosity; a really big Midwest US smackdown related by Jeremiah Tolbert…and many more mega-monster stories to feed your need for killer kaiju!
With an introduction by Robert Hood, co-editor of the groundbreaking, Ditmar Award-winning Daikaiju: Giant Monster Tales and host of Undead Backbrain, the premier website for matters relating to giant monsters.
Contents:
"Softly Spoke the Gabbleduck" by Neal Asher
"Occupied" by Natania Barron
"Now I Am Nothing" by Simon Bestwick
"The Black Orophant" by Daniel Braum
"Attack of the 50-Foot Cosmonaut" by Michael Canfield
"Postcards from Monster Island" by Emily Devenport
"Seven Dates That Were Ruined by Giant Monsters" by Adam Ford
"The Lighthouse Keeper of Kurohaka Island" by Kane Gilmour
"Kungmin Horangi: The People's Tiger" by Cody Goodfellow
"The Island of Dr. Otaku" by Cody Goodfellow
"With Bright Shining Faces" by Gini Koch
"One Night on Tidal Rig #13" by Tessa Kum
"Running" by Martin Livings
"The Unlawful Priest of Todesfall" by Penelope Love
"Breaking the Ice" by Maxine McArthur
"The Eyes of Erebus" by Chris McMahon
"Kaiju" by Gary McMahon
"Whatever Became of Randy?" by James A. Moore
"Kadimakara and Curlew" by Jason Nahrung
"Frozen Voice" by An Owomoyela
"Mamu, or Reptillion vs Echidonah" by Nick Stathopoulos
"Cephalogon" by Alys Sterling
"Show Night" by Steve Tem
"Titanic!" by Lavie Tidhar
"The Kansas Jayhawk vs. The Midwest Monster Squad" by Jeremiah Tolbert
"The Behemoth" by Jonathan Wood
"Love and Death in the Time of Monsters" by Frank Wu
ALSO AVAILABLE IN EBOOK EDITION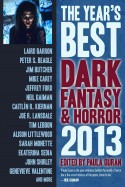 More Details
The darkness creeps upon us and we shudder, or it suddenly startles and we scream. There need be no monsters for us to be terrified in the dark, but if there are, they are just as often human and as supernatural. Join us in this outstanding annual exploration of the year's best dark fiction that includes stories of quiet fear, the utterly fantastic, the weirdly surreal, atmospheric noir, mysterious hauntings, seductive nightmares, and frighteningly plausible futures. Featuring thirty-five tales from masterful authors and talented new writers sure to make you reconsider walking in the shadows alone…
CONTENTS
(Listed alphabetically by author)
Laird Barron, "Hand of Glory" (The Book of Cthulhu 2)
Peter S. Beagle, "Great-Grandmother in the Cellar" (Under My Hat)
Peter Bell, "Glamour of Madness" (The Ghosts & Scholars Book of Shadows)
Joseph Bruchac, "Down in the Valley" (Postscripts #28/29: Exotic Gothic 4)
Jim Butcher, "Bigfoot on Campus" (Hex Appeal)
Mike Carey, "Iphigenia In Aulis" (An Apple for the Creature)
Terry Dowling, "Nightside Eye" (Cemetery Dance #66)
K. M. Ferebee, "The Bird Country" (Shimmer #15)
Jeffrey Ford, "The Natural History of Autumn" (F&SF, July/August 2012)
Neil Gaiman, "The Man Who Forgot Ray Bradbury" (The Shadow Show)
Theodora Goss, "England Under the White Witch" (Clarkesworld, Issue 73)
Maria Dahvana Headley, "Game" (Subterranean, Fall 2012)
Robert Hood, "Escena de un Asesinato" (Postscripts #28/29: Exotic Gothic 4)
Stephen Graham Jones, "Welcome to the Reptile House" (Strange Aeons #9)
Caitlín R Kiernan, "Fake Plastic Trees: (After)
Ellen Klages, "The Education of a Witch" (Under My Hat)
Marc Laidlaw, "Forget You" (Lightspeed, June 2012)
John Langan, "Renfrew's Course" (Lightspeed, April 2012)
Joe R. Lansdale. "The Tall Grass" (Dark Tales of Lost Civilizations)
Tim Lebbon, "Slaughterhouse Blues" (Nothing As It Seems)
Alison Littlewood, "The Eyes of Water (The Eyes of Water)
Good Hunting, Ken Liu (Strange Horizons, October 2012)
Helen Marshall, "No Ghosts In London" (Hair Side, Flesh Side)
Sarah Monette, "Blue Lace Agate" (Lightspeed, January 2012)
Ekaterina Sedia, "End of White" (Shotguns v Cthulhu)
Priya Sharma, "Pearls" (Bourbon Penn 04)
Robert Shearman, "Bedtime Stories for Yasmin" (Shadows & Tall Trees 4)
John Shirley, "When Death Wakes Me to Myself" (Black Wings II)
Cory Skerry, "Sinking Among Lilies" (Beneath Ceaseless Skies, Issue #92)
Simon Strantzas, "Go Home Again" (Fungi)
Rachel Swirsky, "The Sea of Trees" (The Future Is Japanese)
Melanie Tem, "Dahlias" (Black Wings II)
Karen Tidbeck, "Arvid Pekon" (Jagganath: Stories)
Genevieve Valentine, "Armless Maidens of the American West" (Apex, August 7, 2012)
Brooke Wonders, "Everything Must Go" (Clarkesworld, Issue 74)
More Details
The living dead are more alive than ever! Zombies have become more than an iconic monster for the twenty-first century: they are now a phenomenon constantly revealing as much about ourselves—and our fascination with death, resurrection, and survival—as our love for the supernatural or post-apocalyptic speculation. Our most imaginative literary minds have been devoured by these incredible creatures and produced exciting, insightful, and unflinching new works of zombie fiction. We've again dug up the best stories—even some poetry—published in the last few years and compiled them into an anthology to feed your insatiable hunger…
CONTENT (in alphabetical order by author last name):
• Joanne Anderton, "Trail of Dead"
• Michael Arnzen, "Rigormarole" (poem)
• Marie Brennan, "What Still Abides
• Mike Carey, "Iphigenia in Aulis"
• Jacques L. Condor (Mak a Tai Meh), "Those Beneath the Bog"
• Neil Gaiman, "The Day the Saucers Came" (poem)
• Roxane Gay, "There is No 'E' in Zombi Which Means There Can Be No You Or We"
• Ron Goulart, "I Waltzed with a Zombie"
• Eric Gregory, "The Harrowers"
• William Jablonsky, "The Death and Life of Bob"
• Shaun Jeffrey, "Til Death Do Us Part"
• Matthew Johnson, "The Afflicted"
• Stephen Graham Jones, "Rocket Man"
• Joy Kennedy-O'Neill "Aftermath"
• Caitlín R. Kiernan, "In The Dreamtime of Lady Resurrection"
• Nicole Kornher-Stace, "Present"
• Joe R. Lansdale, "The Hunt: Before and The Aftermath"
• Shira Lipkin, "Becca at the End of the World"
• David Liss, "What Maisie Knew"
• Jonathan Maberry, "Jack & Jill"
• Alex Dally MacFarlane, "Selected Sources for the Babylonian Plague of the Dead (572-571 BCE)"
• Maureen McHugh, "The Naturalist"
• Lisa Mannetti, "Resurgam"
• Joe McKinney, "The Day the Music Died"
• Tamsyn Muir, "Chew"
• Holly Newstein, "Delice"
• Cat Rambo, "Love, Resurrected"
• Carrie Ryan, "What We Once Feared"
• Marge Simon, "The Children's Hour" (poem)
• Maggie Slater, "A Shepherd of the Valley"
• Simon Strantzas, "Stemming the Tide"
• Charles Stross, "Bit Rot"
• Genevieve Valentine, "The Gravedigger of Konstan Spring"
• Carrie Vaughn, "Kitty's Zombie New Year"
• Don Webb, "Pollution"
• Jay Wilburn, "Dead Song"