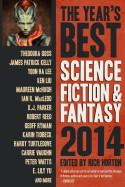 More Details
This sixth volume of the year's best science fiction and fantasy features over thirty stories by some of the genre's greatest authors, including James Patrick Kelly, Yoon Ha Lee, Ken Liu, Robert Reed, Lavie Tidhar, Carrie Vaughn, and many others. Selecting the best fiction from Asimov's, Clarkesworld, F&SF, and other top venues, The Year's Best Science Fiction & Fantasy is your guide to magical realms and worlds beyond tomorrow.
"Social Services" by Madeline Ash (An Aura of Familiarity)
"Out in the Dark" by Linda Nagata (Analog)
"The End of the World as We Know It, and We Feel Fine" by Harry Turtledove (Analog)
"The Oracle" by Lavie Tidhar (Analog)
"Call Girl" by Tang Fei (Apex)
"Ilse, Who Saw Clearly" by E. Lily Yu (Apex)
"They Shall Salt the Earth With Seeds of Glass" by Alaya Dawn Johnson (Asimov's)
"The Wildfires of Antarctica" by Alan De Niro (Asimov's)
"The Discovered Country" by Ian R. MacLeod (Asimov's)
"A Stranger from a Foreign Ship" by Tom Purdom (Asimov's)
"On the Origin of Song" by Naim Kabir (Beneath Ceaseless Skies)
"Effigy Nights" by Yoon Ha Lee (Clarkesworld)
"Soulcatcher" by James Patrick Kelly (Clarkesworld)
"Found" by Alex Dally MacFarlane (Clarkesworld)
"The Bees Her Heart, the Hive Her Belly" by Benjanun Sriduangkaew (Clockwork Phoenix 4)
"Loss, With Chalk Diagrams" by E. Lily Yu (Eclipse Online)
"A Brief History of the Trans-Pacific Tunnel" by Ken Liu (F&SF)
"Kormak the Lucky" by Eleanor Arnason (F&SF)
"Grizzled Veterans of Many and Much" by Robert Reed (F&SF)
"Rosary and Goldenstar" by Geoff Ryman (F&SF)
"The Dragons of Merebarton" by K.J. Parker (Fearsome Journeys)
"Martyr's Gem" by C. S. E. Cooney (Giganotosaurus)
"Such & Such Said to So & So" by Maria Dahvana Headley (Glitter & Mayhem)
"Killing Curses, a Caught-Heart Quest" by Krista Hoeppner Leahy (Lady Churchill's Rosebud Wristlet)
"A Fine Show on the Abyssal Plain" by Karin Tidbeck (Lightspeed)
"Paranormal Romance" by Christopher Barzak (Lightspeed)
"The Dead Sea-Bottom Scrolls" by Howard Waldrop (Old Mars)
"Blanchefleur" by Theodora Goss (Once Upon a Time)
"The Memory Book" by Maureen McHugh (Queen Victoria's Book of Spells)
"Live Arcade" by Erik Amundsen (Strange Horizons)
"Town's End" by Yukimi Ogawa (Strange Horizons)
"A Window or a Small Box" by Jedediah Berry (Tor.com)
"Trafalgar and Josefina" by Angelica Gorodischer (Trafalgar)
"Firebrand" by Peter Watts (Twelve Tomorrows)
"Game of Chance" by Carrie Vaughn (Unfettered)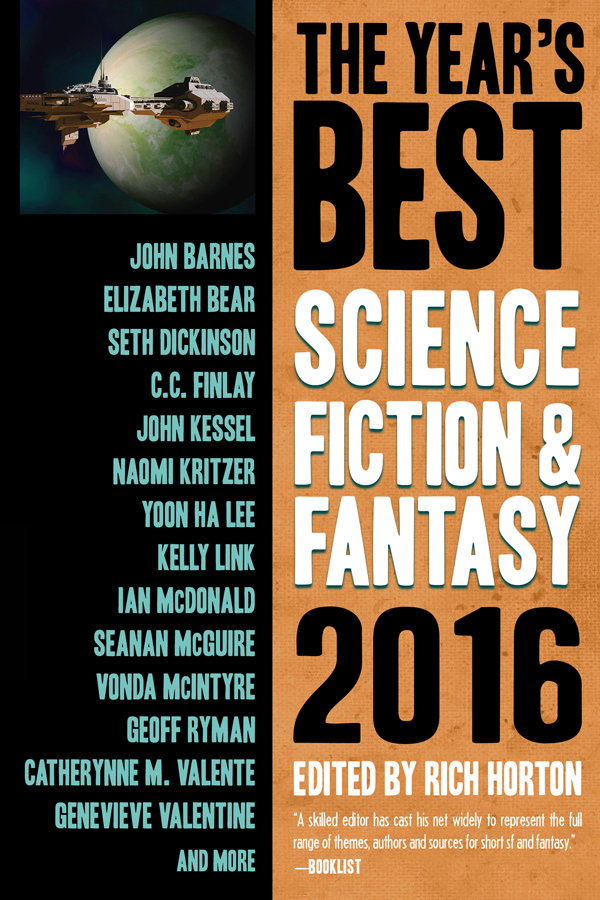 More Details
This eighth volume of the year's best science fiction and fantasy features over thirty stories by some of the genre's greatest authors, including John Barnes, Elizabeth Bear, C.C. Finlay, Yoon Ha Lee, Kelly Link, Ian McDonald, Seanan McGuire, Vonda N. McIntyre, Geoff Ryman, Catherynne M. Valente, Genevieve Valentine, and many others. Selecting the best fiction from periodicals including  Analog, Asimov's, Clarkesworld,  Lightspeed) as well as top anthologies (Meeting Infinity, Old Venus, Operation Arcana, Stories for Chip) and other  venues, The Year's Best Science Fiction & Fantasy is your guide to magical realms and worlds beyond tomorrow.
About the Editor: A software engineer for a "Large Aerospace Concern," Rich Horton reads a great deal. A lot of it is science fiction and fantasy. He is a short fiction reviewer for Locus and also spotlights older books (and other neat stuff) on his blog, Strange at Ectaban.
Contents:
"The Daughters of John Demetrius" by Joe Pitkin (Analog)
"Endless Forms Most Beautiful" by Alvaro Zinos-Amaro (Analog)
"Twelve and Tag" by Gregory Norman Bossert (Asimov's)
"Mutability" by Ray Nayler (Asimov's)
"Acres of Perhaps" by Will Ludwigsen (Asimov's)
"Unearthly Landscape by a Lady" by Rebecca Campbell (Beneath Ceaseless Skies)
"The King in the Cathedral" by Rich Larson (Beneath Ceaseless Skies)
"Little Sisters" by Vonda M. McIntyre (Book View Cafe)
"The Long Goodnight of Violet Wild" by Catherynne M. Valente (Clarkesworld)
"Asymptotic" by Andy Dudak (Clarkesworld)
"Cat Pictures Please" by Naomi Kritzer (Clarkesworld)
"Today I Am Paul" by Martin Shoemaker (Clarkesworld)
"The Deepwater Bride" by Tamysn Muir (F&SF)
The Two Paupers by C.S.E. Cooney (Fairchild Books)
"Hello Hello" by Seanan McGuire (Future Visions)
"The Astrakhan, the Homburg, and the Red, Red Coal" by Chaz Brenchley (Lightspeed)
"Time Bomb Time" by C.C. Finlay (Lightspeed)
"And You Shall Know Her by the Trail of Dead" by Brooke Bolander (Lightspeed)
"The Karen Joy Fowler Book Club" by Nike Sulway (Lightspeed)
"My Last Bringback" by John Barnes (Meeting Infinity)
"Drones" by Simon Ings (Meeting Infinity)
"The Heart's Filthy Lesson" by Elizabeth Bear (Old Venus)
"Botanica Veneris: Thirteen Papercuts by Idea Countness Rathagan" by Ian McDonald (Old Venus)
"The Graphology of Hemorrhage" by Yoon Ha Lee (Operation Arcana)
"Capitalism in the 22nd Century" by Geoff Ryman (Stories for Chip)
"The Game of Smash and Recovery" by Kelly Link (Strange Horizons)
"This Evening's Performance" by Genevieve Valentine (The Mammoth Book of Dieselpunk)
"Please Undo This Hurt" by Seth Dickinson (Tor.com)
"Consolation" by John Kessel (Twelve Tomorrows)
"Folding Beijing" by Hao Jingfang (Uncanny)


ALSO AVAILABLE IN EBOOK EDITION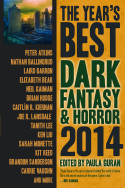 More Details
No matter your expectations, the dark is full of the unknown: grim futures, distorted pasts, invasions of the uncanny, paranormal fancies, weird dreams, unnerving nightmares, baffling enigmas, revelatory excursions, desperate adventures, spectral journeys, mundane terrors and supernatural visions. You may stumble into obsession or find redemption. Often disturbing, occasionally delightful, let The Year's Best Dark Fantasy and Horror be your annual guide through the mysteries and wonders of dark fiction.
Publishers Weekly Review: In Guran's fifth edition of eclectic nightmares, new and veteran authors blend psychological terror and supernatural wonder into disturbing hybrid tales, which confront "that which we do not know." Many of these stories first appeared in small-press collections and other independent fiction venues that are willing to challenge convention. Steve Rasnic Tem's "Wheatfield with Crows," a shadow-show of dark conscience, is both an emotionally searing ghost story and a commentary on the genre. David Schow's "Blue Amber" resembles a graphic and splattery Outer Limits script. Mystical scribe Laird Barron marries grim violence with supernatural ambiguity in the chilling "Termination Dust," and Neil Gaiman's use of Greek myth evokes contemporary lust and self-destruction in "A Lunar Labyrinth." A few pieces, like Dale Bailey's "The Creature Recants," set tongue too firmly in cheek to elicit pathos or wonder. Despite those misses, this fearful feast of revelations, hauntings, and shattered realities reveals the horror genre's enduring power and creativity.
Contents (in alphabetical order by author's last name):
"Postcards from Abroad," Peter Atkins (Rolling Darkness Revue 2013, Earthling Publications)
"The Creature Recants," Dale Bailey (Clarkesworld, Issue 85, October 2013)
"The Good Husband," Nathan Ballingrud (North American Lake Monsters, Small Beer Press)
"Termination Dust," Laird Barron (Tales of Jack the Ripper, ed. Ross Lockhart, Word Horde)
"The Ghost Makers," Elizabeth Bear (Fearsome Journeys, ed. Jonathan Strahan, Solaris)
"The Marginals," Steve Duffy (The Moment of Panic, PSPublishing)
"A Collapse of Horses," Brian Evenson (The American Reader, Feb/Mar 2013)
"A Lunar Labyrinth," Neil Gaiman (Shadows of the New Sun: Stories in Honor of Gene Wolfe, eds. J. E. Mooney & Bill Fawcett, Tor)
"Pride," Glen Hirshberg (Rolling Darkness Revue 2013, Earthling Publications)
"Let My Smile Be Your Umbrella," Brian Hodge (Psycho-Mania!, ed. Stephen Jones, Robinson)
"The Soul in the Bell Jar," K. J. Kabza (The Magazine of Fantasy & Science Fiction, Nov/Dec 2013)
"The Prayer of Ninety Cats," Caitlín R. Kiernan (Subterranean Online, Spring 2013)
"Dark Gardens," Greg Kurzawa (Interzone # 248)
"A Little of the Night," Tanith Lee (Clockwork Phoenix 4, ed. Mike Allen, Mythic Delirium)
"The Gruesome Affair of the Electric Blue Lightning," Joe R. Lansdale (Beyond Rue Morgue: Further Tales of Edgar Allan Poe's First Detective, ed. Paul Kane & Charles Prepole, Titan)
"Iseul's Lexicon," Yoon Ha Lee (Conservation of Shadows, Prime Books)
"The Plague" Ken Liu (Nature, 16 May 2013)
"The Slipway Gray," Helen Marshall (Chilling Tales 2, ed. Michael Kelly, Edge Publications)
"To Die for Moonlight," Sarah Monette (Apex Magazine, Issue #50)
"Event Horizon," Sunny Moraine (Strange Horizons, 21 Oct 2013)
"The Legend of Troop 13," Kit Reed (Asimov's Science Fiction, Jan 2013 / The Story Until Now: A Great Big Book of Stories, Wesleyan)
"Shadows for Silence in the Forests of Hell," Brandon Sanderson (Dangerous Women, eds. George R. R. Martin & Gardner Dozois, Tor)
"Phosphorous," Veronica Schanoes, (Queen Victoria's Book of Spells: An Anthology of Gaslamp Fantasy, eds. Ellen Datlow & Terri Windling, Tor)
"Blue Amber," David J. Schow (Impossible Monsters, ed. Kasey Lansdale, Subterranean Press)
"Rag and Bone," Priya Sharma (Tor.com, 10 April 2013)
"Our Lady of Ruins", Sarah Singleton (The Dark 2, Dec 2013)
"Cuckoo," Angela Slatter (A Killer Among Demons, ed. Craig Bezant, Dark Prints Press)
"Wheatfield with Crows," Steve Rasnic Tem (Dark World: Ghost Stories, ed. Timothy Parker Russell, Tartarus Press)
"Moonstruck," Karin Tidbeck (Shadows and Tall Trees, Vol. 5, ed. Mike Kelly, Undertow)
"The Dream Detective," Lisa Tuttle (Lightspeed, Mar 2013)
"Fishwife," Carrie Vaughn (Nightmare, Jun 2013
"Air, Water and the Grove," Kaaron Warren (The Lowest Heaven, eds Anne C. Perry & Jared Shurin, Jurassic London)
More Details
Macabre meetings, sinister excursions, and deadly relationships; uncanny encounters; a classic ghost story featuring an American god; a historical murderer revived in a frightening new iteration; innovative Lovecraftian turns; shadowy fairy tales and weird myths; strange children, the unexpected, the supernatural, the surreal, and the all-too real… tales of the dark. Such stories have always fascinated us, and modern authors carry on the disquieting traditions of the past while inventing imaginative new ways to unsettle us. Chosen from a wide variety of venues, these stories are as eclectic and varied as shadows. This volume of 2015's best dark fantasy and horror offers more than 500 pages of tales from some of today's finest writers of the fantastique—sure to delight as well as disturb.
Alphabetical by Author Last Name:
"The Door" by Kelley Armstrong (Led Astray: The Best of Kelley Armstrong, Tachyon)
"Snow" by Dale Bailey (Nightmare, June 2015)
"1Up" by Holly Black (Press Start to Play, ed. Adams, Vintage)
"Seven Minutes in Heaven" by Nadia Bulkin (Aickman's Heirs, ed. Strantzas, Undertow)
"The Glad Hosts" by Rebecca Campbell (Lackington's #7)
"Hairwork" by Gemma Files (She Walks in Shadows, eds. Moreno-Garcia & Stiles, Innsmouth Free Press)
"Black Dog" by Neil Gaiman (Trigger Warning: Short Fictions and Disturbances, William Morrow)
"A Shot of Salt Water" by Lisa L. Hannett (The Dark #8)
"The Scavenger's Nursery" by Maria Dahvana Headley (Shimmer #24)
"Daniel's Theory About Dolls" by Stephen Graham Jones (The Doll Collection, ed. Datlow, Tor)
"The Cripple and Starfish" by Caítlin R. Kiernan (Sirenia Digest #108)
"The Absence of Words" by Swapna Kishore (Mythic Delirium #1.3)
"Corpsemouth" by John Langan (The Monstrous, ed. Datlow, Tachyon)
"Cassandra" by Ken Liu (Clarkesworld #102)
"Street of the Dead House" by Robert Lopresti (nEvermore, eds. Kilpatrick & Soles, EDGE)
"Mary, Mary" by Kirstyn McDermott (Cranky Ladies of History, eds. Roberts & Wessely, Fablecroft)
"There is No Place for Sorrow in the Kingdom of the Cold" by Seanan McGuire (The Doll Collection, ed. Datlow, Tor)
"Below the Falls" by Daniel Mills (Nightscript 1, ed. Muller, Chthonic Matter)
"The Deepwater Bride" by Tamsyn Muir (F&SF Jul-Aug)
The Greyness" by Kathryn Ptacek (Expiration Date, ed. Kilpatrick, EDGE)
"The Three Resurrections of Jessica Churchill" by Kelly Robson (Clarkesworld #101)
"Those" by Sofia Samatar (Uncanny #3)
"Fabulous Beasts" by Priya Sharma (Tor.com)
"Windows Underwater" by John Shirley (Innsmouth Nightmares, ed. Gresh, PS Publishing)
"Ripper" by Angela Slatter (Horrorology, ed. Jones, Quercus)
"The Lily and the Horn" by Catherynne M. Valente (Fantasy #59)
"Sing Me Your Scars" by Damien Angelica Walters (Sing Me Your Scars, Apex)
"The Body Finder" by Kaaron Warren (Blurring the Line, ed. Young, Cohesion)
"The Devil Under the Maison Blue" by Michael Wehunt (The Dark #10)
"Kaiju maximus®: "So various, So Beautiful, So New" by Kai Ashante Wilson (Fantasy #59)
ALSO AVAILABLE IN EBOOK EDITION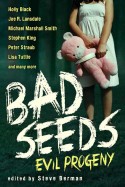 More Details
Children are supposed to be all sugar and spice and everything nice . . . but we know that's not the truth. Dark tales of wicked tykes and dangerous kids playing vicious games that lead adults—sometimes their own parents—to their demise are a staple of frightening fiction. Beware the schoolyards and playgrounds, even the sanctity of the familial home, especially after dark. And don't be fooled by a trickle of tears or tiny hands reaching for you. These youngsters do not want to love or comfort—only to inflict pain!
CONTENTS:
"If Damon Comes" by Charles Grant
"Treats" by Norman Partridge
"The Family" by Halli Villegas
"The Horse Lord" by Lisa Tuttle
"My Name Is Leejun" by John Schoffstall
"Princess of the Night" by Michael Kelly
"Duck Hunt" by Joe R. Lansdale
"The Choir" by Joel D. Lane
"Children of the Corn" by Stephen King
"Yellowjacket Summer" by Robert McCammon
"The Stuff that Goes on in Their Heads" by Michael Marshall Smith
"Second Grade" by Charles Antin
"Respects" by Ramsey Campbell
"Melanie Klein Said" by Robert McVey
"Gaslight" by Jeffrey Ford
"Endless Encore" by Will Ludwigsen
"Cockroach" by Dale Bailey
"By the Mark" by Gemma Files
"The Disappearance of James H___" by Hal Duncan
"I Was a Teenage Slasher Victim" by Stephen Graham Jones
"Blue Rose" by Peter Straub
"Making Friends" by Gary Raisor
"You Deserve" by Alex Jeffers
"The Queen of Knives" by Georgina Bruce
"The Naughty List" by Christine Morgan
"The Perfect Dinner Party" by Cassandra Clare & Holly Black
"Make Believe" by Michael Reaves
More Details
A Promethean Age Novel
The One-Eyed Jack and the Suicide King: personifications of the city of Las Vegas—its history, mystery, mystical power, and heart…
When the Suicide King vanishes—possibly killed—in the middle of a magic-rights turf war started by the avatars of Los Angeles, a notorious fictional assassin, and the mutilated ghost of Benjamin "Bugsy" Siegel—his partner, the One-Eyed Jack, must seek the aid of a bizarre band of legendary and undead allies: the ghosts of Doc Holliday and John Henry the steel-driving man; the echoes of several imaginary super spies, decades displaced in time; and a vampire named Tribute, who bears a strikingresemblance to a certain long-lost icon of popular music.

All stories are true, but some stories are truer than others.
About the Author:
Elizabeth Bear was born on the same day as Frodo and Bilbo Baggins, but in a different year. With the exception of seven years in Faerie, or perhaps Las Vegas (they are not so different, really) she has been a New Englander all my life—Connecticut, Vermont, and now Massachusetts. The author of a number of novels and short stories in the science fiction and fantasy genre, she has received a good deal of recognition for her work including two Hugo Awards, the John W. Cambell Award for Best New Writer (2005), a Sturgeon Award, a Locus Award, an Asimov's Reader's Choice award, a Spectrum Award, and an honorable mention for the Philip K. Dick Award. I have also been nominated for the World Fantasy Award, the British Science Fiction Award, the Lambda Award, the Romantic Times Reader's Choice Award, and several others. Her work has been translated into Japanese, Italian, Spanish, Czech, Russian, Polish, and Portuguese, among other languages. Her partner is a fantasy novelist who lives in Wisconsin. Find out more at www.elizabethbear.com
More Details
Lord Yamada is called away—one last time—from his newly restored estates in Kamakura to help Prince Kanemore ensure that Princess Teiko's son, Takahito, inherits the Chrysanthemum Throne. Unfortunately, assuming the throne proves to be the easy part. Yamada must then help Takahito renounce that throne in such a way as to hobble the power of the Fujiwara clan forever!
Other Books in the Series:
About the Author: Richard Parks published his first story in Amazing in 1981. He has published about ninety more in the years since. Yamada Monogatari: Demon Hunter was his fourth collection, but the only themed one. His three previous collections are The Ogre's Wife: Fairy Tales for Grownups, Worshipping Small Gods, and On the Banks of the River of Heaven. Other books by Parks include the novella Hereafter and After, The Heavenly Fox, and novel, The Long Look. He has also authored two other Yamada Monogatari novels: To Break the Demon Gate and The War God's Son. He's been a finalist for both the World Fantasy Award and the Mythopoeic Award for Adult Literature. Parks lives in Mississippi with his wife and a varying number of cats.


ALSO AVAILABLE IN EBOOK EDITION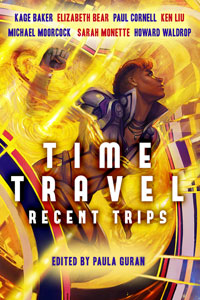 More Details
The idea of time travel has been with us since ancient times; now the concept of time travel seems… almost… plausible. Today, tales of chrononauts are more imaginative and thought-provoking than ever before: new views, cutting-edge concepts, radical notions of paradox and possibility—state-of-the-art speculative stories collected from those written in the twenty-first century. Forward to the past, back to the future—get ready for some fascinating trips!
CONTENTS (Alphabetically by author):
"The Time Travel Club," Charlie Jane Anders
"Mating Habits of the Late Cretaceous," Dale Bailey
"The Carpet Beds of Sutro Park," Kage Baker
"The Ile of Dogges," Elizabeth Bear & Sarah Monette
"The Ghosts of Christmas," Paul Cornell
"Thought Experiment," Eileen Gunn
"First Flight," Mary Robinette Kowal
"Blue Ink," Yoon Ha Lee
"The Man Who Ended History: A Documentary," Ken Liu
"The Lost Canal," Michael Moorcock
"The Mists of Time," Tom Purdom
"September at Wall and Broad," Kristine Kathryn Rusch
"Two Shots from Fly's Photo Gallery," John Shirley
"With Fate Conspire," Vandana Singh
"Twember," Steve Rasnic Tem
"Bespoke," Genevieve Valentine
"The King of Where-I-Go," Howard Waldrop
"Number 73 Glad Avenue," by Suzanne J. Willis
Cover art: Julie Dillion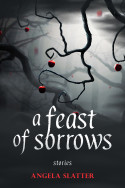 More Details
A Feast of Sorrows—Angela Slatter's first U.S. collection—features twelve of the World Fantasy and British Fantasy Award-winning Australian author's finest, darkest fairy tales, and adds two new novellas to her marvelous cauldron of fiction. Stories peopled by women and girls—fearless, frightened, brave, bold, frail, and fantastical—who take the paths less traveled by, accept (and offer) poisoned apples, and embrace transformation in all its forms. Reminiscent of Angela Carter at her best, Slatter's work is both timeless and fresh: fascinating new reflections from the enchanted mirrors of fairy tales and folklore.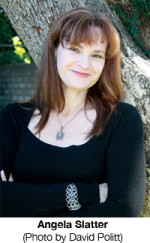 About the Author: Specializing in dark fantasy and horror, Angela Slatter has won a World Fantasy Award, a British Fantasy Award (the first—and so far, only—Australian to do so), and five Aurealis Awards. She's the author of, among others things, The Girl with No Hands and Other Tales, Sourdough and Other Stories, and The Bitterwood Bible and Other Recountings, as well as the Tor.com novella Of Sorrow and Such. Forthcoming from Jo Fletcher Books is the novel Vigil (2016) and its sequels Corpselight (2017) and Restoration (2018). She blogs about shiny things that catch her eye and haunts Twitter as @AngelaSlatter.
Advance Praise for A Feast of Shadows: Stories:
"An evocative, mysterious and memorable collection of stories told with wit, wisdom and humour; combined with a perfect pinch of dread and darkness." — Garth Nix, New York Times best-selling author of The Old Kingdom and The Keys to the Kingdom series
"Angela Slatter's newest collection is an exemplary specimen of that endangered genre: fairy-tale retellings that read as something wholly original and fresh. Dark, bold, visceral, and sly, full of smart fierce girls and women saving each other. One of the strongest thematic undercurrents in Feast of Sorrows is that of transformation, as expected of most folklore worth its salt. These, however, are transformations couched in a metafictional nesting-doll of source material. Here are heroines who are aware not only of the well-worn paths they tread, not only of the dark woods of which they are on all sides beset, but also that some paths are meant to be strayed from, and that new paths are made in so doing." — Nicole Kornher-Stace, author of Archivist Wasp
"Angela Slatter's stories pierce your skin and burrow deep, never to be forgotten." — Marianne de Pierres, author of the Peacemaker and the Sentients of Orion series
"Angela Slatter's new collection is full of heart-breaking fairy tales—not in the sanitized modern sense, but in the original style which used compelling stories to mask warnings. They combine timeless peril and beauty." — Mary Robinette Kowal, Hugo Award-winning author of The Glamourist Histories series
ALSO AVAILABLE IN EBOOK EDITION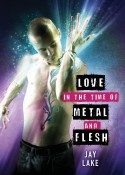 More Details
A Novella
Markus Selvage has been bent by life, ground up and spit out again. In San Francisco's darkest sexual underground, he is a perpetual innocent, looking within bodies—his own and others'—for the lost secrets of satisfaction. But extreme body modification is only the beginning of where he will go before he's finished .. .
Lake's stand-alone novella is a horror-tinged departure from his popular fantasy epics (Green, etc.). Markus Selvage, a Texas native living in approximately present-day San Francisco, gets involved in that city's deep-underground scene of extreme body modification—readers watch as Markus cuts off his left pinky finger and eventually has it replaced with a syringe—and equally extreme sex. Markus's lover, Danni, introduces him to this world, draws him in deeper, and then disappears…the threads are expertly woven together. The writing is graceful and sometimes even poetic…the subject matter tests the bounds of the word "explicit"…
About Jay Lake:
• Award-winning author of ten novels and over 300 short stories
• Cancer survivor who blogs about politics, technology and health
• Frequent headliner at conventions, conferences and workshops
• Acclaimed anthology editor
• Winner of the 2004 John W. Campbell Award for Best New Writer
• Multiple Hugo and World Fantasy Award nominee