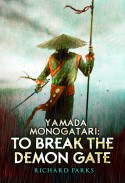 More Details
Yamada no Goji is a minor nobleman of ancient Japan who has lost everything—except a single purpose: keep a promise to the woman he loved. In order to fulfill his vow, all he has to do is fight a horde of demons and monsters, bargain with a few ghosts, outwit the sinister schemers of the emperor's court, find a way to defeat an assassin who cannot be seen, heard, or touched – and change the course of history. Fortunately, Yamada specializes in achieving the seemingly impossible, so he is sure in some way to succeed… if he doesn't drink himself into oblivion first.
Publishers Weekly: STARRED REVIEW
Prolific writer Parks's superb supernatural page-turner, the second in the Yamada Monogatari series (after Demon Hunter), takes readers to medieval Japan, where Yamada, a minor nobleman, agrees to help the emperor's wife, Teiko, to dispel rumors about her son's parentage. Yamada enlists the help of his supernatural allies to find a letter that would clear Teiko's name, but this does not prevent the young woman's exile and suicide. When evidence emerges that Teiko was framed, Yamada seeks to right the wrongs of the royal court. Meanwhile, a menacing pall hangs over the city, growing darker with every passing day. Parks creates a fascinating world, where cutthroat court intrigue and the beings of the underworld collide. Yamada and his friends are well-rounded, believable characters, and the witty prose maintains mystery and suspense throughout. Playing with Japanese demonology and political scandal, Parks creates an absorbing and original tale.
More Details
Giant monsters whose every roar and footstep shakes the earth, whose simple stroll through a city wreaks havoc: KAIJU! And even though humankind has never really seen such monsters—we tremble at the thought of them and love to shiver as their screen versions make mayhem: the beast from twenty-thousand fathoms, Godzilla demolishing Tokyo, the massive creature in Cloverfield destroying New York, all of Earth warring with the colossal monsters in Pacific Rim. Now, for the first time, a definitive anthology that gathers a wide range of larger-than-life short fiction with creatures that run a gargantuan gamut: the stealthy gabbleduck of Neal Asher's Polity universe; Gary McMahon's huge sea-born terror; An Owomoyela's incredibly tall alien invaders; Frank Wu's city-razing, eighty-foot-high, fire-breathing lizard; Lavie Tidhar's titanic ship-devouring monstrosity; a really big Midwest US smackdown related by Jeremiah Tolbert…and many more mega-monster stories to feed your need for killer kaiju!
With an introduction by Robert Hood, co-editor of the groundbreaking, Ditmar Award-winning Daikaiju: Giant Monster Tales and host of Undead Backbrain, the premier website for matters relating to giant monsters.
Contents:
"Softly Spoke the Gabbleduck" by Neal Asher
"Occupied" by Natania Barron
"Now I Am Nothing" by Simon Bestwick
"The Black Orophant" by Daniel Braum
"Attack of the 50-Foot Cosmonaut" by Michael Canfield
"Postcards from Monster Island" by Emily Devenport
"Seven Dates That Were Ruined by Giant Monsters" by Adam Ford
"The Lighthouse Keeper of Kurohaka Island" by Kane Gilmour
"Kungmin Horangi: The People's Tiger" by Cody Goodfellow
"The Island of Dr. Otaku" by Cody Goodfellow
"With Bright Shining Faces" by Gini Koch
"One Night on Tidal Rig #13" by Tessa Kum
"Running" by Martin Livings
"The Unlawful Priest of Todesfall" by Penelope Love
"Breaking the Ice" by Maxine McArthur
"The Eyes of Erebus" by Chris McMahon
"Kaiju" by Gary McMahon
"Whatever Became of Randy?" by James A. Moore
"Kadimakara and Curlew" by Jason Nahrung
"Frozen Voice" by An Owomoyela
"Mamu, or Reptillion vs Echidonah" by Nick Stathopoulos
"Cephalogon" by Alys Sterling
"Show Night" by Steve Tem
"Titanic!" by Lavie Tidhar
"The Kansas Jayhawk vs. The Midwest Monster Squad" by Jeremiah Tolbert
"The Behemoth" by Jonathan Wood
"Love and Death in the Time of Monsters" by Frank Wu
ALSO AVAILABLE IN EBOOK EDITION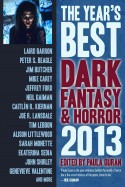 More Details
The darkness creeps upon us and we shudder, or it suddenly startles and we scream. There need be no monsters for us to be terrified in the dark, but if there are, they are just as often human and as supernatural. Join us in this outstanding annual exploration of the year's best dark fiction that includes stories of quiet fear, the utterly fantastic, the weirdly surreal, atmospheric noir, mysterious hauntings, seductive nightmares, and frighteningly plausible futures. Featuring thirty-five tales from masterful authors and talented new writers sure to make you reconsider walking in the shadows alone…
CONTENTS
(Listed alphabetically by author)
Laird Barron, "Hand of Glory" (The Book of Cthulhu 2)
Peter S. Beagle, "Great-Grandmother in the Cellar" (Under My Hat)
Peter Bell, "Glamour of Madness" (The Ghosts & Scholars Book of Shadows)
Joseph Bruchac, "Down in the Valley" (Postscripts #28/29: Exotic Gothic 4)
Jim Butcher, "Bigfoot on Campus" (Hex Appeal)
Mike Carey, "Iphigenia In Aulis" (An Apple for the Creature)
Terry Dowling, "Nightside Eye" (Cemetery Dance #66)
K. M. Ferebee, "The Bird Country" (Shimmer #15)
Jeffrey Ford, "The Natural History of Autumn" (F&SF, July/August 2012)
Neil Gaiman, "The Man Who Forgot Ray Bradbury" (The Shadow Show)
Theodora Goss, "England Under the White Witch" (Clarkesworld, Issue 73)
Maria Dahvana Headley, "Game" (Subterranean, Fall 2012)
Robert Hood, "Escena de un Asesinato" (Postscripts #28/29: Exotic Gothic 4)
Stephen Graham Jones, "Welcome to the Reptile House" (Strange Aeons #9)
Caitlín R Kiernan, "Fake Plastic Trees: (After)
Ellen Klages, "The Education of a Witch" (Under My Hat)
Marc Laidlaw, "Forget You" (Lightspeed, June 2012)
John Langan, "Renfrew's Course" (Lightspeed, April 2012)
Joe R. Lansdale. "The Tall Grass" (Dark Tales of Lost Civilizations)
Tim Lebbon, "Slaughterhouse Blues" (Nothing As It Seems)
Alison Littlewood, "The Eyes of Water (The Eyes of Water)
Good Hunting, Ken Liu (Strange Horizons, October 2012)
Helen Marshall, "No Ghosts In London" (Hair Side, Flesh Side)
Sarah Monette, "Blue Lace Agate" (Lightspeed, January 2012)
Ekaterina Sedia, "End of White" (Shotguns v Cthulhu)
Priya Sharma, "Pearls" (Bourbon Penn 04)
Robert Shearman, "Bedtime Stories for Yasmin" (Shadows & Tall Trees 4)
John Shirley, "When Death Wakes Me to Myself" (Black Wings II)
Cory Skerry, "Sinking Among Lilies" (Beneath Ceaseless Skies, Issue #92)
Simon Strantzas, "Go Home Again" (Fungi)
Rachel Swirsky, "The Sea of Trees" (The Future Is Japanese)
Melanie Tem, "Dahlias" (Black Wings II)
Karen Tidbeck, "Arvid Pekon" (Jagganath: Stories)
Genevieve Valentine, "Armless Maidens of the American West" (Apex, August 7, 2012)
Brooke Wonders, "Everything Must Go" (Clarkesworld, Issue 74)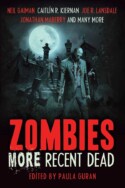 More Details
The living dead are more alive than ever! Zombies have become more than an iconic monster for the twenty-first century: they are now a phenomenon constantly revealing as much about ourselves—and our fascination with death, resurrection, and survival—as our love for the supernatural or post-apocalyptic speculation. Our most imaginative literary minds have been devoured by these incredible creatures and produced exciting, insightful, and unflinching new works of zombie fiction. We've again dug up the best stories—even some poetry—published in the last few years and compiled them into an anthology to feed your insatiable hunger…
CONTENT (in alphabetical order by author last name):
• Joanne Anderton, "Trail of Dead"
• Michael Arnzen, "Rigormarole" (poem)
• Marie Brennan, "What Still Abides
• Mike Carey, "Iphigenia in Aulis"
• Jacques L. Condor (Mak a Tai Meh), "Those Beneath the Bog"
• Neil Gaiman, "The Day the Saucers Came" (poem)
• Roxane Gay, "There is No 'E' in Zombi Which Means There Can Be No You Or We"
• Ron Goulart, "I Waltzed with a Zombie"
• Eric Gregory, "The Harrowers"
• William Jablonsky, "The Death and Life of Bob"
• Shaun Jeffrey, "Til Death Do Us Part"
• Matthew Johnson, "The Afflicted"
• Stephen Graham Jones, "Rocket Man"
• Joy Kennedy-O'Neill "Aftermath"
• Caitlín R. Kiernan, "In The Dreamtime of Lady Resurrection"
• Nicole Kornher-Stace, "Present"
• Joe R. Lansdale, "The Hunt: Before and The Aftermath"
• Shira Lipkin, "Becca at the End of the World"
• David Liss, "What Maisie Knew"
• Jonathan Maberry, "Jack & Jill"
• Alex Dally MacFarlane, "Selected Sources for the Babylonian Plague of the Dead (572-571 BCE)"
• Maureen McHugh, "The Naturalist"
• Lisa Mannetti, "Resurgam"
• Joe McKinney, "The Day the Music Died"
• Tamsyn Muir, "Chew"
• Holly Newstein, "Delice"
• Cat Rambo, "Love, Resurrected"
• Carrie Ryan, "What We Once Feared"
• Marge Simon, "The Children's Hour" (poem)
• Maggie Slater, "A Shepherd of the Valley"
• Simon Strantzas, "Stemming the Tide"
• Charles Stross, "Bit Rot"
• Genevieve Valentine, "The Gravedigger of Konstan Spring"
• Carrie Vaughn, "Kitty's Zombie New Year"
• Don Webb, "Pollution"
• Jay Wilburn, "Dead Song"
More Details
Streets are more than thoroughfares: they are sources of knowledge, points of connection, routes to hidden levels. In worlds where magic is real, streets can be full of dangerous shadows or paths to salvation. Wizards walk them, transformations abound, boulevards might seethe with sorcery, roads can lead to delightful enchantment . . . and, often, dead ends. Cobblestone or concrete, state of mind or situation, with magic in the equation these street stories from the minds of some of fantasy's finest writers and myriad sources will take you for a walk through wild realms of imagination.
Read the introduction here!
Contents:
Introduction: "Practices and Paved Paths" by Paula Guran
"Freewheeling" by Charles de Lint
"A Year and a Day in Old Theradane" by Scott Lynch
"Caligo Lane" by Ellen Klages
"Socks" by Delia Sherman
"Painted Birds and Shivered Bones" by Kat Howard
"The Goldfish Pond and Other Stories" by Neil Gaiman
"One-Eyed Jack and the Suicide King" by Elizabeth Bear
"Street Worm" by Nisi Shawl
"A Water Matter" by Jay Lake
"Last Call" by Jim Butcher
"Bridle" by Caitlín R. Kiernan
"The Last Triangle" by Jeffrey Ford
"Working for the God of the Love of Money" by Kaaron Warren
"Hello, Moto" by Nnedi Okorafor
"The Spirit of the Thing: A Nightside Story" by Simon R. Green
"A Night in Electric Squidland" by Sarah Monette
"Speechless in Seattle" by Lisa Silverthorne
"Palimpsest" by Catherynne M. Valente
"Ash" by John Shirley
"In Our Block" by R. A. Lafferty
ALSO AVAILABLE IN EBOOK EDITION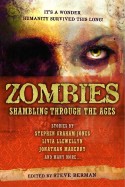 More Details
It's a wonder humanity ever survived into the twenty-first century. Even Neanderthals knew to bury the dead beneath stones to prevent corpses from rising. Ancient civilizations feared slain warriors would return from battlefields, medieval physicians worried that bodies would rise from plague pits, many cultures buried the dead at crossroads to prevent the dead from walking. In Zombies: Shambling Through the Ages, editor Steve Berman has collected stories that reveal the threat of revenants and the living dead is far from recent. From the Bronze Age to World War II, this anthology guides us through millennia of thrills, chills, kills, carnage, horror, and havoc wreaked throughout history by the walking dead.
CONTENTS:
~Before Lazarus~
"Blood Marker" by Victoria Janssen
"Selected Sources for the Babylonian Plague of the Dead (572-571 BCE)" by Alex Dally MacFarlane
"Immortals" by Nathan Southard
"The Cost of Moving the Dead" by E. L. Kemper
"Hauntings and Hungers on the Banks of the Vipasa" by Rajan Khanna
~After Lazarus~
~Antiquity~

"A Frenzy of Ravens" by Christopher M. Cevasco

"The Wedding of Osiris" by Adam Morrow
~The Middle Ages~

"The Hyena's Blessing" by Alex Jeffers
"The Good Shepherdess" by S. J. Chambers
"The Fledglings of Time" by Carrie Laben
~16th and 17th Centuries~
"Hung from a Hairy Tree" by Samantha Henderson
"Good Deaths" by Paul Berger
"Dead Reckoning" by Elaine Pascale
"Grit in a Diseased Eye" by Lee Thomas
"Theater is Dead" by Raoul Wainscoting
~18th Century~
"Deathless" by Ed Kurtz
"Tantivy" by Molly Tanzer
"Cinereous" by Livia Llewellyn
~19th Century~
"The Wailing Hills" by L. Lark
"As the Crow Flies" by Rita Oakes
"Seneca Falls: First Recorded Outbreak of Strain Z" by Dayna Ingram
"Pegleg and Paddy Save the World" by Jonathan Maberry
"Dead in the Water" by Richard Larson
"Starvation Army" by Joe McKinney
"Lonegan's Luck" by Stephen Graham Jones
"The Rickshaw Pusher " by Mercurio D. Rivera
"The Revenge of Oscar Wilde" by Sean Eads
~Early 20th Century~
"The Gringo" by Silvia Moreno-Garcia
"The End of the Caroll A. Deering" by Bob Hole
"Tell Me Like You Done Before" by Scott Edelman
"Wineville, California (1928)" by Richard Gropp
"The Fated Sky" by Aimee Payne
"The Crocodiles" by Steven Popkes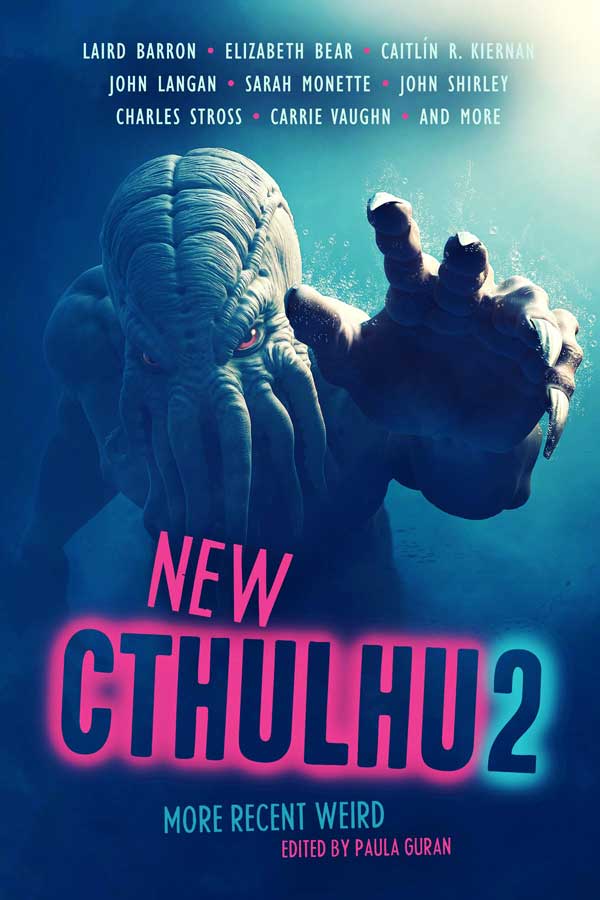 More Details
Many of the best weird fiction writers (and creators in most other media) have been profoundly influenced by the genre and the mythos H.P. Lovecraft created eight decades ago. Lovecraft's themes of cosmic indifference, minds invaded by the alien, and the horrors of history – written with a pervasive atmosphere of unexplainable dread – are more relevant than ever as we explore the mysteries of a universe in which our planet is infinitesimal and climatic change is overwhelming it. A few years ago, New Cthulhu : The Recent Weird presented some of the best of this new Lovecraftian fiction from the first decade of the twenty-first century. Now, New Cthulhu 2: More Recent Weird brings you more eldritch tales and even fresher fiction inspired by Lovecraft.
CONTENTS:
The Same Deep Waters As You • Brian Hodge
Mysterium Tremendum • Laird Barron
The Transition of Elizabeth Haskings • Caitlín R. Kiernan
Bloom • John Langan
At Home With Azathoth • John Shirley
The Litany of Earth • Ruthanna Emrys
Necrotic Cove • Lois Gresh
On Ice • Simon Strantzas
The Wreck of the Charles Dexter Ward • Elizabeth Bear & Sarah Monette
All My Love, A Fishhook • Helen Marshall
The Doom That Came to Devil Reef • Don Webb
Momma Durtt • Michael Shea
They Smell of Thunder • W.H. Pugmire
The Song of Sighs • Angela Slatter
Fishwife • Carrie Vaughn
In the House of the Hummingbirds • Silvia Moreno-Garcia
Who Looks Back? • Kyla Ward
Equoid • Charles Stross
The Boy Who Followed Lovecraft • Marc Laidlaw
From the seemingly bottomless reservoir of Lovecraftian pastiches and homages, Guran (New Cthulhu) has sieved 19 above-average reprints, all published between 2010 and 2014, and most tailoring their terrors to contemporary times. The monstrous horrors of "Momma Durtt," by the late Michael Shea (to whom the book is dedicated), are matched by the real-world vileness of toxic waste dumps and organized crime. The otherworldly infestation of Charles Stross's "Equoid" occurs amid black-ops espionage. Elizabeth Bear and Sarah Monette's send the intrigues of their futuristic "The Wreck of the Charles Dexter Ward" into outer space. Lovecraft's "The Shadow over Innsmouth" casts its shadow over several of the book's selections, the best of which—Brian Hodge's "The Same Deep Waters as You" and Ruthanna Emrys's "The Litany of Earth"—are parables whose events evoke modern political responses to terrorism. Some stories are more explicitly Lovecraftian than others, but all demonstrate how Lovecraft's dark mythology continues to inspire outstanding tales of modern horror.
More Details
The second volume of Prime Books' annual anthology series collecting some of the year's best novella-length science fiction and fantasy. Novellas, longer than short stories but shorter than novels, are a rich rewarding literary form that can fully explore tomorrow's technology, the far reaches of the future, thought-provoking imaginings, fantastic worlds, and entertaining concepts with all the impact of a short story as well as the detailed depth of a novel. Gathering a wide variety of excellent science fiction and fantasy, this anthology of "short novels" showcases the talents of both established masters and new writers.
Content (alphabetical by author last name):
"The Citadel of Weeping Pearls" by Aliette de Bodard (Asimov's Oct/Nov 2015)
"The Bone Swans of Amandale" by C.S.E. Cooney (Bone Swans, Mythic Delirium Books)
"Binti" by Nnedi Okorafor (Binti, Tor.com)
"The Last Witness" by K. J. Parker (The Last Witness, Tor.com)
"Johnny Rev" by Rachel Pollack (F&SF Jul/Aug 2015)
"Inhuman Garbage," by Kristine Kathryn Rusch (Asimov's March 2015)
"Gypsy," by Carter Scholz (F&SF Nov/Dec 2015)
"The Pauper Prince and the Eucalyptus Jinn," by Usman Malik (The Pauper Prince and the Eucalyptus Jinn, Tor.com)
"What Has Passed Shall in Kinder Light Appear" by Bao Shu, translated by Ken Liu (F&SF Mar/Apr 2015)
ALSO AVAILABLE IN EBOOK EDITION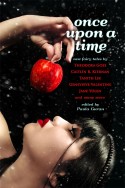 More Details
Eighteen extraordinary authors devise all-new fairy tales: imaginative reinterpretations of the familiar, evocative new myths, speculations beyond the traditional realm of "once upon a time." Often dark, occasionally humorous, always enthralling, these entertaining stories find a certain Puss in a near-future New York, an empress bargaining with a dragon, a princess turned into a raven, a king's dancing daughters with powerful secrets, great heroism, terrible villainy, sparks of mischief, and a great deal more. Brilliant dreams and dazzling nightmares with meaning for today and tomorrow…
"The Giant In Repose" by Nathan Ballingrud
"Eat Me, Drink Me, Love Me" by Christopher Barzak
"Tales That Fairies Tell" by Richard Bowes
"Warrior Dreams" by Cinda Williams Chima
"Blanchefleur" by Theodora Goss
"The Road of Needles" by Caitlín R. Kiernan
"Below the Sun Beneath" by Tanith Lee
"The Coin of Heart's Desire" by Yoon Ha Lee
"Sleeping Beauty of Elista" by Ekaterina Sedia
"Egg" by Priya Sharma
"Lupine" by Nisi Shawl
"Castle of Masks" by Cory Skerry
"Flight" by Angela Slatter
"The Lenten Rose" by Genevieve Valentine
"The Hush of Feathers, the Clamour of Wings" by A.C. Wise
"Born and Bread" by Kaaron Warren
"The Mirror Tells All" by Erzebet YellowBoy
"The Spinning Wheel's Tale" by Jane Yolen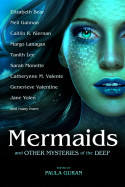 More Details
The sea is full of mysteries and rivers shelter the unknown. Dating back to ancient Assyria, folkloric tales of mermaids, sirens, rusalki, nymphs, selkies, and other seafolk are found in many cultures, including those of Europe, Africa, the Near East and Asia. Dangerous or benevolent, seductive or sinister – modern masters of fantasy continue to create new legends of these creatures that enchant and entertain us more than ever. Gathered here are some of the finest of these stories. Immerse yourself in this wonderful—and sometimes wicked—watery world!
CONTENTS
Elizabeth Bear Bear • Swell
Samuel R. Delany • Driftglass
Neil Gaiman • The Sea Change
Delia Sherman • Miss Carstairs and the Merman
Margo Lanagan • Sea-Hearts
Christopher Barzak • The Drowned Mermaid
Genevieve Valentine • Abyssus Abyssum Invocat
Seanan McGuire • Each to Each
Sarah Monette • Somewhere Beneath Those Waves Was Her Home
Peter S. Beagle • Salt Wine
Caitlín R. Kiernan • The Mermaid of the Concrete Ocean
Amanda Downum • Flotsam
Cat Rambo • The Mermaids Singing Each to Each
Anna Taborska • Rusalka3
Chris Howard • The Mermaid Game
Gene Wolfe • The Nebraskan and the Nereid
Angela Slatter • A Good Husband
A. C. Wise • Letters to a Body on the Cusp of Drowning
Jane Yolen • The Corridors of the Sea
Lisa L. Hannett • Forever, Miss Tapekwa County
Catherynne M. Valente • Urchins, While Swimming
Tanith Lee • Magritte's Secret Agent
Introduction: Waves
If there is magic on this planet, it is contained in water.—Loren Eiseley
Life on Earth began deep in the ocean and water remains the primary element needed to support that life.
We cherish water, but we also fear it—and for good reason: it can be unpredictable and dangerous as well as serene and beneficial. Our ancestors believed deities and spirits ruled the seas, the rivers, even the rain, lakes, springs, and wells. Appease the divine and, perhaps, you would be protected from the many aqueous perils…or not.
Powerful and incomprehensible, the oceans were thought to be the home of many monstrous creatures—sea serpents and dragons; the Norse Kraken, Greek Charybdis, Japanese Isonade, Biblical Leviathan. Rivers have monsters, too, like the Yacumama of the Amazon River or the malevolent zin, who live in the Niger River. As for lakes, even if you've never heard of the Welsh afanc, you know the Scottish Loch Ness monster.
The waters of the world were also believed to contain mythological creatures whose behaviors were as inconstant as our feelings about the mysteries of the deep. As Jane Yolen has said, "It is the allure of the beautiful, unattainable, mysterious Other. In every culture in every clime, there are stories of such creatures in the oceans, rivers, ponds, wells. Water is such a mutable, magical substance itself, the human imagination simply cannot believe it's not peopled as the earth is. We want there to be such underwater civilizations and—not finding them—we invent them and then turn around and believe in our own invention."
Tales have been told since ancient times of marine beings who were tricksters, brought misfortune, or lured humans to certain death. Some had wondrous voices, but to hear their enchanting songs or charmed speech could be fatal. Yet in other stories they were said to save sailors from drowning, grant wishes, or bestow treasure. Even if their actions were disastrous for humans, merfolk seem
amoral rather than evil. Since they are not human, why should they even comprehend our ideas of ethicality? Humans who understand such standards, often ignore them—especially when it comes to their conduct with mermaids, selkies, and others.
The seas were supposedly home for, among others, mermaids, mermen—usually, but not always, half human and half picine—sirens, the Nereids, and selkies. Other fantastic beings—like kelpies, naiads, morgens, rusalki, the Lorelei, the Nix, the Undine—were various nymphs, spirits, and shapechangers who inhabited rivers and lakes.
What is surely the best-known mermaid story, "Den lille havfrue" ("The Little Mermaid"), was written in 1836 by the Danish author Hans Christian Andersen. Published in 1837 in Denmark, it was translated into English by H. P. Paull in 1872. Despite its emphasis on Christian morality, pain and suffering, an unhappy ending, and a conclusion intended to frighten children, most of us seem to forget those aspects and remember it differently: the mermaid sacrifices her voice to persist in following her true love, who she marries and lives with (we assume) happily ever after. Maybe we read or heard bowdlerized versions, but many of us were thus impressed—unless we read or re-read the original Andersen story. When Disney's animated The Little Mermaid came along in 1989, we were happy
to accept Ariel, a rebellious and determined heroine who was, perhaps, not as independent as one might hope, but still no passive princess.
Earlier in the twentieth century, science fiction provided us with a new type of marine being: humans physically modified to breathe under water. And, skating somewhere between fantasy and science fiction, new concepts of undersea-living people—either related to humans or from a different genetic family altogether—arose. Human science has learned a great deal about the oceans, but we still have much to learn; there is still plenty of room to speculate.
And don't forget DC's comic-book superhero Aquaman. Since his creation in 1941, the character has had a wide range of incarnations and storylines, but his basic powers include the ability to live in the ocean depths, communicate with sea creatures, and swim at extremely high speed.
This anthology doesn't offer any of Aquaman's adventures or, for that matter, any finned red-haired teenagers wearing seashell bras. But it does present twenty-two wonderful fantasy and science-fiction stories involving many variations of merfolk. If there is any unifying theme beyond that, it may be transformation. Water is, after all, constantly changing.
Paula Guran