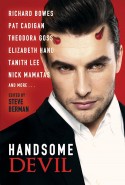 More Details
For millennia, male infernal figures have been portrayed as both dazzling tempters and dark seducers. The alluring fantasy of Handsome Devil highlights Lucifer's role as the beautiful trickster who steals hearts (as well as souls), and features stories—both new and old—of tantalizing tempters, sexy incubi, demon lovers, and devils who beguile and betray.
CONTENT
"Lilac Season" by Claire Humphrey
"A Spoonful of Salt" by Nicole M. Taylor
"Man in Blue Overcoat" by Silvia Moreno-Garcia
"This Is Not a Love Story" by Nicole Kornher-Stace
"The White Prince" by Orrin Grey
"Pira" by Brad Strickland
"The Cure" by Caren Gussoff
"Unveiled" by J. Daniel Stone
"The Wedding Guest" by Steve Chapman
"A Shot of Fireball" by Carrie Laben
"Catherine and the Satyr" by Theodora Goss
"The Queen and the Cambion" by Richard Bowes
"Sleep of Reason" by Halli Villegas
"The Love of the Emperor Is Divine" by Tom Cardamone
"Please Do Me: An Oral History" by Nick Mamatas
"The Queen of Them All" by Ed Kurtz
"Her Sweet Solace" by J. T. Glover
"Tears for Lilu" by Martin Rose
"Cain" by Tanith Lee
"Given to the Sea" by E. L. Kemper
"Oily Man" by Alex Jeffers
"Dirty" by Stephen Pope
"Winter" by Michelle Sagara
"Prince of Flowers" by Elizabeth Hand
"It Was the Heat" by Pat Cadigan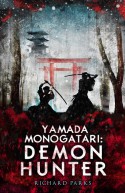 More Details
In an ancient Japan where the incursions of gods, ghosts, and demons into the living world is an everyday event, an impoverished nobleman named Yamada no Goji makes his living as a demon hunter for hire. With the occasional assistance of the reprobate exorcist Kenji, whatever the difficulty—ogres, demons, fox-spirits—for a price Yamada will do what needs to be done, even and especially if the solution to the problem isn't as simple as the edge of a sword. Yet, no matter how many monsters he has to face, or how powerful and terrible they may be, the demons Yamada fears the most are his own.
Richard Parks published his first story in Amazing in 1981. He has published over fifty more in the years since. His three previous collections to date are The Ogre's Wife: Fairy Tales for Grownups, Worshipping Small Gods, and On the Banks of the River of Heaven. (On the Banks of the River of Heaven is also published by Prime: hardcover/e-book). Other books by Parks include the novella Hereafter and After, The Heavenly Fox, and a novel, The Long Look. A second novel, To Break the Demon Gate, will be published soon. He's been a finalist for both the World Fantasy Award and the Mythopoeic Award for Adult Literature. Parks lives in Mississippi with his wife and a varying number of cats.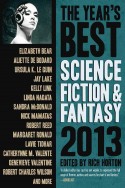 More Details
This fifth volume of the year's best science fiction and fantasy series features thirty-three stories by some of the genre's greatest authors, including Elizabeth Bear, Aliette de Bodard, Ursula K. Le Guin, Jay Lake, Kelly Link, Robert Reed, Lavie Tidhar, Catherynne M. Valente, Genevieve Valentine, and many others. Selecting the best fiction from Analog, Asimov's, Clarkesworld, F&SF, StrangeHorizons, and other top venues,The Year's Best Science Fiction & Fantasy is your guide to magical realms and worlds beyond tomorrow.
Content:
"Nahiku West" by Linda Nagata (Analog)
"A Murmuration of Starlings" by Joe Pitkin (Analog)
"The Black Feminist's Guide to Science Fiction Film Editing" by Sandra McDonald (Asimov's)
"The Bernoulli War" by Gord Sellar (Asimov's)
"In the House of Aryaman, a Lonely Signal Burns" by Elizabeth Bear (Asimov's)
"The Castle That Jack Built" by Emily Gilman (Beneath Ceaseless Skies)
"The Governess and the Lobster" by Margaret Ronald, (Beneath Ceaseless Skies)
"Sunshine" by Nina Allan (Black Static)
"Scattered Along the River of Heaven" by Aliette de Bodard (Clarkesworld)
"A Hundred Ghosts Parade Tonight" by Xia Jia (Clarkesworld)
"Prayer" by Robert Reed (Clarkesworld)
"Honey Bear" by Sofia Samatar (Clarkesworld)
"The Contrary Gardener" by Christopher Rowe (Eclipse Online)
"Heaven Under Earth" by Aliette de Bodard (Electric Velocipede)
"Scrap Dragon" by Naomi Kritzer (F&SF)
"Twenty-Two and you" by Michael Blumlein (F&SF)
"One Breath, One Stroke" by Catherynne M. Valente (The Future is Japanese)
"One Day in Time City" by David Ira Cleary (Interzone)
"The Philosophy of Ships" by Caroline Yoachim (Interzone)
"Give Her Honey When You Hear Her Scream" by Maria Dahvana Headley (Lightspeed)
"The Gravedigger of Konstan Spring" by Genevieve Valentine (Lightspeed)
"Arbeitskraft" by Nick Mamatas (The Mammoth Book of Steampunk)
"Fireborn" by Robert Charles Wilson (Rip-Off)
"Under the Eaves" by Lavie Tidhar (Robots: The New A.I.)
"Four Kinds of Cargo" by Leonard Richardson (Strange Horizons)
"The Keats Variation" by K. M. Ferebee (Strange Horizons)
"Things Greater Than Love" by Kate Bachus (Strange Horizons)
"The Weight of History, The Lightness of the Future" by Jay Lake (Subterranean)
"Elementals" by Ursula K. Le Guin (Tin House)
"Two Houses" by Kelly Link (Tin House)
"Swift, Brutal Retaliation" by Meghan McCarron (Tor.com)
"Uncle Flower's Homecoming Waltz" by Marissa K. Lingen (Tor.com)
"The Magician's Apprentice" by Tamsyn Muir (Weird Tales)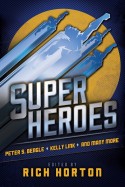 More Details
Now, find within this anthology great tales by gifted and award-winning authors who move superheroes from the four-color panels of comic books to the fantastic pages of fiction, stories that will remind anyone who ever wanted to wear a cape or don a cowl of the extraordinary powers of the imagination!
Contents (alphabetical by author):
"Dirae" by Peter S. Beagle
"The Strange Desserts of Professor Natalie Doom" by Kat Beyer
"Wild Card" by Leah Bobet
"Grandma" by Carol Emshwiller
"The Los Angeles Women's Auxiliary Superhero League" by Elana Fontin
"Secret Identity" by Kelly Link
"The Illustrated Biography of Lord Grimm" by Daryl Gregory
"Heroic Measures" by Matthew Johnson
"Super. Family." by Ian Donald Keeling
"The Biggest" by James Patrick Kelly
"Superhero Girl" by Jessica J. Lee
"Secret Identity" by Kelly Link
"Tonight We Fly" by Ian McDonald
"Downfall" by Joseph Mallozzi
"Sunlight Society" by Margaret Ronald
"Dr. Death vs. the Vampire" by Aaron Schutz
"Wonjiang and the Madman of Pyongyang" by Gord Sellar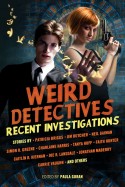 More Details
Paranormal investigators. Occult detectives. Ghost hunters. Monster fighters. Humans who unravel uncanny crimes and solve psychic puzzles; sleuths with supernatural powers of their own who provide services far beyond those normal gumshoes, shamuses, and Sherlocks can provide. When vampires, werewolves, and thing that go bump in the night are part of your world, criminals can be as inhuman as the crimes they commit, and magic can seep into the mundane—those who solve the mysteries, bring justice for victims or even save the world itself, might wield wands as well as firearms, utter spells or simply use their powers of deduction. Some of the best twenty-first century tales from top authors of the century's most popular genre take you down mean streets and into strange crime scenes in this fantastic compilation.
Contents (alphabetical by author):
"Cryptic Coloration" by Elizabeth Bear
"The Key" by Ilsa J. Blick
"Mortal Bait" Richard Bowes
"Star of David" by Patricia Briggs
"Love Hurts" by Jim Butcher
"Swing Shift" by Dana Cameron
"The Necromancer's Apprentice" by Lillian Stewart Carl
"Sherlock Holmes and the Diving Bell" by Simon Clark
"The Adakian Eagle" by Bradley Denton
"Hecate's Golden Eye" by P.N. Elrod
"The Case of Death and Honey" by Neil Gaiman
"The Nightside, Needless to Say" by Simon R. Green
"Deal Breaker" by Justin Gustainis
"Death by Dahlia" by Charlaine Harris
"See Me" by Tanya Huff
"Signatures of the Dead" by Faith Hunter
"The Maltese Unicorn" by Caitlín R. Kiernan
"The Case of the Stalking Shadow" by Joe R. Lansdale
"Like a Part of the Family" by Jonathan Maberry
"The Beast of Glamis" by William Meikle
"Fox Tails" by Richard Parks
"Imposters" by Sarah Monette
"Defining Shadows" by Carrie Vaughn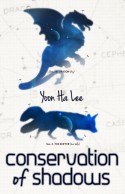 More Details
There is no such thing as conservation of shadows. When light destroys shadows, darkness does not gain in density elsewhere. When shadows steal over earth and across the sky, darkness is not diluted
In this debut collection of short fiction from one of science fiction and fantasy's most notable new writers, Yoon Ha Lee often integrates tropes of science fiction with elements of myth to create tales that are both wonderfully fresh and deeply ancient. No matter what the theme, her wide variety of stories are strikingly original and always indelible.
With an introduction by Aliette de Bodard."
[Starred] Lee's short fiction has been lauded by respected anthologists and discerning readers; this fine collection of 16 stories (one original) gives Lee's work the chance to reach the wider audience it deserves. Of particular interest are "Ghostweight," whose protagonist's desire for revenge brings terrible results, and the thematically related "Effigy Nights." These provide an interesting contrast to the moral dilemma faced by the heroine of "Swanwatch," whose masters have placed her in a cruel game. As the author's notes make clear, Lee draws on a wide range of inspirations, using other genre fiction and Korean history as a seeds around which to crystalize stories. Lee's stories are often dark and tragic, and always worth the reader's time
Yoon Ha Lee is an award-nominated Korean-American writer who majored in math and finds it a source of continual delight that math can be mined for science fiction and fantasy story ideas. Her stories have appeared in such publications as Clarkesworld, Tor.com, Lightspeed, The Year's Best Science Fiction, The Year's Best Science Fiction and Fantasy, The Year's Best Dark Fanasy and Horror, and other venues. Lee has written for Alderac Entertainment Group's roleplaying game/collectible card game Legend of the Five Rings and recently authored the browser-based StoryNexus game Winterstrike. She lives in Baton Rouge, Louisiana with her husband and daughter.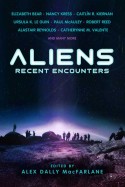 More Details
Under the countless billions of stars in the universe, what forms will alien life take? How will they live? And what will happen when we meet them? Aliens: Recent Encounters collects answers to these questions from some of today's best science fiction writers. From first encounters to life alongside aliens — and stories of the aliens' own lives — here are many futures: violent and peaceful, star-spanning and personal. Only one thing is certain: alien life will defy our expectations.
An Owomoyela – "Frozen Voice"
Ken Liu – "The Bookmaking Habits of Select Species"
Catherynne M. Valente – "Golubash, or Wine-Blood-War-Elegy"
Zen Cho – "The Four Generations of Chang E"
Vandana Singh – "The Tetrahedon"
Paul McAuley – "The Man"
Ursula K. Le Guin – "Seasons of the Ansarac"
Molly Gloss – "Lambing Season"
Desirina Boskovich – "Celadon"
Genevieve Valentine – Carthago Delenda Est"
Caitlín R. Kiernan – "I Am the Abyss and I Am the Light"
Jamie Barras, "The Beekeeper"
Robert Reed, "Noumenon"
Elizabeth Bear, "The Death of Terrestial Radio"
Sofia Samatar, "Honey Bear"
Karin Lowachee, "The Forgotten Ones"
Jeremiah Tolbert, "The Godfall's Chemsong"
Alastair Reynolds, "For the Ages"
Brooke Bolander, "Sun Dogs"
Nisi Shawl, "Honorary Earthling"
Samantha Henderson, "Shallot"
Sonya Taaffe, "The Boy Who Learned How to Shudder"
Eleanor Arnason, "Knapsack Poems"
Gitte Christensen, "Nullipara"
Indrapramit Das, "muo-ka's Child"
Jeffrey Ford, "The Dismantled Invention of Fate"
Karin Tidbeck, "Jagannath"
Pervin Saket, "Test of Fire"
Nancy Kress, "My Mother, Dancing"
Greg van Eekhout, "Native Aliens"
Lavie Tidhar, "Covenant"
Yoon Ha Lee, "A Vector Alphabet of Interstellar Travel"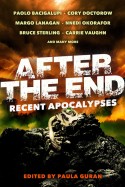 More Details
From the Sumerian epic of Gilgamesh to Norse prophecies of Ragnarök to the Revelations of Saint John to Cormac McCarthy's The Road, any number of fictional zombie Armageddons, and the dystopic world of The Hunger Games, we have always wondered what will happen after the world as we know it ends. No matter what the doomsday scenario—cataclysmic climate change, political chaos, societal collapse, nuclear war, pestilence, or so many other dreaded variations—we inevitably believe that even though the world perishes, some portion of humankind will live on. Such stories involve death and disaster, but they are also tales of rebirth and survival. Grim or triumphant, these outstanding post-apocalyptic stories selected from selected from the best of those published in the tumultuous last decade allow us to consider what life will be like after the end.
[Starred Review] Guran presents 20 reprints about postapocalyptic survival, all first published between 2008 and 2012. Scenarios include genetic mutation (Margo Lanagan's "The Fifth Star in the Southern Cross," Nnedi Okorafor's "Tumaki"), the threat of nuclear war (Bruce Sterling's "Goddess of Mercy," Livia Llewellyn's "Horses"), and climate change (Mary Rosenblum's "The Egg Man," Carrie Vaughn's "Amaryllis")…. The focus is on the individual and relationships instead of society as a whole: parents and children (Maureen McHugh's "After the Apocalypse," Blake Butler's "The Disappeared") and lovers (Simon Morden's "Never, Never, Three Times Never," John Shirley's "Isolation Point, California") sit comfortably alongside individuals fitting or forcing themselves into the new society (Lauren Beukes's "Chiselhurst Messiah", Cory Doctorow's "Beat Me Daddy (Eight to the Bar)"). Every style and taste is represented, and readers will enjoy learning (or being reminded) why so many of these authors are considered stars of the genre.—Publishers Weekly
Contents (alphabetically listed by author):
• Paolo Bacigalupi, "Pump Six"
• Kage Baker, "The Books"
• Lauren Beukes, "Chislehurst Messiah"
• Blake Butler, "The Disappeared"
• Cory Doctorow, "Beat Me Daddy (Eight to the Bar)"
• Brian Evenson, "The Adjudicator"
• Steven Gould, "A Story, with Beans"
• Margo Lanagan, "The Fifth Star In the Southern Cross"
• Livia Llewellyn, "Horses"
• M.J. Locke, "True North"
• John Mantooth, "The Cecilia Paradox"
• Maureen McHugh, "After the Apocalypse"
• Simon Morden, "Never, Never, Three Times Never"
• Nnedi Okorafor, "Tumaki"
• Paul Park, "Ragnarok"
• Mary Rosenblum, "The Egg Man"
• John Shirley, "Isolation Point, California"
• Bruce Sterling, "Goddess of Mercy"
• Paul Tremblay, "We Will Never Live in the Castle"
• Carrie Vaughn, "Amaryllis"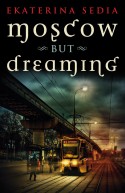 More Details
Introduction by Jeffrey Ford

The first short story collection by award-winning author Ekaterina Sedia. One of the more resonant voices to emerge in recent years, this Russian-born author explores the edge between the mundane and fantastical in tales inspired by her homeland as well as worldwide folkloric traditions. Singular and lyrical writing that will appeal to fans of slipstream and magical realism, as well as those interested in the uncanny and Russian history.
[Starred Review] In this sterling collection of 21 fantastic tales, Sedia demonstrates the talents that have earned her a place on the Tiptree Honor List and a World Fantasy Award. Old enough to have lived in the actual Soviet Union, the Russian-born author refuses to pander to North American readers' notions of life behind the Iron Curtain. While stories like "Citizen Komarova Finds Love," in which a Russian noblewoman finds the grimmest of accommodations in a newly soviet Russia, and "Tin Cans," whose protagonist is haunted by the specters of secret police chief Lavrentiy Beria's victims, acknowledge the grim side of the U.S.S.R., Sedia allows present-day characters moments of nostalgia for the good that was lost "after the horrible and hungry 1990." She also touches on other times and places, as in "The Bank of Burkina Faso," which spins a 419 scam letter into a sweet and funny fairy tale. This masterful stylist's lyrical stories will delight the thoughtful reader. — Publishers Weekly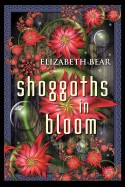 More Details
With an introduction by Scott Lynch
Winner of the 2013 Locus Poll for Best Collection!
A compilation of short science fiction and fantasy from Elizabeth Bear—tales of myth and mythic resonance, fantasies both subtle and epic in tone; hard science fiction and speculations about an unknowable universe. This collection, showcasing Bear's unique imagination and singular voice, includes her Hugo- and Theodore Sturgeon Memorial Award-winning story "Tideline" and Hugo-winning novelette "Shoggoths in Bloom," as well as an original, never-published story. Recipient of the John W. Campbell Award for Best New Writer, the Locus Award, a World Fantasy, British Fantasy, and Philip K. Dick nominee, Bear is one of speculative fiction's most acclaimed, respected, and prolific authors.
REVIEWS:
[Starred Review] Many novelists translate badly to short form, but Hugo award-winner Bear  loses none of her depth or emotional power in this anthology of fierce, lonely tales about sacrifice, bravery, and loss. Missteps—her use of real historical figures in "Sonny Liston Takes the Fall" seems to imply that Muhammad Ali owed his career to another boxer's mystical sacrifice—are rare. Bear at her best is magical, as in "The Girl Who Sang Rose Madder," in which a former rock star has to choose between death as an artist and immortality as an undead hack musician. Other standouts include the title story, about a black professor in the 1930s who finds kinship with the Lovecraftian monsters he studies, and "The Cold Blacksmith," a bittersweet fairy tale about what it takes to mend a heart. As in her novels, Bear's world-building is absorbingly rich and strange, full of blue parrot cats, ruthless Mongol-ish princesses, and modern alleyways haunted by cockatrices and harpies, and adventurous readers will find her storytelling absolutely irresistible.—Publishers Weekly

I heartily recommend this book for readers who enjoy complicated stories that deal, often, with the personal and intersectional politics of survival—Bear frequently engages with issues of gender, race, class, and sexuality, among other things, and she does so with an attention to detail and a sympathy for other folks' stories that I find moving. Shoggoths in Bloom showcases a handful of brilliant stories, and several great ones, to strong effect; I would, happily, read it again. And again.—Tor.com

If I've learned anything from this collection, it's that some kinds of stories deserve hopeful endings. If you already knew that, then I can recommend this collection without reservations. The stories are thought-provoking, well-written, and, above all, pretty fun… this one is worth checking out. There's something here that's real.—Strange Horizons

Shoggoths in Bloom is a pleasingly eclectic collection. It contrives to run from straight SF to fantasy and back again without pausing for breath … Elizabeth Bear is one of those authors who manages to be original every time and, in this collection, we have a rare collection of different stories, each different but with the same standard of excellence … Shoggoths in Bloom is excellent and well worth reading.—Thinking About Books

This is an excellent anthology for those seeking out quality, contemporary speculative short fiction … Each story is powerful, heart-rending, and memorable in its own way … Shoggoths in Bloom left me satisfied—and famished for seconds. More please. (Five stars.)—The Canary Review

Bear is a mistress of short story … If you are tired of clichés of genre or lack of fantastic in literary fiction, try [Shoggoths in Bloom]. If you want to know what it would be like if borders between two didn't exist, Shoggoths in Bloom is as close as you can get. —A Book With a View