More Details
The second volume of Prime Books' annual anthology series collecting some of the year's best novella-length science fiction and fantasy. Novellas, longer than short stories but shorter than novels, are a rich rewarding literary form that can fully explore tomorrow's technology, the far reaches of the future, thought-provoking imaginings, fantastic worlds, and entertaining concepts with all the impact of a short story as well as the detailed depth of a novel. Gathering a wide variety of excellent science fiction and fantasy, this anthology of "short novels" showcases the talents of both established masters and new writers.
Content (alphabetical by author last name):
"The Citadel of Weeping Pearls" by Aliette de Bodard (Asimov's Oct/Nov 2015)
"The Bone Swans of Amandale" by C.S.E. Cooney (Bone Swans, Mythic Delirium Books)
"Binti" by Nnedi Okorafor (Binti, Tor.com)
"The Last Witness" by K. J. Parker (The Last Witness, Tor.com)
"Johnny Rev" by Rachel Pollack (F&SF Jul/Aug 2015)
"Inhuman Garbage," by Kristine Kathryn Rusch (Asimov's March 2015)
"Gypsy," by Carter Scholz (F&SF Nov/Dec 2015)
"The Pauper Prince and the Eucalyptus Jinn," by Usman Malik (The Pauper Prince and the Eucalyptus Jinn, Tor.com)
"What Has Passed Shall in Kinder Light Appear" by Bao Shu, translated by Ken Liu (F&SF Mar/Apr 2015)
ALSO AVAILABLE IN EBOOK EDITION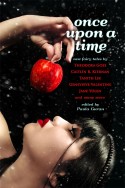 More Details
Eighteen extraordinary authors devise all-new fairy tales: imaginative reinterpretations of the familiar, evocative new myths, speculations beyond the traditional realm of "once upon a time." Often dark, occasionally humorous, always enthralling, these entertaining stories find a certain Puss in a near-future New York, an empress bargaining with a dragon, a princess turned into a raven, a king's dancing daughters with powerful secrets, great heroism, terrible villainy, sparks of mischief, and a great deal more. Brilliant dreams and dazzling nightmares with meaning for today and tomorrow…
"The Giant In Repose" by Nathan Ballingrud
"Eat Me, Drink Me, Love Me" by Christopher Barzak
"Tales That Fairies Tell" by Richard Bowes
"Warrior Dreams" by Cinda Williams Chima
"Blanchefleur" by Theodora Goss
"The Road of Needles" by Caitlín R. Kiernan
"Below the Sun Beneath" by Tanith Lee
"The Coin of Heart's Desire" by Yoon Ha Lee
"Sleeping Beauty of Elista" by Ekaterina Sedia
"Egg" by Priya Sharma
"Lupine" by Nisi Shawl
"Castle of Masks" by Cory Skerry
"Flight" by Angela Slatter
"The Lenten Rose" by Genevieve Valentine
"The Hush of Feathers, the Clamour of Wings" by A.C. Wise
"Born and Bread" by Kaaron Warren
"The Mirror Tells All" by Erzebet YellowBoy
"The Spinning Wheel's Tale" by Jane Yolen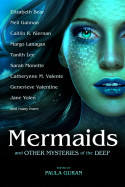 More Details
The sea is full of mysteries and rivers shelter the unknown. Dating back to ancient Assyria, folkloric tales of mermaids, sirens, rusalki, nymphs, selkies, and other seafolk are found in many cultures, including those of Europe, Africa, the Near East and Asia. Dangerous or benevolent, seductive or sinister – modern masters of fantasy continue to create new legends of these creatures that enchant and entertain us more than ever. Gathered here are some of the finest of these stories. Immerse yourself in this wonderful—and sometimes wicked—watery world!
CONTENTS
Elizabeth Bear Bear • Swell
Samuel R. Delany • Driftglass
Neil Gaiman • The Sea Change
Delia Sherman • Miss Carstairs and the Merman
Margo Lanagan • Sea-Hearts
Christopher Barzak • The Drowned Mermaid
Genevieve Valentine • Abyssus Abyssum Invocat
Seanan McGuire • Each to Each
Sarah Monette • Somewhere Beneath Those Waves Was Her Home
Peter S. Beagle • Salt Wine
Caitlín R. Kiernan • The Mermaid of the Concrete Ocean
Amanda Downum • Flotsam
Cat Rambo • The Mermaids Singing Each to Each
Anna Taborska • Rusalka3
Chris Howard • The Mermaid Game
Gene Wolfe • The Nebraskan and the Nereid
Angela Slatter • A Good Husband
A. C. Wise • Letters to a Body on the Cusp of Drowning
Jane Yolen • The Corridors of the Sea
Lisa L. Hannett • Forever, Miss Tapekwa County
Catherynne M. Valente • Urchins, While Swimming
Tanith Lee • Magritte's Secret Agent
Introduction: Waves
If there is magic on this planet, it is contained in water.—Loren Eiseley
Life on Earth began deep in the ocean and water remains the primary element needed to support that life.
We cherish water, but we also fear it—and for good reason: it can be unpredictable and dangerous as well as serene and beneficial. Our ancestors believed deities and spirits ruled the seas, the rivers, even the rain, lakes, springs, and wells. Appease the divine and, perhaps, you would be protected from the many aqueous perils…or not.
Powerful and incomprehensible, the oceans were thought to be the home of many monstrous creatures—sea serpents and dragons; the Norse Kraken, Greek Charybdis, Japanese Isonade, Biblical Leviathan. Rivers have monsters, too, like the Yacumama of the Amazon River or the malevolent zin, who live in the Niger River. As for lakes, even if you've never heard of the Welsh afanc, you know the Scottish Loch Ness monster.
The waters of the world were also believed to contain mythological creatures whose behaviors were as inconstant as our feelings about the mysteries of the deep. As Jane Yolen has said, "It is the allure of the beautiful, unattainable, mysterious Other. In every culture in every clime, there are stories of such creatures in the oceans, rivers, ponds, wells. Water is such a mutable, magical substance itself, the human imagination simply cannot believe it's not peopled as the earth is. We want there to be such underwater civilizations and—not finding them—we invent them and then turn around and believe in our own invention."
Tales have been told since ancient times of marine beings who were tricksters, brought misfortune, or lured humans to certain death. Some had wondrous voices, but to hear their enchanting songs or charmed speech could be fatal. Yet in other stories they were said to save sailors from drowning, grant wishes, or bestow treasure. Even if their actions were disastrous for humans, merfolk seem
amoral rather than evil. Since they are not human, why should they even comprehend our ideas of ethicality? Humans who understand such standards, often ignore them—especially when it comes to their conduct with mermaids, selkies, and others.
The seas were supposedly home for, among others, mermaids, mermen—usually, but not always, half human and half picine—sirens, the Nereids, and selkies. Other fantastic beings—like kelpies, naiads, morgens, rusalki, the Lorelei, the Nix, the Undine—were various nymphs, spirits, and shapechangers who inhabited rivers and lakes.
What is surely the best-known mermaid story, "Den lille havfrue" ("The Little Mermaid"), was written in 1836 by the Danish author Hans Christian Andersen. Published in 1837 in Denmark, it was translated into English by H. P. Paull in 1872. Despite its emphasis on Christian morality, pain and suffering, an unhappy ending, and a conclusion intended to frighten children, most of us seem to forget those aspects and remember it differently: the mermaid sacrifices her voice to persist in following her true love, who she marries and lives with (we assume) happily ever after. Maybe we read or heard bowdlerized versions, but many of us were thus impressed—unless we read or re-read the original Andersen story. When Disney's animated The Little Mermaid came along in 1989, we were happy
to accept Ariel, a rebellious and determined heroine who was, perhaps, not as independent as one might hope, but still no passive princess.
Earlier in the twentieth century, science fiction provided us with a new type of marine being: humans physically modified to breathe under water. And, skating somewhere between fantasy and science fiction, new concepts of undersea-living people—either related to humans or from a different genetic family altogether—arose. Human science has learned a great deal about the oceans, but we still have much to learn; there is still plenty of room to speculate.
And don't forget DC's comic-book superhero Aquaman. Since his creation in 1941, the character has had a wide range of incarnations and storylines, but his basic powers include the ability to live in the ocean depths, communicate with sea creatures, and swim at extremely high speed.
This anthology doesn't offer any of Aquaman's adventures or, for that matter, any finned red-haired teenagers wearing seashell bras. But it does present twenty-two wonderful fantasy and science-fiction stories involving many variations of merfolk. If there is any unifying theme beyond that, it may be transformation. Water is, after all, constantly changing.
Paula Guran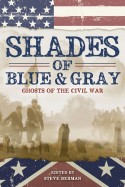 More Details
More Americans were killed during the years of the Civil War (1861-1865) than any other date in history. Men shattered, women lost, families broken. In Shades of Blue & Gray, editor Steve Berman offers readers tales of the supernatural, ghost stories that range from the haunts of the battlefield to revenants on the long march home. Yank. Rebel. Both finding themselves at odds in flesh and spirit…
Contents:
Introduction by Steve Berman
"Raw Recruits" by Will Ludwigsen
"The Swell of the Cicadas" by Tenea D. Johnson
"Bad Penny" by Carrie Laben
"Spectral Drums" by Devin Poore
"An Occurrence at Owl Creek Bridge" by Ambrose Bierce
"Ten Thousand Miles" by Connie Wilkins
"No More Amongst the Cities of the Earth" by Christopher M. Cevasco
"The Country House" by Jameson Currier
"An Unclean Thing" by Cindy Potts
"The Blank Flag of Arthur Kerry" by Kristopher Reisz
"Three Silent Things" by John F. D. Taff
"Across Hickman's Bridge to Home" by Russell Davis
"Mistress" by Jennifer R. Povey
"Tommy Cleburne" by Jeff Mann
"The Overseer" by Albert E. Cowdrey
"Red Animal" by Ed Kurtz
"Proving Up" by Caren Gussoff
"Vermont Muster" by Nick Mamatas
"Like Quicksilver for Gold" by Chaz Brenchley
"The Beatification of Custer Poe" by Laird Barron
"The Arabella" by Melissa Scott
"The Third Nation" by Lee Hoffman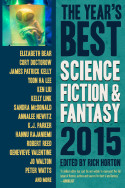 More Details
This seventh volume of the year's best science fiction and fantasy features over thirty stories by some of the genre's greatest authors. Editor Rich Horton selects the the best fiction from Asimov's, Clarkesworld, F&SF, and other top venues, The Year's Best Science Fiction & Fantasy is your guide to magical realms and worlds beyond tomorrow.
Contents (listed by original publication venue in alphabetical order):
"Sadness" by Timons Esaias (Analog 7-8/14)
"Schools of Clay" by Derek Künsken (Asimov's 2/14)
"Someday" by James Patrick Kelly (Asimov's 4-5/14)
"The Instructive Tale of the Archaeologist and his Wife" by Alexander
Jablokov (Asimov's 7/14)
"Heaven Thunders the Truth" by K. J. Parker (Beneath Ceaseless Skies 10/2/14)
"The Manor of Lost Time" by Richard Parks (Beneath Ceaseless Skies 6/26/14)
"Every Hill Ends With Sky" by Robert Reed (Carbide Tipped Pens)
"Wine" by Yoon Ha Lee (Clarkesworld 1/14)
"Pernicious Romance" by Robert Reed (Clarkesworld 11/14)
"The Magician and Laplace's Demon" by Tom Crosshill (Clarkesworld 12/14)
"The Long Haul" by Ken Liu (Clarkesworld 11/14)
"A Guide to the Fruits of Hawai'i" by Alaya Dawn Johnson (F&SF 7-8/14)
"Aberration" by Genevieve Valentine (Fearsome Magics)
"Ghost Story" by John Grant (Interzone 3-4/14)
"Skull and Hyssop" by Kathleen Jennings (LCRW 12/14)
"The Endless Sink" by Damien Ober (LCRW 9/14)
"Drones Don't Kill People" by Annalee Newitz (Lightspeed 12/14)
"How to Get Back to the Forest" by Sofia Samatar (Lightspeed 3/14)
"Selfie" by Sandra MacDonald (Lightspeed 5/14)
"Cimmeria: From the Journal of Imaginary Anthropology" by Theodora
Goss (Lightspeed 7/14)
"I Can See Right Through You" by Kelly Link (McSweeney's, #48)
"The Wild and Hungry Times" by Patricia Russo (Not One of Us)
"Invisible Planets" by Hannu Rajaniemi (Reach for Infinity)
"Trademark Bugs: A Legal History" by Adam Roberts (Reach for Infinity)
"A Better Way to Die" by Paul Cornell (Rogues)
"Fift and Shria" by Benjamin Rosenbaum (Solaris Rising 3)
"Witch, Beast, Saint: An Erotic Fairy Tale" by C. S. E. Cooney
(Strange Horizons 7/21/14)
"Grand Jeté (the Great Leap)" by Rachel Swirsky (Subterranean Summer/14)
"The Scrivener" by Eleanor Arnason (Subterranean Winter/14)
"The Hand is Quicker" by Elizabeth Bear (The Book of Silverberg)
"Break! Break! Break!" by Charlie Jane Anders (The End is Nigh)
"Sleeper" by Jo Walton (Tor.com 8/14)
"Petard: A Tale of Just Deserts" by Cory Doctorow (Twelve Tomorrows)
"Collateral" by Peter Watts (Upgraded)
"Rich Horton's take on the year in speculative fiction is, historically, the one more willing to seek out the overlooked niches and corners of genre in concatenating its sequence of 'best of'. The 2014 Edition of The Year's Best Science Fiction & Fantasy proves no different… Horton casts his net to wider seas, capturing less typical sf tales." Speculicition
The 2013 edition of Rich Horton's The Year's Best Science Fiction and Fantasy… has a particularly pleasing spread of contributors. Some of those are familiar; some are more new… Of the various year's best anthologies, the Horton series is a favorite of mine… Horton tends to include a diverse range of authors with pieces from various publications; also, because the series is more generally dedicated to speculative fiction as a whole, it tends to represent a more accurate range of the year's greatest stories than those best-ofs that focus only on one genre or another." Brit Mandelo, Tor.com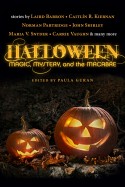 More Details
The farther we've gotten from the magic and mystery of the past, the more we've come to love Halloween—the one time each year when the mundane is overturned in favor of the bizarre, the "other side" is closest, and everyone can become anyone or anything they wish… and sometimes what they don't. Eighteen original stories from mistresses and masters of the dark celebrating the most fantastic, enchanting, spooky, and supernatural of holidays.
Stories (in alphabetical order by author's last name):
"Black Dog" by Laird Barron
"From Dust" by Laura Bickle
"Angelic" by Jay Caselberg
"Pumpkin Head Escapes" by Lawrence Connolly
"All Hallows in the High Hills" by Brenda Cooper
"We, the Fortunate Bereaved" by Brian Hodge
"Thirteen" by Stephen Graham Jones
"Whilst the Night Rejoices Profound and Still" by Caitlín R. Kiernan
"Trick or Treat" by Nancy Kilpatrick
"Long Way Home: A Pine Deep Story" by Jonathan Maberry
"The Mummy's Kiss" by Norman Partridge
"All Souls Day" by Barbara Roden
"And When You Called Us We Came To You" by John Shirley
"The Halloween Men" by Maria V. Snyder
"Lesser Fires" by Steve Rasnic Tem & Melanie Tem
"Unternehmen Werwolf" by Carrie Vaughn
"For the Removal of Unwanted Guests" by A.C. Wise
"Quadruple Whammy" by Chelsea Quinn Yarbro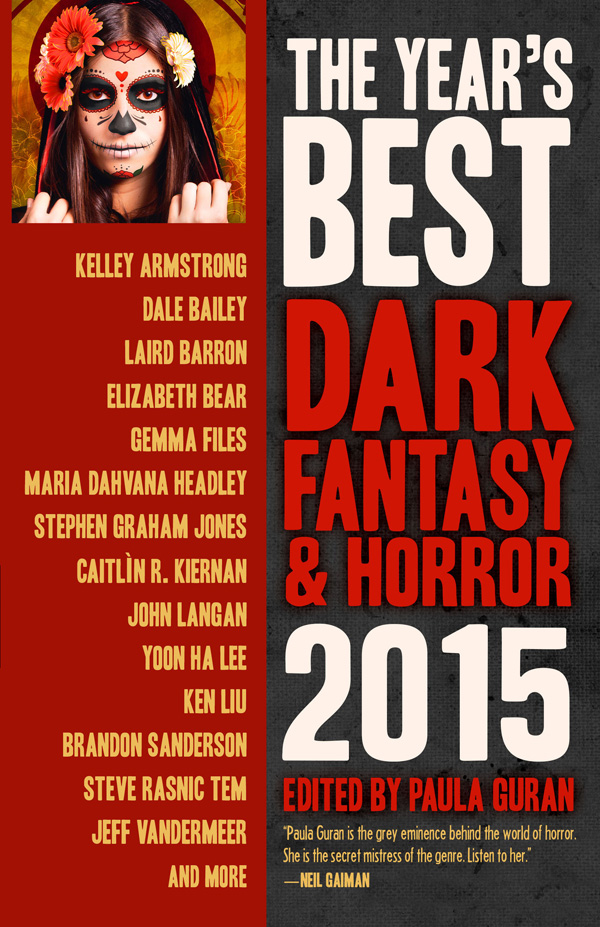 More Details
No matter your expectations, the dark is full of the unknown: grim futures, distorted pasts, invasions of the uncanny, paranormal fancies, weird dreams, unnerving nightmares, baffling enigmas, revelatory excursions, desperate adventures, spectral journeys, mundane terrors, and supernatural visions. You may stumble into obsession—or find redemption. Often disturbing, occasionally delightful, let The Year's Best Dark Fantasy and Horror be your annual guide through the mysteries and wonders of dark fiction.
Content (in alphabetical order by author)
Kelley Armstrong, "The Screams of Dragons" (Subterranean Press Magazine, Spring 2014)
Dale Bailey, "The End of the End of Everything" by Dale Bailey (Tor.com, 23 Apr 2014)
Laird Barron, "(Little Miss) Queen of Darkness" (Dark Discoveries #29)
Elizabeth Bear "Madam Damnable's Sewing Circle" (Dead Man's Hand, ed. John Joseph Adams)
Richard Bowes, "Sleep Walking Now and Then" (Tor.com, 9 July 2014)
Nadia Bulkin, "Only Unity Saves the Damned" (Letters to Lovecraft, ed. Jesse Bullington)
Gemma Files, "A Wish From a Bone" (Fearful Symmetries, ed. Ellen Datlow)
S. L. Gilbow, "Mr Hill's Death" (The Dark #4)
Lisa L. Hannett & Angela Slatter, "The Female Factory" (The Female Factory)
Maria Dahvana Headley "Who Is Your Executioner?" (Nightmare Magazine, Nov 2014)
Stephen Graham Jones, "The Elvis Room" (The Elvis Room)
Caitlín R. Kiernan, "The Cats of River Street (1925)" (Sirenia Digest #102)
Alice Sola Kim, "Mothers, Lock Up Your Daughters Because They Are Terrifying" (Monstrous Affections, eds. Kelly Link & Gavin Grant/Tin House #61)
John Langan, "Children of the Fang" (Lovecraft's Monsters, ed. Ellen Datlow)
Yoon Ha Lee, "Combustion Hour" (Tor.com, 10 Apr 2014)
V. H. Leslie, "The Quiet Room" (Shadows & Tall Trees: 2014, ed. Michael Kelly)
Ken Liu, "Running Shoes" (SQ Mag, Issue 16, Sept 2014)
Usman T. Malik, "Resurrection Points" (Strange Horizons, 4 August 2014)
Helen Marshall, "Death and the Girl from Pi Delta Zeta" (Lackington's, Issue 1, Winter 2014)
Brandon Sanderson, "Dreamer" (Games Creatures Play, eds. Charlaine Harris & Toni L. P. Kelner)
Simon Strantzas, "Emotional Dues" (Burnt Black Suns)
Steve Rasnic Tem, "The Still, Cold Air" (Here with the Shadows)
Lavie Tidhar, "Kur-A-Len" (Black Gods Kiss)
Jeff VanderMeer, "Fragments from the Notes of a Dead Mycologist" (Shimmer #18)
Kali Wallace, "Water in Springtime" (Clarkesworld, Issue 91, Apr 2014)
Damien Angelica Walters, "The Floating Girls: A Documentary" (Jamais Vu Issue Three, Sept 2014)
Kaaron Warren, "The Nursery Corner" (Fearsome Magics, ed. Jonathan Strahan)
A. C. Wise, "And the Carnival Leaves Town" (Nightmare Carnival, ed. Ellen Datlow)
PRAISE for PREVIOUS VOLUME:
"In Guran's fifth edition of eclectic nightmares, new and veteran authors blend psychological terror and supernatural wonder into disturbing hybrid tales, which confront "that which we do not know." Many of these stories first appeared in small-press collections and other independent fiction venues that are willing to challenge convention. Steve Rasnic Tem's 'Wheatfield with Crows,' a shadow-show of dark conscience, is both an emotionally searing ghost story and a commentary on the genre. David Schow's 'Blue Amber' resembles a graphic and splattery Outer Limits script. Mystical scribe Laird Barron marries grim violence with supernatural ambiguity in the chilling 'Termination Dust,' and Neil Gaiman's use of Greek myth evokes contemporary lust and self-destruction in 'A Lunar Labyrinth'… this fearful feast of revelations, hauntings, and shattered realities reveals the horror genre's enduring power and creativity."—Publishers Weekly
"The latest in the excellent Year's Best Dark Fantasy and Horror series, edited by Paula Guran, does a pretty good job of living up to exactly what it says on the cover, and pulling together the year's real best achievements in the genre/genres. Some of the 32 tales will be familiar from elsewhere, especially to an avid dark sider like me… That doesn't change the fact that if you want to get a very broad and compendious perspective on the field—at 576 pages and 32 stories— this is a very good place to begin. Paula Guran did an excellent editorial job with last year's collection, and this one if anything improves on it… This is also a very catholic and eclectic collection, with a wide range of subjects and sub-sub-genres on show."—Teleread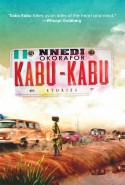 More Details
Kabu Kabu—unregistered, illegal Nigerian taxis—generally get you where you need to go, but Nnedi Okorafor's Kabu Kabu takes the reader to exciting, fantastic, magical, occasionally dangerous, and always imaginative locations. This debut short story collection by an award-winning author includes notable previouslypublished short work, a new novella co-written with New York Times bestselling author Alan Dean Foster, and a brief foreword by Whoopi Goldberg.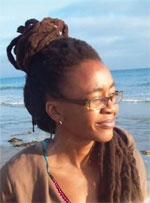 About the Author:
Nnedi Okorafor is a novelist of African-based science fiction, fantasy and magical realism. Her award-nominated and -winning novels include Who Fears Death, Akata Witch, Zahrah the Windseeker, and The Shadow. Her children's book Long Juju Man is the winner of the Macmillan Writer's Prize for Africa. Her science fiction novel Lagoon, and young adult novel Akata Witch 2: Breaking Kola are scheduled for release in 2014. Nnedi holds a PhD in Literature and is a professor of creative writing at Chicago State University. Find Nnedi on facebook, twitter and at nnedi.com.
Praise for Kabi Kabu:
[Starred Review] In this vibrant collection of speculative fiction, Okorafor proves yet again that she is among the 21st century's most significant and noteworthy Science Fiction authors. The American-born author features her parents' Nigerian homeland in many of her stories, casting a sympathetic but informed eye on that nation. With such oil-rich land, Nigeria's mineral wealth continues to attract exploiters. Within these 20 stories we visit various takes on the future of Africa, many of which are equally as bleak as the past. Each story is as carefully crafted as the last; robots serving shadowy foreign interests find common cause with artists, women fall victim to their society's brutally patriarchal order while others find less bitter fates, and assassins ponder the effects of their efforts to provoke reform. With a knack for dialogue and an ambitious imagination, Okorafor effortlessly blends original characters with fantastical elements into the vivid scenery of Africa to create stories worth reading again and again.—Publishers Weekly

The stories in Kabu Kabu are trippy, fun, far-fetched, laugh-out-loud funny, and enlightening. Okorafor's writing is a welcome, fresh distraction from much of the fantasy that I tend to read and a reminder that there are writers out there who focus on other mythologies and traditions – that fantasy does not have to be about some blond-haired knight who is stuck between a savage and a cliff to jump off of. (Read the book, you'll understand.) I don't know if Kabu Kabu will get the buzz it deserves. I know that I have given out Okorafor's name more times than I can count to various fantasy lovers. I wish I could force people to read her works – but since I can't, I'll just say here in this public setting that Okorafor is an author to be praised and Kabu Kabu is just another strong notch in her belt of great works.—The Lost Wife

I would definitely recommend this book. It's powerful, emotional and beautifully written… Every story is fun or powerful (or both, which is hard to do) with some strong lessons and some truly amazing emotional impact. And rarely have I come across short stories that so readily and completely transport me to their works.[5/5 stars]—Fangs for the Fantasy

Nnedi Okorafor's storytelling is constantly engaging, beautiful and evocative, and she's one of those rare writers who can make you feel like you're right there in the story without bogging you down in too much detail. Though each of the stories is distinct and a standalone, many relate to other works of hers, and I think nearly all of them have some connection, however small, to each other. She tells stories of magic and death and hope and oil and the past and future all rolled into one wondrous collection. Kabu Kabu gives you insight into a culture and place that's frequently overlooked in most fiction in general, let alone genre fiction… If you're a fan of anything else Okorafor has written, then you will like Kabu Kabu. If you're a fan of speculative short stories, you will like Kabu Kabu. If you're a fan of expanding your mind and seeing non-white characters in non-Western settings, you will like Kabu Kabu. This is a book that should not be missed, not by anyone who's reading this review, not by anyone who loves SFF stories. Jump into the worlds that Okorafor creates, and witness the stories woven and told by a master.[5/5 Stars]—Bibliotropic

The twenty-one short stories in this collection tackle some serious subjects: intolerance, genocide, stereotyping, war including the civil war, persecution of the other, and the environmental and social destruction wrought by Western oil companies. Foremost is the treatment of strong women who dare to break with the patriarchal society in which they live… Some of the stories are very definitely magic realism, others are closer to fantasy and/or science fiction… I found Okarafor's work fascinating. I have only limited knowledge of the African heritage that inspires her work, but I can see how she is forging an African/American approach to magic realism.—Magic Realism
Praise for Nnedi Okorafor
"Okorafor's imagination is stunning."—New York Times

"There's more vivid imagination in a page of Nnedi Okorafor's work than in whole volumes of ordinary fantasy epics." -Ursula K. Le Guin

"I love the way Nnedi Okorafor writes, the precise, steely short sentences like blows to the body, the accumulation of experiences that lead to inspired insights, and the strangeness and beauty of an Africa both imagined and real. Perception, courage, and grace illuminate Who Fears Death."—Peter Straub

"I the tradition of Octavia Butler and Nalo Hopkinson, Okorafor is equally adept at combining that most contemporary of forms, science fiction, with the ancient beliefs and values of non-western cultures that have for too long been underrepresented in modern fantastic literature."—Locus

"The clear and sometimes lyrical prose pulls the reader along and compels the reading of page after page. To compare author Nnedi Okorafor to the late Octavia E. Butler would be easy to do, but this simple comparison should not detract from Okorafor's unique storytelling gift."—The New York Journal of Books, for Who Fears Death

"Nnedi Okorafor is American-born but her Nigerian blood runs strong, lacing her work with fantasy, magic and true African reality."—Nawal El Saadawi, bestselling and award-winning Egyptian writer and activist, author of Woman at Point Zero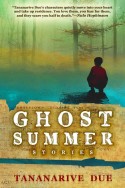 More Details
Whether weaving family life and history into dark fiction or writing speculative Afrofuturism, American Book Award winner and Essence bestselling author Tananarive Due's work is both riveting and enlightening. In her debut collection of short fiction, Due takes us to Gracetown, a small Florida town that has both literal and figurative ghost; into future scenarios that seem all too real; and provides empathetic portraits of those whose lives are touched by Otherness. Featuring an award-winning novella and fifteen stories—one of which has never been published before—GHOST SUMMER: STORIES, is sure to both haunt and delight.
With an Introduction by Nalo Hopkinson and an Afterword by Steven Barnes.
Publishers Weekly Starred Review: In these extraordinary tales, American Book Award–winner Due (My Soul to Take) uses a clear-eyed view of history to explain (but never excuse) the present. Sexual predators are recast as lake creatures ("The Lake"), and werewolves choose cosmetic treatment to disguise their monthly changes ("Aftermoon"); Due craftily employs these shape-shifters to explore how humans embrace transformations in ourselves and one another, even when the result is monstrous. Ghosts abound, bringing past and present into liberating contact. In the title novella, a family under threat of divorce finds reunion through a boy's ghost hunt, which exposes the historical tragedy splitting the Florida town in which they summer. Childhood acts as a prism for varied emotions, encouraging readers to empathize with a weary mother who allows a well-behaved spirit to possess her unruly child "just for the summer" ("Summer"). Pandemic disease in "Patient Zero" and zombie apocalypse in "Danger Word" (the latter coauthored by Due's husband and frequent collaborator, Steven Barnes) heartbreakingly overwhelm adults' best efforts to protect the young. Even facing the end of the world and what comes after it, Due remains in control, carefully unveiling characters' thoughts and feelings to her enthralled readers. Nalo Hopkinson provides an introduction; Barnes contributes an afterword.
Contents
i.GRACETOWN
The Lake (2011)
Summer (2007)
Ghost Summer (2008)
ii. THE KNOWING
Free Jim's Mine (2014)
The Knowing (2002)
Like Daughter (2000)
Aftermoon (2004)
Trial Day (2003)
iii. CARRIERS
Patient Zero (2000)
Danger Word (with Steven Barnes) (2004)
Removal Order (2014)
Herd Immunity (2014)
Carriers (2015)
iv. VANISHINGS
Señora Suerte (2006)
Transplanted (2002)
Courtship Rituals (2001)
Vanishings (2015)
About the Author

Tananarive Due is a recipient of The American Book Award (for The Living Blood), NAACP Image Award (for the In the Night of the Heat: A Tennyson Hardwick Novel, with Blair Underwood and Steven Barnes), and the Carl Brandon Kindred Award (for the novella "Ghost Summer"). The author of twelve novels and a civil rights memoir, in 2010, she was inducted into the Medill School of Journalism's Hall of Achievement at Northwestern University.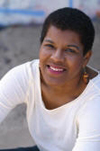 A leading voice in black speculative fiction, in 2004—alongside such luminaries as Nobel Prize-winner Toni Morrison—Due received the "New Voice in Literature Award" at the Yari Yari Pamberi conference co-sponsored by New York University's Institute of African-American Affairs and African Studies Program and the Organization of Women Writers of Africa.
A former Cosby Chair in the Humanities at Spelman College. where she taught screenwriting, creative writing, and journalism, she also teaches in the creative writing MFA program at Antioch University Los Angeles. Due has a B.S. in journalism from Northwestern University and an M.A. in English literature from the University of Leeds, England, where she specialized in Nigerian literature as a Rotary Foundation Scholar. In addition to VONA, Due has taught at the Hurston-Wright Foundation's Writers' Week and the Clarion Science Fiction and Fantasy Writers' Workshop. As a screenwriter, she is a member of the Writers' Guild of America (WGA).
Due and her husband, author Steven Barnes, met at a speculative fiction conference at Clark Atlanta University in 1997. They live is Southern California with their son, Jason. Her writing blog is at tananarivedue.wordpress.com. Her website tananarivedue.com.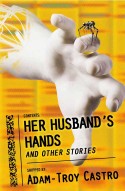 More Details
A utopia where the most privileged live their lives however they wish, indulging their slightest whims via bodies whose wombs they occupy… a soldier's wife tries to love a husband who is little more than backup memory… a society in which citizens make merry for nine days, and on the tenth get a taste of hell… the last ragged survivors of an expedition to a savage backwater world hunt down an infamous war criminal… and other stories from acclaimed author Adam-Troy Castro whose short fiction has been nominated for two Hugos, three Stokers, and eight Nebulas. His twenty-five books include the Philip K. Dick Award-winning Emissaries From the Dead.