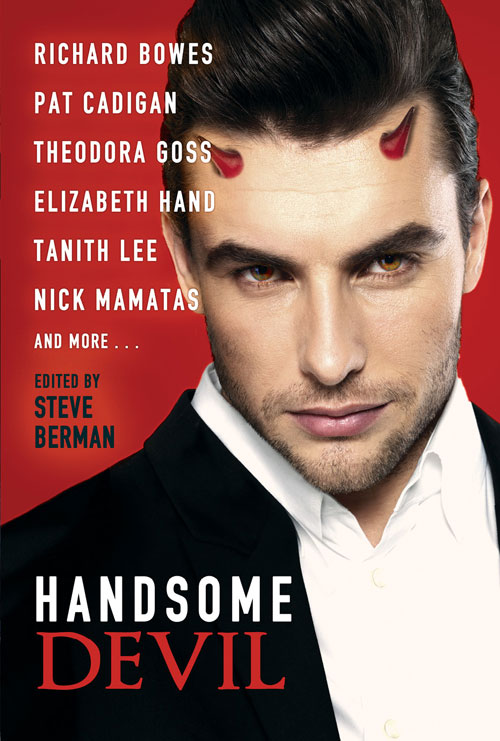 Handsome Devil: Stories of Sin & Seduction edited by Steve Berman
For millennia, male infernal figures have been portrayed as both dazzling tempters and dark seducers. The alluring fantasy of Handsome Devil highlights Lucifer's role as the beautiful trickster who steals hearts (as well as souls), and features stories—both new and old—of tantalizing tempters, sexy incubi, demon lovers, and devils who beguile and betray.
CONTENT
"Lilac Season" by Claire Humphrey
"A Spoonful of Salt" by Nicole M. Taylor
"Man in Blue Overcoat" by Silvia Moreno-Garcia
"This Is Not a Love Story" by Nicole Kornher-Stace
"The White Prince" by Orrin Grey
"Pira" by Brad Strickland
"The Cure" by Caren Gussoff
"Unveiled" by J. Daniel Stone
"The Wedding Guest" by Steve Chapman
"A Shot of Fireball" by Carrie Laben
"Catherine and the Satyr" by Theodora Goss
"The Queen and the Cambion" by Richard Bowes
"Sleep of Reason" by Halli Villegas
"The Love of the Emperor Is Divine" by Tom Cardamone
"Please Do Me: An Oral History" by Nick Mamatas
"The Queen of Them All" by Ed Kurtz
"Her Sweet Solace" by J. T. Glover
"Tears for Lilu" by Martin Rose
"Cain" by Tanith Lee
"Given to the Sea" by E. L. Kemper
"Oily Man" by Alex Jeffers
"Dirty" by Stephen Pope
"Winter" by Michelle Sagara
"Prince of Flowers" by Elizabeth Hand
"It Was the Heat" by Pat Cadigan
Brit Mandelo, Tor.com:
Despite following a very particular theme, [the anthology] manages to never feel too repetitive or stale. The stories are arranged cleverly to shift tone and focal point just enough between each piece that there are no disjunctions, but also no echoes.
Buy from one of these retailers