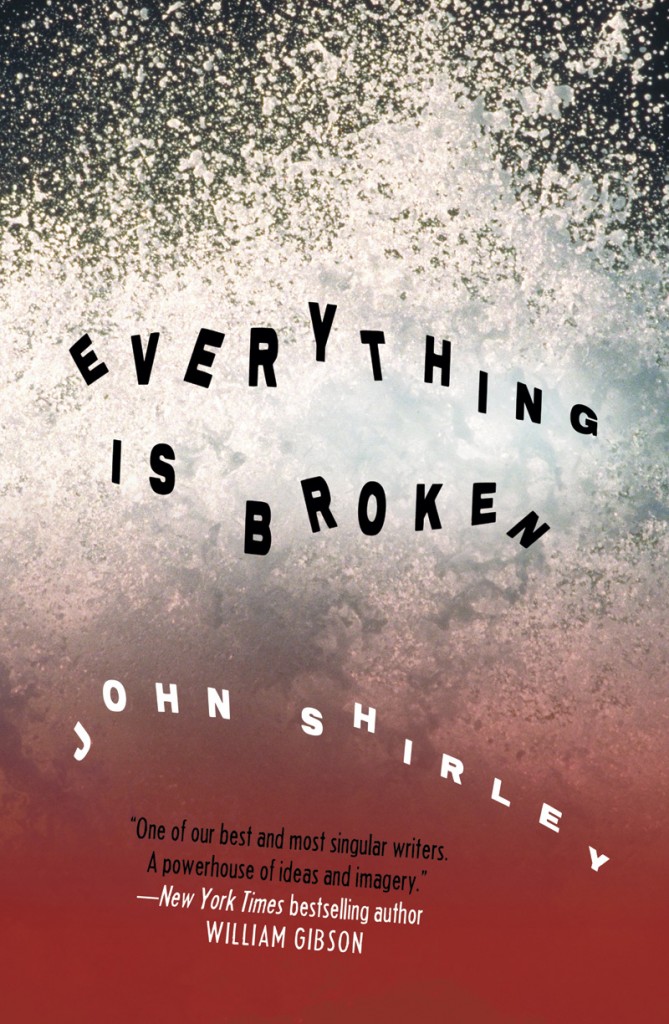 Everything Is Broken by John Shirley
John Shirley Website
John Shirley Blog
A suspenseful, politically charged SF thriller . . . that could be day-after-tomorrow reality . . .
Twenty-year-old Russ arrives in the northern California town of Freedom to visit his dad. Freedom has peculiarities other than its odd name: the local mayor's ideas of "decentralization" have left it without normal connections to state or federal government and minimal public services. Russ meets an interesting young woman, Pendra, but before he can get to know much about Freedom or its people, a savage tsunami strikes the West Coast. The wave of human brutality that soon hits the isolated town proves more dangerous to the survivors than the natural disaster. Russ, his father, Pendra, and the other townsfolk must tap all their courage and ingenuity—and find strength they never knew they had—if they have any hope of living to find real freedom.
Reviews:
That staple of cautionary science fiction, the near future, becomes especially 'near' in this disaster novel from one of fantastic fiction's most hard-hitting talents….Everything Is Broken emerges as a violent, vivid, viscerally upsetting and wholly unflinching nightmare of a novel, which profoundly illustrates the very point of having a civilization in the first place, and the risks we undertake by dismantling infrastructure in the name of short term savings. It's not just a compelling read, but an important one…..GRADE A.—SciFi Magazine
In this slim, grim, and powerful novel, Shirley lets his imagination loose on the frightening possibilities of a massive natural disaster striking a small American town. A tidal wave transforms Freedom, Calif., from seaside idyll into a broken and perilously unstable landscape. Survivors include some natural helpers like Drew Haver and his son, Russ, as well as psychopaths Dickie Rockwell, a gang leader and drug dealer, and Lon Ferrara, the town's ultralibertarian mayor, who privatized emergency services and now refuses help from FEMA. Treating women like commodities and wielding a plethora of weapons, these men fight for survival and ownership of the ruins. Shirley's vision is vivid and horrifying... —Publishers Weekly
"One of our best and most singular writers. A powerhouse of ideas and imagery."—New York Times best-selling author William Gibson
"John Shirley achieves things that other writers wouldn't dare attempt. Brilliant. The true quill."—Bruce Sterling
"John Shirley is an adventurer, returning from dark and troubled regions with visionary tales to tell. I heartily recommend a journey with John Shirley at your side."—Clive Barker
Award-winning author John Shirley is considered seminal in the SF cyberpunk movement and the "post-modern Poe" of dark fiction. He was co-screenwriter of the film The Crow, and has written other films and teleplays as well. As a musician, Shirley has written lyrics recorded by Blue Öyster Cult and others. His latest books are collection In Extremis: The Most Extreme Stories of John Shirley and the best-selling Bioshock: Rapture.
Buy from one of these retailers