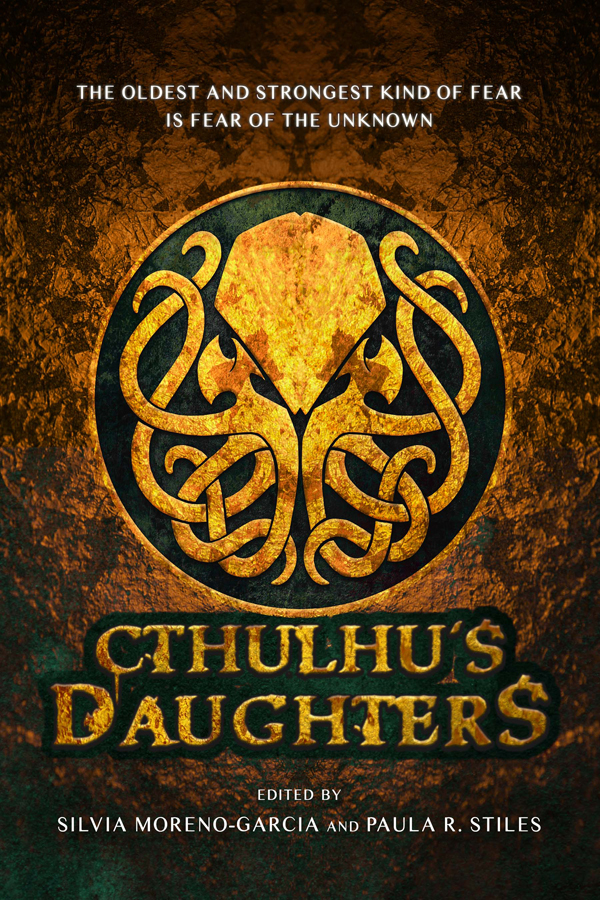 Cthulhu's Daughters: Stories of Lovecraftian Horror, edited by Silvia Moreno-Garcia and Paula R. Stiles
Cthulhu's Daughters: Stories of Lovecraftian Horror
Edited by Silvia Moreno-Garcia and Paula R. Stiles
Women writers from around the world delve into Lovecraftian depths, penning and illustrating a variety of weird horrors. Pale and secretive Lavinia wanders through the woods, Asenath is a precocious teenager with an attitude, the ancient Egyptian Pharaoh Nitocris has found a new body in distant America; and there are words to heed from our beloved mother, Shub-Niggurath? Defiant, destructive, terrifying, and harrowing, Cthulhu's daughters are monsters and mothers, heroes and devourers. Observe them in all their glory. Iä! Iä!
"The stories have diverse characters in diverse situations, but they share that common Lovecraftian atmosphere of dread and wrongness." – Smart Bitches, Trashy Books
"Fans of horror, particularly those Lovecraft afficianados, will respond to [this anthology's) deliciously existential darkness" – SQ Mag
"A fantastic read from start to finish" – Mad Scientist Journal
Table of Contents
"Bitter Perfume" by Laura Blackwell
"Violet is the Color of Your Energy" by Nadia Bulkin
"Body to Body to Body" by Selena Chambers
"Magna Mater" by Arinn Dembo
"De Deabus Minoribus Exterioris Theomagicae" by  Jilly Dreadful
"Hairwork" by Gemma Files
"The Head of T'la-yub" by Nelly Geraldine García-Rosas (translated by Silvia Moreno-Garcia)
"Bring the Moon to Me" by Amelia Gorman
"Chosen" by Lyndsey Holder
"Eight Seconds" by Pandora Hope
"Cthulhu of the Dead Sea" by Inkeri Kontro
"Turn out the Light" by Penelope Love
"The Adventurer's Wife" by Premee Mohamed
"Notes Found in a Decommissioned Asylum, December 1961" by Sharon Mock
"The Eye of Juno" by Eugenie Mora
"Ammutseba Rising" by Ann K. Schwader
"Cypress God" by Rodopi Sisamis
"Lavinia's Wood" by Angela Slatter
"The Opera Singer" by Priya Sridhar
"Provenance" by Benjanun Sriduangkaew
"The Thing in The Cheerleading Squad" by Molly Tanzer
"Lockbox" by E. Catherine Tobler
"When She Quickens" by Mary Turzillo
"Shub-Niggurath's Witnesses" by Valerie Valdes
"Queen of a New America" by Wendy N. Wagner
Interior Art by:
Sara Bardi
Shelby Denham
Lisa A. Grabenstetter
Karen Hollingsworth
Cindy Lewis
Liv Rainey-Smith
Pia Ravenari
Diana Thung
Kathryn Weaver
Read Sample Stories:
"Turn Out the Light" by Penelope Love
"The Thing on the Cheerleading Squad" by Molly Tanzer
"Lavinia's Wood" by Angela Slatter.
[Originally published as She Walks in Shadows by Innsmouth Free Press. An ebook edition is available through Innsmouth Free Press.]
Buy from one of these retailers