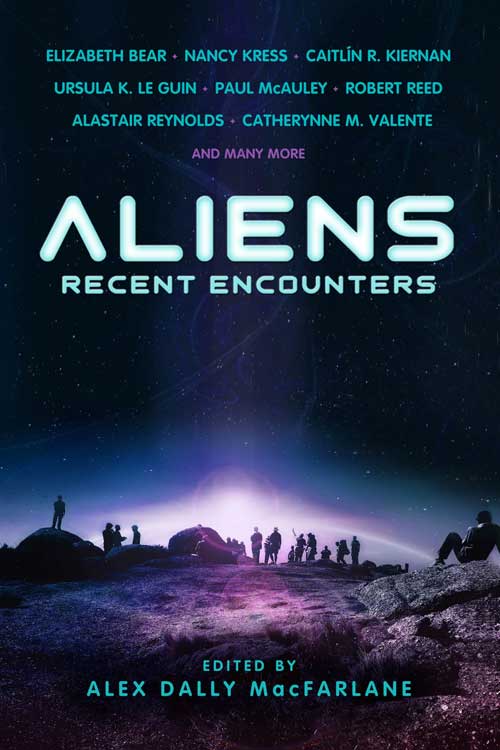 Aliens: Recent Encounters, edited by Alex Dally MacFarlane
Under the countless billions of stars in the universe, what forms will alien life take? How will they live? And what will happen when we meet them? Aliens: Recent Encounters collects answers to these questions from some of today's best science fiction writers. From first encounters to life alongside aliens — and stories of the aliens' own lives — here are many futures: violent and peaceful, star-spanning and personal. Only one thing is certain: alien life will defy our expectations.
An Owomoyela – "Frozen Voice"
Ken Liu – "The Bookmaking Habits of Select Species"
Catherynne M. Valente – "Golubash, or Wine-Blood-War-Elegy"
Zen Cho – "The Four Generations of Chang E"
Vandana Singh – "The Tetrahedon"
Paul McAuley – "The Man"
Ursula K. Le Guin – "Seasons of the Ansarac"
Molly Gloss – "Lambing Season"
Desirina Boskovich – "Celadon"
Genevieve Valentine – Carthago Delenda Est"
Caitlín R. Kiernan – "I Am the Abyss and I Am the Light"
Jamie Barras, "The Beekeeper"
Robert Reed, "Noumenon"
Elizabeth Bear, "The Death of Terrestial Radio"
Sofia Samatar, "Honey Bear"
Karin Lowachee, "The Forgotten Ones"
Jeremiah Tolbert, "The Godfall's Chemsong"
Alastair Reynolds, "For the Ages"
Brooke Bolander, "Sun Dogs"
Nisi Shawl, "Honorary Earthling"
Samantha Henderson, "Shallot"
Sonya Taaffe, "The Boy Who Learned How to Shudder"
Eleanor Arnason, "Knapsack Poems"
Gitte Christensen, "Nullipara"
Indrapramit Das, "muo-ka's Child"
Jeffrey Ford, "The Dismantled Invention of Fate"
Karin Tidbeck, "Jagannath"
Pervin Saket, "Test of Fire"
Nancy Kress, "My Mother, Dancing"
Greg van Eekhout, "Native Aliens"
Lavie Tidhar, "Covenant"
Yoon Ha Lee, "A Vector Alphabet of Interstellar Travel"
Buy from one of these retailers