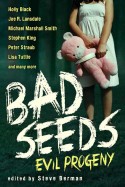 More Details
Children are supposed to be all sugar and spice and everything nice . . . but we know that's not the truth. Dark tales of wicked tykes and dangerous kids playing vicious games that lead adults—sometimes their own parents—to their demise are a staple of frightening fiction. Beware the schoolyards and playgrounds, even the sanctity of the familial home, especially after dark. And don't be fooled by a trickle of tears or tiny hands reaching for you. These youngsters do not want to love or comfort—only to inflict pain!
CONTENTS:
"If Damon Comes" by Charles Grant
"Treats" by Norman Partridge
"The Family" by Halli Villegas
"The Horse Lord" by Lisa Tuttle
"My Name Is Leejun" by John Schoffstall
"Princess of the Night" by Michael Kelly
"Duck Hunt" by Joe R. Lansdale
"The Choir" by Joel D. Lane
"Children of the Corn" by Stephen King
"Yellowjacket Summer" by Robert McCammon
"The Stuff that Goes on in Their Heads" by Michael Marshall Smith
"Second Grade" by Charles Antin
"Respects" by Ramsey Campbell
"Melanie Klein Said" by Robert McVey
"Gaslight" by Jeffrey Ford
"Endless Encore" by Will Ludwigsen
"Cockroach" by Dale Bailey
"By the Mark" by Gemma Files
"The Disappearance of James H___" by Hal Duncan
"I Was a Teenage Slasher Victim" by Stephen Graham Jones
"Blue Rose" by Peter Straub
"Making Friends" by Gary Raisor
"You Deserve" by Alex Jeffers
"The Queen of Knives" by Georgina Bruce
"The Naughty List" by Christine Morgan
"The Perfect Dinner Party" by Cassandra Clare & Holly Black
"Make Believe" by Michael Reaves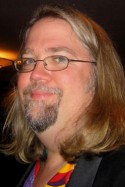 More Details
A Novella
Markus Selvage has been bent by life, ground up and spit out again. In San Francisco's darkest sexual underground, he is a perpetual innocent, looking within bodies—his own and others'—for the lost secrets of satisfaction. But extreme body modification is only the beginning of where he will go before he's finished .. .
Lake's stand-alone novella is a horror-tinged departure from his popular fantasy epics (Green, etc.). Markus Selvage, a Texas native living in approximately present-day San Francisco, gets involved in that city's deep-underground scene of extreme body modification—readers watch as Markus cuts off his left pinky finger and eventually has it replaced with a syringe—and equally extreme sex. Markus's lover, Danni, introduces him to this world, draws him in deeper, and then disappears…the threads are expertly woven together. The writing is graceful and sometimes even poetic…the subject matter tests the bounds of the word "explicit"…
About Jay Lake:
• Award-winning author of ten novels and over 300 short stories
• Cancer survivor who blogs about politics, technology and health
• Frequent headliner at conventions, conferences and workshops
• Acclaimed anthology editor
• Winner of the 2004 John W. Campbell Award for Best New Writer
• Multiple Hugo and World Fantasy Award nominee
[Photo of Jay Lake by Ellen Datlow]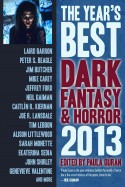 More Details
The darkness creeps upon us and we shudder, or it suddenly startles and we scream. There need be no monsters for us to be terrified in the dark, but if there are, they are just as often human and as supernatural. Join us in this outstanding annual exploration of the year's best dark fiction that includes stories of quiet fear, the utterlyfantastic, the weirdly surreal, atmospheric noir, mysterious hauntings, seductive nightmares, and frighteningly plausible futures. Featuring thirty-five tales from masterful authors and talented new writers sure to make you reconsider walking in the shadows alone…
CONTENTS
(Listed alphabetically by author)
Laird Barron, "Hand of Glory" (The Book of Cthulhu 2)
Peter S. Beagle, "Great-Grandmother in the Cellar" (Under My Hat)
Peter Bell, "Glamour of Madness" (The Ghosts & Scholars Book of Shadows)
Joseph Bruchac, "Down in the Valley" (Postscripts #28/29: Exotic Gothic 4)
Jim Butcher, "Bigfoot on Campus" (Hex Appeal)
Mike Carey, "Iphigenia In Aulis" (An Apple for the Creature)
Terry Dowling, "Nightside Eye" (Cemetery Dance #66)
K. M. Ferebee, "The Bird Country" (Shimmer #15)
Jeffrey Ford, "The Natural History of Autumn" (F&SF, July/August 2012)
Neil Gaiman, "The Man Who Forgot Ray Bradbury" (The Shadow Show)
Theodora Goss, "England Under the White Witch" (Clarkesworld, Issue 73)
Maria Dahvana Headley, "Game" (Subterranean, Fall 2012)
Robert Hood, "Escena de un Asesinato" (Postscripts #28/29: Exotic Gothic 4)
Stephen Graham Jones, "Welcome to the Reptile House" (Strange Aeons #9)
Caitlín R Kiernan, "Fake Plastic Trees: (After)
Ellen Klages, "The Education of a Witch" (Under My Hat)
Marc Laidlaw, "Forget You" (Lightspeed, June 2012)
John Langan, "Renfrew's Course" (Lightspeed, April 2012)
Joe R. Lansdale. "The Tall Grass" (Dark Tales of Lost Civilizations)
Tim Lebbon, "Slaughterhouse Blues" (Nothing As It Seems)
Alison Littlewood, "The Eyes of Water (The Eyes of Water)
Good Hunting, Ken Liu (Strange Horizons, October 2012)
Helen Marshall, "No Ghosts In London" (Hair Side, Flesh Side)
Sarah Monette, "Blue Lace Agate" (Lightspeed, January 2012)
Ekaterina Sedia, "End of White" (Shotguns v Cthulhu)
Priya Sharma, "Pearls" (Bourbon Penn 04)
Robert Shearman, "Bedtime Stories for Yasmin" (Shadows & Tall Trees 4)
John Shirley, "When Death Wakes Me to Myself" (Black Wings II)
Cory Skerry, "Sinking Among Lilies" (Beneath Ceaseless Skies, Issue #92)
Simon Strantzas, "Go Home Again" (Fungi)
Rachel Swirsky, "The Sea of Trees" (The Future Is Japanese)
Melanie Tem, "Dahlias" (Black Wings II)
Karen Tidbeck, "Arvid Pekon" (Jagganath: Stories)
Genevieve Valentine, "Armless Maidens of the American West" (Apex, August 7, 2012)
Brooke Wonders, "Everything Must Go" (Clarkesworld, Issue 74)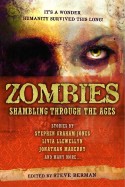 More Details
It's a wonder humanity ever survived into the twenty-first century. Even Neanderthals knew to bury the dead beneath stones to prevent corpses from rising. Ancient civilizations feared slain warriors would return from battlefields, medieval physicians worried that bodies would rise from plague pits, many cultures buried the dead at crossroads to prevent the dead from walking. In Zombies: Shambling Through the Ages, editor Steve Berman has collected stories that reveal the threat of revenants and the living dead is far from recent. From the Bronze Age to World War II, this anthology guides us through millennia of thrills, chills, kills, carnage, horror, and havoc wreaked throughout history by the walking dead.
CONTENTS:
~Before Lazarus~
"Blood Marker" by Victoria Janssen
"Selected Sources for the Babylonian Plague of the Dead (572-571 BCE)" by Alex Dally MacFarlane
"Immortals" by Nathan Southard
"The Cost of Moving the Dead" by E. L. Kemper
"Hauntings and Hungers on the Banks of the Vipasa" by Rajan Khanna
~After Lazarus~
~Antiquity~

"A Frenzy of Ravens" by Christopher M. Cevasco

"The Wedding of Osiris" by Adam Morrow
~The Middle Ages~

"The Hyena's Blessing" by Alex Jeffers
"The Good Shepherdess" by S. J. Chambers
"The Fledglings of Time" by Carrie Laben
~16th and 17th Centuries~
"Hung from a Hairy Tree" by Samantha Henderson
"Good Deaths" by Paul Berger
"Dead Reckoning" by Elaine Pascale
"Grit in a Diseased Eye" by Lee Thomas
"Theater is Dead" by Raoul Wainscoting
~18th Century~
"Deathless" by Ed Kurtz
"Tantivy" by Molly Tanzer
"Cinereous" by Livia Llewellyn
~19th Century~
"The Wailing Hills" by L. Lark
"As the Crow Flies" by Rita Oakes
"Seneca Falls: First Recorded Outbreak of Strain Z" by Dayna Ingram
"Pegleg and Paddy Save the World" by Jonathan Maberry
"Dead in the Water" by Richard Larson
"Starvation Army" by Joe McKinney
"Lonegan's Luck" by Stephen Graham Jones
"The Rickshaw Pusher " by Mercurio D. Rivera
"The Revenge of Oscar Wilde" by Sean Eads
~Early 20th Century~
"The Gringo" by Silvia Moreno-Garcia
"The End of the Caroll A. Deering" by Bob Hole
"Tell Me Like You Done Before" by Scott Edelman
"Wineville, California (1928)" by Richard Gropp
"The Fated Sky" by Aimee Payne
"The Crocodiles" by Steven Popkes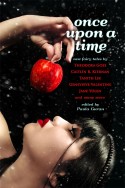 More Details
Eighteen extraordinary authors devise all-new fairy tales: imaginative reinterpretations of the familiar, evocative new myths, speculations beyond the traditional realm of "once upon a time." Often dark, occasionally humorous, always enthralling, these entertaining stories find a certain Puss in a near-future New York, an empress bargaining with a dragon, a princess turned into a raven, a king's dancing daughters with powerful secrets, great heroism, terrible villainy, sparks of mischief, and a great deal more. Brilliant dreams and dazzling nightmares with meaning for today and tomorrow…
"The Giant In Repose" by Nathan Ballingrud
"Eat Me, Drink Me, Love Me" by Christopher Barzak
"Tales That Fairies Tell" by Richard Bowes
"Warrior Dreams" by Cinda Williams Chima
"Blanchefleur" by Theodora Goss
"The Road of Needles" by Caitlín R. Kiernan
"Below the Sun Beneath" by Tanith Lee
"The Coin of Heart's Desire" by Yoon Ha Lee
"Sleeping Beauty of Elista" by Ekaterina Sedia
"Egg" by Priya Sharma
"Lupine" by Nisi Shawl
"Castle of Masks" by Cory Skerry
"Flight" by Angela Slatter
"The Lenten Rose" by Genevieve Valentine
"The Hush of Feathers, the Clamour of Wings" by A.C. Wise
"Born and Bread" by Kaaron Warren
"The Mirror Tells All" by Erzebet YellowBoy
"The Spinning Wheel's Tale" by Jane Yolen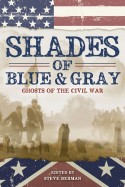 More Details
More Americans were killed during the years of the Civil War (1861-1865) than any other date in history. Men shattered,
women lost, families broken. In Shades of Blue & Gray, editor Steve Berman offers readers tales of the supernatural, ghost stories that range from the haunts of the battlefield to revenants on the long march home. Yank. Rebel. Both finding themselves at odds in flesh and spirit…
Contents:
Introduction by Steve Berman
"Raw Recruits" by Will Ludwigsen
"The Swell of the Cicadas" by Tenea D. Johnson
"Bad Penny" by Carrie Laben
"Spectral Drums" by Devin Poore
"An Occurrence at Owl Creek Bridge" by Ambrose Bierce
"Ten Thousand Miles" by Connie Wilkins
"No More Amongst the Cities of the Earth" by Christopher M. Cevasco
"The Country House" by Jameson Currier
"An Unclean Thing" by Cindy Potts
"The Blank Flag of Arthur Kerry" by Kristopher Reisz
"Three Silent Things" by John F. D. Taff
"Across Hickman's Bridge to Home" by Russell Davis
"Mistress" by Jennifer R. Povey
"Tommy Cleburne" by Jeff Mann
"The Overseer" by Albert E. Cowdrey
"Red Animal" by Ed Kurtz
"Proving Up" by Caren Gussoff
"Vermont Muster" by Nick Mamatas
"Like Quicksilver for Gold" by Chaz Brenchley
"The Beatification of Custer Poe" by Laird Barron
"The Arabella" by Melissa Scott
"The Third Nation" by Lee Hoffman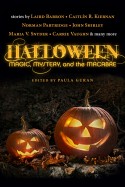 More Details
The farther we've gotten from the magic and mystery of the past, the more we've come to love Halloween—the one time each year when the mundane is overturned in favor of the bizarre, the "other side" is closest, and everyone can become anyone or anything they wish… and sometimes what they don't. Eighteen original stories from mistresses and masters of the dark celebrating the most fantastic, enchanting, spooky, and supernatural of holidays.
Stories (in alphabetical order by author's last name):
"Black Dog" by Laird Barron
"From Dust" by Laura Bickle
"Angelic" by Jay Caselberg
"Pumpkin Head Escapes" by Lawrence Connolly
"All Hallows in the High Hills" by Brenda Cooper
"We, the Fortunate Bereaved" by Brian Hodge
"Thirteen" by Stephen Graham Jones
"Whilst the Night Rejoices Profound and Still" by Caitlín R. Kiernan
"Trick or Treat" by Nancy Kilpatrick
"Long Way Home: A Pine Deep Story" by Jonathan Maberry
"The Mummy's Kiss" by Norman Partridge
"All Souls Day" by Barbara Roden
"And When You Called Us We Came To You" by John Shirley
"The Halloween Men" by Maria V. Snyder
"Lesser Fires" by Steve Rasnic Tem & Melanie Tem
"Unternehmen Werwolf" by Carrie Vaughn
"For the Removal of Unwanted Guests" by A.C. Wise
"Quadruple Whammy" by Chelsea Quinn Yarbro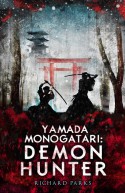 More Details
In an ancient Japan where the incursions of gods, ghosts, and demons into the living world is an everyday event, an impoverished nobleman named Yamada no Goji makes his living as a demon hunter for hire. With the occasional assistance of the reprobate exorcist Kenji, whatever the difficulty—ogres, demons, fox-spirits—for a price Yamada will do what needs to be done, even and especially if the solution to the problem isn't as simple as the edge of a sword. Yet, no matter how many monsters he has to face, or how powerful and terrible they may be, the demons Yamada fears the most are his own.
Richard Parks published his first story in Amazing in 1981. He has published over fifty more in the years since. His three previous collections to date are The Ogre's Wife: Fairy Tales for Grownups, Worshipping Small Gods, and On the Banks of the River of Heaven. (On the Banks of the River of Heaven is also published by Prime: hardcover/e-book). Other books by Parks include the novella Hereafter and After, The Heavenly Fox, and a novel, The Long Look. A second novel, To Break the Demon Gate, will be published soon. He's been a finalist for both the World Fantasy Award and the Mythopoeic Award for Adult Literature. Parks lives in Mississippi with his wife and a varying number of cats.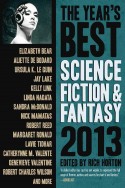 More Details
This fifth volume of the year's best science fiction and fantasy series features thirty-three stories by some of the genre's greatest authors, including Elizabeth Bear, Aliette de Bodard, Ursula K. Le Guin, Jay Lake, Kelly Link, Robert Reed, Lavie Tidhar, Catherynne M. Valente, Genevieve Valentine, and many others. Selecting the best fiction from Analog, Asimov's, Clarkesworld, F&SF, StrangeHorizons, and other top venues,The Year's Best Science Fiction & Fantasy is your guide to magical realms and worlds beyond tomorrow.
Content:
"Nahiku West" by Linda Nagata (Analog)
"A Murmuration of Starlings" by Joe Pitkin (Analog)
"The Black Feminist's Guide to Science Fiction Film Editing" by Sandra McDonald (Asimov's)
"The Bernoulli War" by Gord Sellar (Asimov's)
"In the House of Aryaman, a Lonely Signal Burns" by Elizabeth Bear (Asimov's)
"The Castle That Jack Built" by Emily Gilman (Beneath Ceaseless Skies)
"The Governess and the Lobster" by Margaret Ronald, (Beneath Ceaseless Skies)
"Sunshine" by Nina Allan (Black Static)
"Scattered Along the River of Heaven" by Aliette de Bodard (Clarkesworld)
"A Hundred Ghosts Parade Tonight" by Xia Jia (Clarkesworld)
"Prayer" by Robert Reed (Clarkesworld)
"Honey Bear" by Sofia Samatar (Clarkesworld)
"The Contrary Gardener" by Christopher Rowe (Eclipse Online)
"Heaven Under Earth" by Aliette de Bodard (Electric Velocipede)
"Scrap Dragon" by Naomi Kritzer (F&SF)
"Twenty-Two and you" by Michael Blumlein (F&SF)
"One Breath, One Stroke" by Catherynne M. Valente (The Future is Japanese)
"One Day in Time City" by David Ira Cleary (Interzone)
"The Philosophy of Ships" by Caroline Yoachim (Interzone)
"Give Her Honey When You Hear Her Scream" by Maria Dahvana Headley (Lightspeed)
"The Gravedigger of Konstan Spring" by Genevieve Valentine (Lightspeed)
"Arbeitskraft" by Nick Mamatas (The Mammoth Book of Steampunk)
"Fireborn" by Robert Charles Wilson (Rip-Off)
"Under the Eaves" by Lavie Tidhar (Robots: The New A.I.)
"Four Kinds of Cargo" by Leonard Richardson (Strange Horizons)
"The Keats Variation" by K. M. Ferebee (Strange Horizons)
"Things Greater Than Love" by Kate Bachus (Strange Horizons)
"The Weight of History, The Lightness of the Future" by Jay Lake (Subterranean)
"Elementals" by Ursula K. Le Guin (Tin House)
"Two Houses" by Kelly Link (Tin House)
"Swift, Brutal Retaliation" by Meghan McCarron (Tor.com)
"Uncle Flower's Homecoming Waltz" by Marissa K. Lingen (Tor.com)
"The Magician's Apprentice" by Tamsyn Muir (Weird Tales)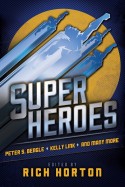 More Details
Now, find within this anthology great tales by gifted and award-winning authors who move superheroes from the four-color panels of comic books to the fantastic pages of fiction, stories that will remind anyone who ever wanted to wear a cape or don a cowl of the extraordinary powers of the imagination!
Contents (alphabetical by author):
"Dirae" by Peter S. Beagle
"The Strange Desserts of Professor Natalie Doom" by Kat Beyer
"Wild Card" by Leah Bobet
"Grandma" by Carol Emshwiller
"The Los Angeles Women's Auxiliary Superhero League" by Elana Fontin
"Secret Identity" by Kelly Link
"The Illustrated Biography of Lord Grimm" by Daryl Gregory
"Heroic Measures" by Matthew Johnson
"Super. Family." by Ian Donald Keeling
"The Biggest" by James Patrick Kelly
"Superhero Girl" by Jessica J. Lee
"Secret Identity" by Kelly Link
"Tonight We Fly" by Ian McDonald
"Downfall" by Joseph Mallozzi
"Sunlight Society" by Margaret Ronald
"Dr. Death vs. the Vampire" by Aaron Schutz
"Wonjiang and the Madman of Pyongyang" by Gord Sellar