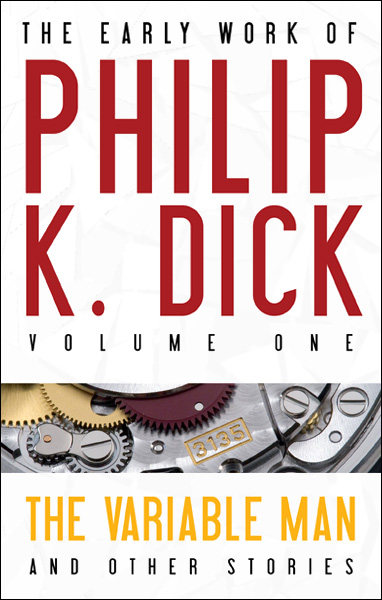 The Early Work of Philip K. Dick, Vol. One: The Variable Man & Other Stories by Philip K. Dick
Edited and selected by noted scholar Gregg Rickman, The Early Work of Philip K. Dick, Volume One: 1952-1953, and Volume Two: 1953-1954, encompasses a total of twenty-six stories from the early years of Philip K. Dick. With extensive story notes and introductions by Rickman, and packaged to belong on any shelf, The Early Work of Philip K. Dick promises an early peek into the many worlds created by one of the acclaimed masters of science fiction and fantasy.
Publishers Weekly:
This volume collects 15 of the earliest short publications by Philip K. Dick (1928–1982), all from 1952–1953. Though the young author is clearly finding his footing in these stories, many of the elements he developed in later works are present in embryonic form. The nature of reality is held up to question in Adjustment Team, while self-repairing and replicating robots populate James P. Crow, The Gun and Jon's World. The weak must prevail against seemingly invincible opponents in Beyond Lies the Wub, Piper in the Woods and Souvenir, and the prospect of total destruction looms in The Variable Man. Rickman provides an informative introduction and detailed endnotes on each story, which alone would make this volume worth acquiring. This collection is a must-have for PKD fans.
Booklist:
More than 25 years after his death, Dick's legacy is very much alive and thriving, thanks to continuing interest from Hollywood in his more marketable ideas and a steady stream of reissued novels and collections. The latest pair of Dick anthologies, gathering his earliest short fiction, cover the prolific years 1952–54, when Dick's first taste of publication fed his appetite for writing full time. Although Dick later dismissed his early work as "bad science fiction," there are many gems here, including stories touching on themes he would explore more meticulously in his classic novels. His first published tale, "Beyond Lies the Wub," for example, demystifies space explorers during their encounter with edible aliens that invade their hosts when consumed. The first volume's title story features a recurring Dick protagonist, a mechanic who outwits a dystopian ruling class; the second's showcases Dick's fascination with time-and-space anomalies. Together, the books constitute an indispensable treasure for Dick fans and anyone curious about the formative years of a true twentieth-century literary genius. --Carl Hays
Buy from one of these retailers