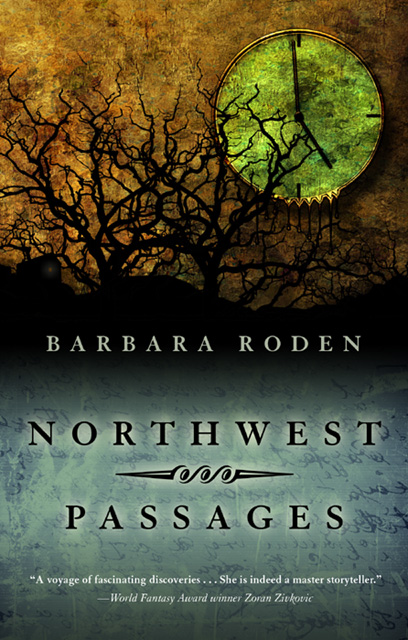 Northwest Passages by Barbara Roden
Free Fiction: "Northwest Passage" by Barbara Roden
Nominated for a World Fantasy Award
"Roden's Northwest Passages is an altogether masterly collection, proof that a writer with truly scary talent is at work in Ashcroft, British Columbia."--from Michael Dirda's "Introduction"
CONTENTS:
Introduction by Michael Dirda
The Appointed Time
Endless Night
The Palace
Out and Back
The Wide, Wide Sea
The Brink of Eternity
Tourist Trap
Northwest Passage
The Hiding Place
"First books are almost never this unsettling, this lively, this good. With NORTHWEST PASSAGES, Barbara Roden has placed herself among the ranks of the most telling, most effective, most readable living writers of the strange and fantastic tale. 'Endless Night' alone is worth the price of the book, but every story here is related with effortless-seeming skill and mastery. A wonderful and significant debut." --Peter Straub
"A voyage of fascinating discoveries...She is indeed a master storyteller." --World Fantasy Award Winner Zoran Zivkovic
"Barbara Roden invokes the ghosts of M. R. James and Algernon Blackwood in a collection that will put a touch of winter in your bones and have you glancing over your shoulder when lights are low. Northwest Passages demonstrates Roden's talent for distilling the ineffable, for transferring our universal fears of darkness and isolation to the page." --Laird Barron, Author of The Imago Sequence
"Barbara Roden, who has done so much to preserve the legacy of ghostly fiction, now adds to that legacy herself with Northwest Passages. But don't assume that the ten stories in this volume are arid pastiches of old-time writers. Beyond the elegance of diction, the crisply realized characters, the gradual but inexorable build-up of horrific atmosphere, there are enough moments of clutching terror in these tales to satisfy the most jaded sensibilities. This is Barbara Roden's first collection, but I for one fervently hope it will not be her last." --S.T. Joshi
"Barbara Roden's elegant tales share much with classical horror literature; a deceptively civilized sense of rhythm, pregnant and alluring spectral locations, and--best of all--a serious mean streak. These are subtle stories, but not always gentle, and definitely not safe." --Glen Hirshberg, Author of The Two Sams
"Sensitively and stylishly written, these tales convey that frisson of spectral terror that the aficionado always seeks but too seldom finds. They have all the strengths of their tradition, which Barbara Roden brings gracefully up to date." --Ramsey Campbell
Publishers Weekly: "Readers with a taste for deftly executed tales of subtle horror will welcome Roden's fine debut story collection. 'Out and Back' tells of an abandoned amusement park whose attractions are sinister snares set to entrap unwary thrill seekers. In 'The Palace', a skeleton crew working the night shift at a luxury hotel finds the premises haunted by the ghosts of a serial killer's victims. Both the title story and 'The Wide, Wide Sea' are set in Canadian wildernesses, where the alienated mingle freely with the ghostly. Roden is a co-publisher of the classic ghost story imprint Ash Tree Press, and her fiction resonates with echoes of Poe, Conan Doyle, Coleridge, Dickens and other masters of antiquarian horror. This yields powerful expressions of the supernatural in the book's two tales of 19th-century Antarctic exploration, 'Endless Night' and 'The Brink of Eternity', whose carefully crafted old-fashioned style lends atmosphere to depictions of a terra incognita rich with awe and terror."
"As a native of Canada's British Columbia province, Barbara Roden is familiar with wild, unspoiled places, and it shows...In reading these stories, it is clear to see that the soul of the Pacific Northwest and the Canadian prairies has seeped into her consciousness. That kind of terrain has become the inevitable setting for the human issues that concern her and the stories she is bound to tell. In Barbara Roden's fictions, the environment is a character itself. It draws in and nurtures her human characters and then overwhelms them or lures them into the comforts of emptiness and anonymity. This special sense of place, this exploration of the profound synergy between humans and their environment, and the persistent theme of humans enveloped by the wilderness, distinguishes her work...[P]eople who have disappeared never to be heard from again concern Roden mightily, and she expounds beautifully on this is passages that read like prose poems....Not all of Roden's settings are wilderness or country estates, but the same theme of finding a way of escape is very common in this collection. In 'The Hiding Place', a short, moody tale with a Shirley Jackson feel, a young girl seeks escape from the fallout of family tragedy. She finds it in a situation outwardly mundane, but full of suggestion. The settings for this story--suburban house and hospital--are more confined than Roden's more typical outdoors, but she still transforms the ordinary into the eerie. The 'bright little house with its three bedrooms, and finished basement, and neatly kept lawn' effectively suggests the surreality of suburban sameness, of neighborhoods with their clusters of Monopoly board houses. Other stories in Northwest Passages take place in haunted bookstores, hotels, and abandoned amusement parks. They are all engaging jaunts into strange worlds well worth visiting." --Sherry Austin for Dead Reckonings
"Ten very elegant ghost tales and gothic fictions make up Barbara Roden's first book. The stories gain considerable strength from being long enough to create believable characters and a strong sense of place. Some settings reflect the author's home in British Columbia. Others show her interest in polar exploration.'The Palace' is about the small crew on the overnight shift at a downtown Vancouver hotel. It's a bad part of town, once the hunting ground for a notorious serial killer. Night auditor Raymond is quiet and withdrawn. He spends an unnecessarily long time getting his nightly report from the register in the bar and seeming to talk to someone in the darkest corner of the room. 'The Brink of Eternity' is a man's lone quest for the hollow earth and an Arctic passageway. It's brilliantly told with passages from a history book I wouldn't know had been invented if the author's note didn't tell us. English tour buses and abandoned amusement parks are some of the other settings in this varied and very satisfying collection." --The Denver Post
"For the last of my dozen books [of the one's I've read this year], I'm picking a personal favorite, the first collection of eerie, unsettling stories by a wonderful Canadian writer. After all, what would Christmas be like without a few spooky tales? I'm not an unbiased judge of Barbara Roden's work, however, since I wrote the introduction to Northwest Passages. But if you enjoy uncanny tales, or the dark fantasies of Ray Bradbury, or brilliant pastiches of Victorian prose, or even the classic episodes of Rod Serling's "Twilight Zone," you will certainly devour these 10 stories. In one, the members of a 19th-century polar expedition discover that a member of their crew isn't quite what or who they think he is; in another, a modern young couple decide to explore an abandoned amusement park. This, I can tell you, is never a good idea." --Michael Dirda, Barnes & Noble Review [full review]
Buy from one of these retailers