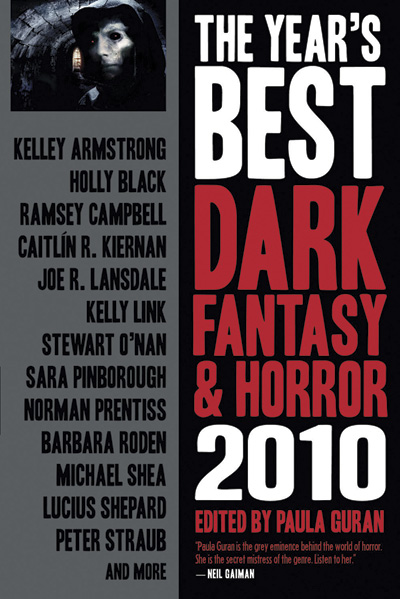 The Year's Best Dark Fantasy & Horror: 2010 edited by Paula Guran (E-book)
Darkness surrounds us. We can find darkness anywhere: in a strange green stone etched with mysterious symbols; at a small town's annual picnic; in a ghostly house that is easy to enter but not so easy to leave; behind the dumpster in the alley where a harpy lives; in The Nowhere a place where car keys toys people disappear to; among Polar explorers; and most definitely within ourselves. Darkness flies from mysterious crates; surrounds children whose nightlights have vanished; and flickers between us at the movie theater. Darkness crawls from the past and is waiting in our future; and there's always a chance that Halloween really is a door opening directly into endless shadow. Welcome to the dark. You may never want to leave. This inaugural volume of the year's best dark fantasy and horror features more than 500 pages of dark tales from some of today's finest writers of the fantastique. Chosen from a variety of sources these stories are as eclectic and varied as the dark itself.
(Covering stories first published in 2009.)
Booklist: Anthologist and editor Guran has collected 39 thrilling and frightening horror stories published in 2009. While some of the authors will be familiar to readers outside the genre--Joe R. Lansdale, Kelley Armstrong, Peter Straub, Ramsey Campbell--most of the contributors may be new to those who haven't kept up to date on their urban-fantasy and horror writers. Although they are all technically in the same genre, the stories are quite diverse, from Straub's quirky "Variations on a Theme from Seinfeld" to Armstrong's eerie "Haunted House" to Lansdale's creepy and sad "Torn Away." Fans of horror and dark fantasy-the latter, Guran explains, defies easy definition, but you know it when you feel it-should welcome this collection with open arms. This is the first edition of this anthology, but if the editor can maintain the same high quality in years to come, it is certain to join the several crime and SF year's-best collections as a staple in the genre-fiction world.
Publishers Weekly: With this collection of 39 stories originally published in 2009, Guran creates an expansive definition of the genre, ranging from overtly fantastic to (mostly) realistic and from the hilarity of Seth Fried's Pushcart Prize-winning "Frost Mountain Picnic Massacre" to the tender terror of Margo Lanagan's novella "Sea-Hearts." Nods to classics abound: Suzy McKee Charnas's futuristic "Lowland Sea" retells a Poe story of plague, Michael Shea's "Copping Squid" evokes Lovecraft's Cthulhu, Sarah Monette's "White Charles" channels M.R. James, and Catherynne M. Valente's "A Delicate Architecture" revisits the Brothers Grimm. Others play on present-day pop culture, such as Peter Straub's "Variations of a Theme from Seinfeld." Many tales tackle themes of objectification, abuse, and destroyed innocence, cutting straight to the reader's heart.
Piper at the Gates of Fantasy: This is a fat, tasty treat: nearly forty stories culled from a range of sources, print and online, mainstream and small press...The good thing about these 'best of' anthologies is that it helps the hard-pressed reader discover the quality material...
The Stars at Noonday: The Year's Best Dark Fantasy and Horror: 2010 Edition distinguishes itself from its fellow best-ofs in a couple important ways...the volume's page count is indeed considerable: 575 large trade paperback pages, all of them, except for an introduction and the back matter, devoted to fiction. For this particular year, Guran's volume includes about as much fiction as Datlow and Jones combined. That's 39 stories, including three novellas....But enough about quantity; it's that other thing that really matters. Fortunately, Guran hits a home run here as well...the volume's wide scope means that you can go from a retold fairy tale to a ghost story to a doppelganger to a vampire to a deal with the devil to a story that isn't supernatural at all. For the reasonable price of $20 US, The Year's Best Dark Fantasy and Horror: 2010 Edition offers an excellent overview of where dark fiction went in 2009. Here's hoping this series, unlike other recent attempts at a new horror best-of, will have some staying power. It certainly deserves to.
The Byproduct: Guran's anthology is a titanic effort. It includes dozens of stories and checks in at almost 600 pages, much of it excellent fiction. The editor's endnotes were illuminating and the stories seemed to build toward the macabre finish, Michael Marshall Smith's haunting "What Happens When You Wake Up In the Night." This...is a shelf tome--you'll find yourself dog-earing it long down the road, I think. Recommended.
RT Book Reviews: Readers curious about the state of dark fantasy and horror would be advised to consider this work.
CONTRIBUTORS (in alphabetical order):
THE HORRID GLORY OF ITS WINGS, Elizabeth Bear
LOWLAND SEA, Suzy McKee Charnas
COPPING SQUID, Michael Shea
MONSTERS, Stewart O'Nan
THE BRINK OF ETERNITY, BarbaraRoden
FROST MOUNTAIN PICNIC MASSACRE, <ahref=http://sethfried.blogspot.com/">Seth Fried
SEA-HEARTS, Margo Lanagan
A HAUNTED HOUSE OF HER OWN, Kelley Armstrong
HEADSTONE IN MY POCKET, Paul Tremblay
THE COLDEST GIRL IN COLDTOWN, Holly Black
STRANGE SCENES FROM AN UNFINISHED FILM,Gary McMahon
A DELICATE ARCHITECTURE, Catherynne M. Valente
THE MYSTERY, Peter
Atkins
VARIATIONS OF A THEME FROM SEINFELD, Peter Straub
THE WIDE, CARNIVOROUS SKY, John Langan
CERTAIN DEATH FOR A KNOWN PERSON, Steve Duffy
THE ONES WHO GOT AWAY, Stephen Graham Jones
LENG, Marc Laidlaw
TORN AWAY, Joe R. Lansdale
THE NOWHERE MAN, Sarah Pinborough
THE BONE'S PRAYER, Caitlín R. Kiernan
THE WATER TOWER, John Mantooth
IN THE PORCHES OF MY EARS, Norman Prentiss
THE CINDERELLA GAME, Kelly Link
THE JACARANDA SMILE, Gemma Files
THE OTHER BOX, Gerard Houarner
WHITE CHARLES, Sarah Monette
EVERYTHING DIES, BABY, Nadia Bulkin
BRUISE FOR BRUISE, Robert Davies
RESPECTS, Ramsey Campbell
DIAMOND SHELL, Deborah Biancotti
NUB HUT, Kurt Dinan
THE CABINET CHILD, Steve Rasnic Tem
CHERRYSTONE AND SHARDS OF ICE, Ekaterina Sedia
THE CREVASSE, Dale Bailey and Nathan Balingrud
VIC, Maura McHugh
HALLOWEEN TOWN, Lucius Shepard
THE LONG, COLD GOODBYE, Holly Phillips
WHAT HAPPENS WHEN YOU WAKE UP IN THE NIGHT, Michael Marshall Smith
Buy from one of these retailers