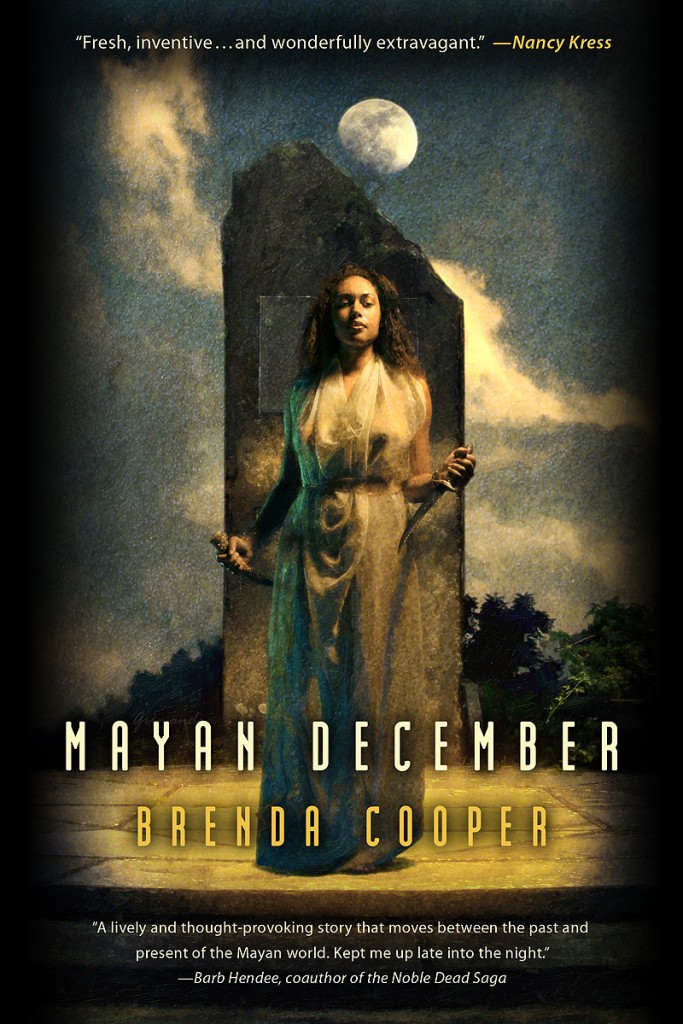 Mayan December by Brenda Cooper (E-book)
Visit Brenda Cooper's Web Site
"Wonderful read! A lively and thought-provoking story that moves between the past and present of the Mayan world, filled with engaging characters, vivid descriptions, and unexpected turns. Kept me up late into the night."—Barb Hendee co-author of the Noble Dead Saga
"A fresh, inventive look at the 2012 end of the world. Whatever you're expecting, this will be different, including a rich portrayal of vanished Mayan culture and wonderfully extravagant ending. Journey with Alice and Nixie and Ah Bahlam to places we would all like to go; the journey will repay you tenfold."—Nancy Kress
Dr. Alice Cameron is a famous scientist - an archeoastronomer - devoted to studying ancient Mayan culture. The era driving her career has always been the end of the Mayan baktun, so she's on the Yucatan Peninsula in December 2012 with her daughter Nixie...and so are fellow serious scholars, plenty of end-of-the-world crazies, and - at an international summit - the President of the United States and other heads of state. When Nixie disappears into the past in the Mayan jungle, rationality and mysticism, the present and the past start merging. Meanwhile, Alice is drawn into the machinations of statecraft by an old friend. A savvy scientist, a handsome dreadlocked time-traveler, an ancient shaman, a Mayan couple, a computer nerd, and an 11-year old traverse the past and present in a search for the meaning of life and a way to save two worlds.
Publishers Weekly Review:
Cooper interweaves past and present in this elegantly understated narrative of the Mayan calendar ending in 2012…Alice Cameron is an archeoastronomer visiting the Yucatán to view the December 2012 celestial alignment. Her 11-year-old daughter, Nixie, sees the trip as an adventure, but she gets more excitement than she bargains for when she walks into the past and meets Ah Bahlam, a young Mayan lord, and a weeping young woman named Hun Kan. As time thins, the two Mayans, their world crumbling into war, will have their destinies altered by the encounter, and the changes may ripple through Alice's and Nixie's increasingly grim present…Nixie is delightful, and Cooper illuminates the colorful Mayan world with imagination-hugging historical and cultural detail.
Buy from one of these retailers