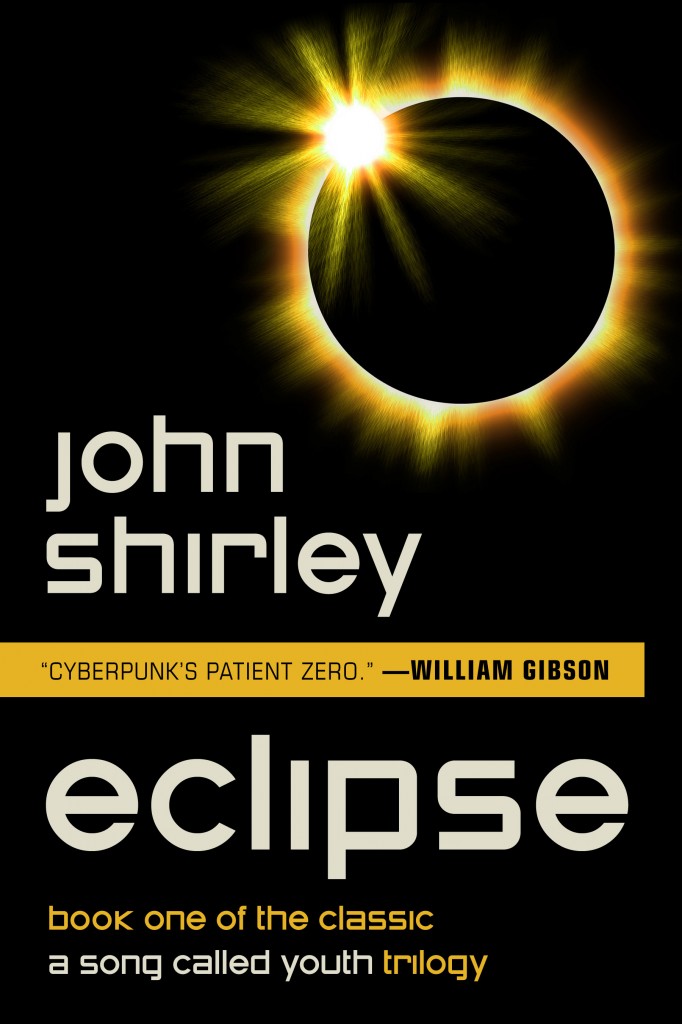 Eclipse: Book 1 of A Song Called Youth by John Shirley (E-book)
Ebook Only

2039: The Russians didn't use the big nukes. The ongoing Third World War has left parts of Europe in ruins. Into the chaos steps the Second Alliance, a multinational eager to impose its own kind of New World Order. In the United States—in FirStep, the vast space colony and on the artificial island Freezone—the SA shoulders its way to power, spinning a dark web of media manipulation, propaganda, and infiltration. Only the New Resistance recognizes the SA for what it really is: a racist theocracy hiding a cult of eugenics. Enter Rick Rickenharp, a former rock'n'roll cult hero: a rock classicist out of place in Europe's underground club scene, populated by wiredancers and minimonos—but destined to play a Song Called Youth that will shake the world.
Also available as ebook or in print as part of A Song Called Youth, a complete omnibus of all three novels.
"Avid cyberpunk fans will appreciate this updated edition of a cutting-edge classic."—Publishers Weekly
"Vivid, dense, powerful imagery...hard to put down!"—Washington Post
"A complex, bizarre, and unique vision of the near future, with a kaleidoscopic mix of politics, pop, and paranoia." —Bruce Sterling
"John Shirley was cyberpunk's patient zero, first locus of the virus, certifiably virulent. A Carrier."—William Gibson
"A Song Called Youth might very well be John Shirley's signature production, still ringing with the clarion call of a bygone era."—Asimov's
"The 'Eclipse trilogy' by John Shirley is one of the finest examples of cyberpunk 'war' novels available. A mesmerizing dark future setting, coherent intrigue, heavy-duty warfare and lots of characters you care for...it will keep you awake at night."—Transputer Qasar
Buy from one of these retailers