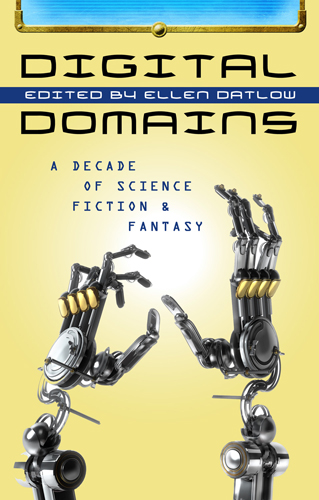 Digital Domains: A Decade of Science Fiction & Fantasy edited by Ellen Datlow (E-book)
A girl who eats dreams, a woman who chooses the apes, and a barbarian hero rendered as a collage. These are just a few of the people readers first met online thanks to the explosion of webzines. Ellen Datlow, editor of Omni Online, Event Horizon, and SciFiction, led the charge into the brave new world of science fiction. Digital Domains collects some of the best and most controversial of those stories — for the first time.
Publishers Weekly (Starred Review): Datlow collects 15 compelling short works that first appeared between 1996 and 2005 in three pioneering online magazines: OMNI Online, Event Horizon, and SCIFICTION. The stories vary widely, but all shine with intelligence, thoughtfulness, and sly humor. James Blaylock messes with time and reality in "Thirteen Phantasms," the first online publication to win the World Fantasy Award. In Paul Park's "Get a Grip," one man's reality is definitely not the same as anyone else's. In "Harbingers," Severna Park brings aliens to war-torn Tanzania. Kim Newman takes wicked, witty aim at the British civil service, scientists, and professors in "Tomorrow Town." Datlow has compiled an eminently readable group of first-rate short fiction by authors who dared to push forward into the new, uncharted medium of the Internet.
Booklist:Ellen Datlow, who reliably selects stories both challenging and delicious, was an early adopter of the Internet as a home for science fiction. In this collection, some of the best samples of work published by the now-defunct sites OMNI Online, Event Horizon, and SCIFICTION are brought together. From James P. Blaylock's "Thirteen Phantasms," a stylistically classic story of an encounter with the past, to Simon Ings' disturbing tale of alien colonization, "Russian Vine," this is a collection of stories to think about long after the reading is over. Unsurprisingly, Maureen McHugh's tale, "Frankenstein's Daughter," brings up some difficult issues, much like Shelley's original. Carol Emshwiller contributes an odd little piece, "All of Us Can Almost." If there was any doubt remaining, this collection proves that online venues have contained a remarkable variety of truly stellar fiction, and one hopes that they will continue to do so. --Regina Schroeder
Content
"Thirteen Phantasms" by James P. Blaylock
"Mr. Goober's Show" by Howard Waldrop
"Get a Grip" by Paul Park
"The Girl Detective" by Kelly Link
"Pansolapia" by Jeffrey Ford
"Harbingers" by Severna Park
"Frankenstein's Daughter" by Maureen McHugh
"The Pottawatomie Giant" by Andy Duncan
"What I Didn't See Karen" by Joy Fowler
"Daughter of the Monkey God" by M.K. Hobson
"Tomorrow Town" by Kim Newman
"There's a Hole in the City" by Richard Bowes
"All of Us Can Almost..." by Carol Emshwiller
"You Go Where It Takes You" by Nathan Ballingrud
"Russian Vine" by Simon Ings
Buy from one of these retailers