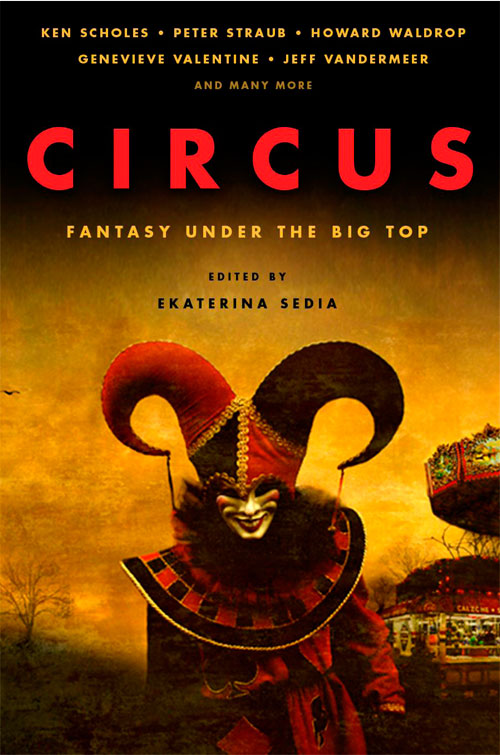 Circus: Fantasy Under the Big Top edited by Ekaterina Sedia (E-book)
From award-winning anthologist Ekaterina Sedia...
Stories of circuses traditional and bizarre, futuristic and steeped in tradition, joyful and heart-breaking! And among the actors you will find old friends, be they sad clowns or free-spirited gymnasts, as well as new ones—mammoths, mechanical piano men, and things best not described at all. Come one, come all, and enjoy the literary show unfolding!
"Something About a Death, Something About a Fire" by Peter Straub
"Smoke & Mirrors" by Amanda Downum
"Calliope: A Steam Romance" by Andrew J McKiernan
"Welcome to the Greatest Show in the Universe" by Deborah Walker
"Vanishing Act" by E. Catherine Tobler
"Quin's Shanghai Circus" by Jeff VanderMeer
"Scream Angel" by Douglas Smith
"The Vostrasovitch Clockwork Animal and Traveling Forest Show at the End of the World" by Jessica Reisman
"Study, for Solo Piano" by Genevieve Valentine
"Making My Entrance Again with My Usual Flair" by Ken Scholes
"The Quest" by Barry B. Longyear
"26 Monkeys, Also the Abyss" by Kij Johnson
"Courting the Queen of Sheba" by Amanda C. Davis
"Circus Circus" by Eric Witchey
"Phantasy Moste Grotesk" by Felicity Dowker
"Learning to Leave" by Christopher Barzak
"Ginny Sweethips' Flying Circus" by Neal Barrett Jr
"The Aarne-Thompson Classification Revue" by Holly Black
"Manipulating Paper Birds" by Cate Gardner
"Winter Quarters" by Howard Waldrop
Buy from one of these retailers