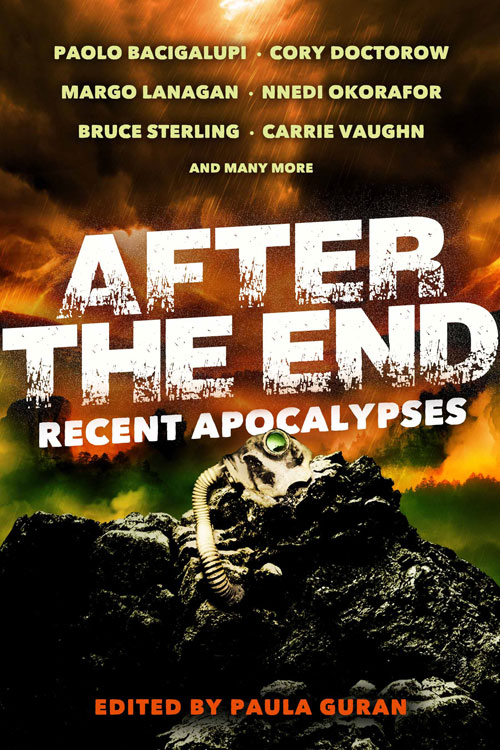 After the End: Recent Apocalypses edited by Paula Guran (Ebook)
From the Sumerian epic of Gilgamesh to Norse prophecies of Ragnarök to the Revelations of Saint John to Cormac McCarthy's The Road, any number of fictional zombie Armageddons, and the dystopic world of The Hunger Games, we have always wondered what will happen after the world as we know it ends. No matter what the doomsday scenario—cataclysmic climate change, political chaos, societal collapse, nuclear war, pestilence, or so many other dreaded variations—we inevitably believe that even though the world perishes, some portion of humankind will live on. Such stories involve death and disaster, but they are also tales of rebirth and survival. Grim or triumphant, these outstanding post-apocalyptic stories selected from selected from the best of those published in the tumultuous last decade allow us to consider what life will be like after the end.
[Starred Review] Guran presents 20 reprints about postapocalyptic survival, all first published between 2008 and 2012. Scenarios include genetic mutation (Margo Lanagan's "The Fifth Star in the Southern Cross," Nnedi Okorafor's "Tumaki"), the threat of nuclear war (Bruce Sterling's "Goddess of Mercy," Livia Llewellyn's "Horses"), and climate change (Mary Rosenblum's "The Egg Man," Carrie Vaughn's "Amaryllis").... The focus is on the individual and relationships instead of society as a whole: parents and children (Maureen McHugh's "After the Apocalypse," Blake Butler's "The Disappeared") and lovers (Simon Morden's "Never, Never, Three Times Never," John Shirley's "Isolation Point, California") sit comfortably alongside individuals fitting or forcing themselves into the new society (Lauren Beukes's "Chiselhurst Messiah", Cory Doctorow's "Beat Me Daddy (Eight to the Bar)"). Every style and taste is represented, and readers will enjoy learning (or being reminded) why so many of these authors are considered stars of the genre.—Publishers Weekly
Contents (alphabetically listed by author):
• Paolo Bacigalupi, "Pump Six"
• Kage Baker, "The Books"
• Lauren Beukes, "Chislehurst Messiah"
• Blake Butler, "The Disappeared"
• Cory Doctorow, "Beat Me Daddy (Eight to the Bar)"
• Brian Evenson, "The Adjudicator"
• Steven Gould, "A Story, with Beans"
• Margo Lanagan, "The Fifth Star In the Southern Cross"
• Livia Llewellyn, "Horses"
• M.J. Locke, "True North"
• John Mantooth, "The Cecilia Paradox"
• Maureen McHugh, "After the Apocalypse"
• Simon Morden, "Never, Never, Three Times Never"
• Nnedi Okorafor, "Tumaki"
• Paul Park, "Ragnarok"
• Mary Rosenblum, "The Egg Man"
• John Shirley, "Isolation Point, California"
• Bruce Sterling, "Goddess of Mercy"
• Paul Tremblay, "We Will Never Live in the Castle"
• Carrie Vaughn, "Amaryllis"
Buy from one of these retailers