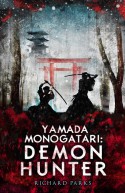 More Details
In an ancient Japan where the incursions of gods, ghosts, and demons into the living world is an everyday event, an impoverished nobleman named Yamada no Goji makes his living as a demon hunter for hire. With the occasional assistance of the reprobate exorcist Kenji, whatever the difficulty—ogres, demons, fox-spirits—for a price Yamada will do what needs to be done, even and especially if the solution to the problem isn't as simple as the edge of a sword. Yet, no matter how many monsters he has to face, or how powerful and terrible they may be, the demons Yamada fears the most are his own.
Richard Parks published his first story in Amazing in 1981. He has published over fifty more in the years since. His three previous collections to date are The Ogre's Wife: Fairy Tales for Grownups, Worshipping Small Gods, and On the Banks of the River of Heaven. (On the Banks of the River of Heaven is also published by Prime: hardcover/e-book). Other books by Parks include the novella Hereafter and After, The Heavenly Fox, and a novel, The Long Look. A second novel, To Break the Demon Gate, will be published soon. He"s been a finalist for both the World Fantasy Award and the Mythopoeic Award for Adult Literature. Parks lives in Mississippi with his wife and a varying number of cats.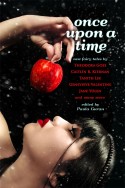 More Details
Eighteen extraordinary authors devise all-new fairy tales: imaginative reinterpretations of the familiar, evocative new myths, speculations beyond the traditional realm of "once upon a time." Often dark, occasionally humorous, always enthralling, these entertaining stories find a certain Puss in a near-future New York, an empress bargaining with a dragon, a princess turned into a raven, a king's dancing daughters with powerful secrets, great heroism, terrible villainy, sparks of mischief, and a great deal more. Brilliant dreams and dazzling nightmares with meaning for today and tomorrow…
"The Giant In Repose" by Nathan Ballingrud
"Eat Me, Drink Me, Love Me" by Christopher Barzak
"Tales That Fairies Tell" by Richard Bowes
"Warrior Dreams" by Cinda Williams Chima
"Blanchefleur" by Theodora Goss
"The Road of Needles" by Caitlín R. Kiernan
"Below the Sun Beneath" by Tanith Lee
"The Coin of Heart's Desire" by Yoon Ha Lee
"Sleeping Beauty of Elista" by Ekaterina Sedia
"Egg" by Priya Sharma
"Lupine" by Nisi Shawl
"Castle of Masks" by Cory Skerry
"Flight" by Angela Slatter
"The Lenten Rose" by Genevieve Valentine
"The Hush of Feathers, the Clamour of Wings" by A.C. Wise
"Born and Bread" by Kaaron Warren
"The Mirror Tells All" by Erzebet YellowBoy
"The Spinning Wheel's Tale" by Jane Yolen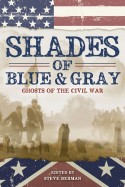 More Details
More Americans were killed during the years of the Civil War (1861-1865) than any other date in history. Men shattered,
women lost, families broken. In Shades of Blue & Gray, editor Steve Berman offers readers tales of the supernatural, ghost stories that range from the haunts of the battlefield to revenants on the long march home. Yank. Rebel. Both finding themselves at odds in flesh and spirit…
Contents:
Introduction by Steve Berman
"Raw Recruits" by Will Ludwigsen
"The Swell of the Cicadas" by Tenea D. Johnson
"Bad Penny" by Carrie Laben
"Spectral Drums" by Devin Poore
"An Occurrence at Owl Creek Bridge" by Ambrose Bierce
"Ten Thousand Miles" by Connie Wilkins
"No More Amongst the Cities of the Earth" by Christopher M. Cevasco
"The Country House" by Jameson Currier
"An Unclean Thing" by Cindy Potts
"The Blank Flag of Arthur Kerry" by Kristopher Reisz
"Three Silent Things" by John F. D. Taff
"Across Hickman's Bridge to Home" by Russell Davis
"Mistress" by Jennifer R. Povey
"Tommy Cleburne" by Jeff Mann
"The Overseer" by Albert E. Cowdrey
"Red Animal" by Ed Kurtz
"Proving Up" by Caren Gussoff
"Vermont Muster" by Nick Mamatas
"Like Quicksilver for Gold" by Chaz Brenchley
"The Beatification of Custer Poe" by Laird Barron
"The Arabella" by Melissa Scott
"The Third Nation" by Lee Hoffman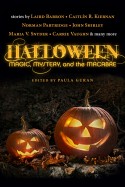 More Details
The farther we've gotten from the magic and mystery of the past, the more we've come to love Halloween—the one time each year when the mundane is overturned in favor of the bizarre, the "other side" is closest, and everyone can become anyone or anything they wish… and sometimes what they don't. Eighteen original stories from mistresses and masters of the dark celebrating the most fantastic, enchanting, spooky, and supernatural of holidays.
Stories (listed in alphabetical order by author):
"Black Dog" by Laird Barron
"From Dust" by Laura Bickle
"Angelic" by Jay Caselberg
"Pumpkin Head Escapes" by Lawrence Connolly
"All Hallows in the High Hills" by Brenda Cooper
"We, the Fortunate Bereaved" by Brian Hodge
"Thirteen" by Stephen Graham Jones
"Whilst the Night Rejoices Profound and Still" by Caitlín R. Kiernan
"Trick or Treat" by Nancy Kilpatrick
"Long Way Home: A Pine Deep Story" by Jonathan Maberry
"The Mummy's Kiss" by Norman Partridge
"All Souls Day" by Barbara Roden
"And When You Called Us We Came To You" by John Shirley
"The Halloween Men" by Maria V. Snyder
"Lesser Fires" by Steve Rasnic Tem & Melanie Tem
"Unternehmen Werwolf" by Carrie Vaughn
"For the Removal of Unwanted Guests" by A.C. Wise
"Quadruple Whammy" by Chelsea Quinn Yarbro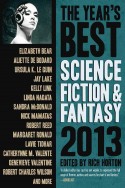 More Details
This fifth volume of the year's best science fiction and fantasy series features thirty-three stories by some of the genre"s greatest authors, including Elizabeth Bear, Aliette de Bodard, Ursula K. Le Guin, Jay Lake, Kelly Link, Robert Reed, Lavie Tidhar, Catherynne M. Valente, Genevieve Valentine, and many others. Selecting the best fiction from Analog, Asimov"s, Clarkesworld, F&SF, StrangeHorizons, and other top venues,The Year"s Best Science Fiction & Fantasy is your guide to magical realms and worlds beyond tomorrow.
Content:
"Nahiku West" by Linda Nagata (Analog)
"A Murmuration of Starlings" by Joe Pitkin (Analog)
"The Black Feminist's Guide to Science Fiction Film Editing" by Sandra McDonald (Asimov's)
"The Bernoulli War" by Gord Sellar (Asimov's)
"In the House of Aryaman, a Lonely Signal Burns" by Elizabeth Bear (Asimov's)
"The Castle That Jack Built" by Emily Gilman (Beneath Ceaseless Skies)
"The Governess and the Lobster" by Margaret Ronald, (Beneath Ceaseless Skies)
"Sunshine" by Nina Allan (Black Static)
"Scattered Along the River of Heaven" by Aliette de Bodard (Clarkesworld)
"A Hundred Ghosts Parade Tonight" by Xia Jia (Clarkesworld)
"Prayer" by Robert Reed (Clarkesworld)
"Honey Bear" by Sofia Samatar (Clarkesworld)
"The Contrary Gardener" by Christopher Rowe (Eclipse Online)
"Heaven Under Earth" by Aliette de Bodard (Electric Velocipede)
"Scrap Dragon" by Naomi Kritzer (F&SF)
"Twenty-Two and you" by Michael Blumlein (F&SF)
"One Breath, One Stroke" by Catherynne M. Valente (The Future is Japanese)
"One Day in Time City" by David Ira Cleary (Interzone)
"The Philosophy of Ships" by Caroline Yoachim (Interzone)
"Give Her Honey When You Hear Her Scream" by Maria Dahvana Headley (Lightspeed)
"The Gravedigger of Konstan Spring" by Genevieve Valentine (Lightspeed)
"Arbeitskraft" by Nick Mamatas (The Mammoth Book of Steampunk)
"Fireborn" by Robert Charles Wilson (Rip-Off)
"Under the Eaves" by Lavie Tidhar (Robots: The New A.I.)
"Four Kinds of Cargo" by Leonard Richardson (Strange Horizons)
"The Keats Variation" by K. M. Ferebee (Strange Horizons)
"Things Greater Than Love" by Kate Bachus (Strange Horizons)
"The Weight of History, The Lightness of the Future" by Jay Lake (Subterranean)
"Elementals" by Ursula K. Le Guin (Tin House)
"Two Houses" by Kelly Link (Tin House)
"Swift, Brutal Retaliation" by Meghan McCarron (Tor.com)
"Uncle Flower's Homecoming Waltz" by Marissa K. Lingen (Tor.com)
"The Magician's Apprentice" by Tamsyn Muir (Weird Tales)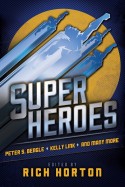 More Details
Now, find within this anthology great tales by gifted and award-winning authors who move superheroes from the four-color panels of comic books to the fantastic pages of fiction, stories that will remind anyone who ever wanted to wear a cape or don a cowl of the extraordinary powers of the imagination!
Contents (alphabetical by author):
"Dirae" by Peter S. Beagle
"The Strange Desserts of Professor Natalie Doom" by Kat Beyer
"Wild Card" by Leah Bobet
"Grandma" by Carol Emshwiller
"The Los Angeles Women's Auxiliary Superhero League" by Elana Fontin
"Secret Identity" by Kelly Link
"The Illustrated Biography of Lord Grimm" by Daryl Gregory
"Heroic Measures" by Matthew Johnson
"Super. Family." by Ian Donald Keeling
"The Biggest" by James Patrick Kelly
"Superhero Girl" by Jessica J. Lee
"Secret Identity" by Kelly Link
"Tonight We Fly" by Ian McDonald
"Downfall" by Joseph Mallozzi
"Sunlight Society" by Margaret Ronald
"Dr. Death vs. the Vampire" by Aaron Schutz
"Wonjiang and the Madman of Pyongyang" by Gord Sellar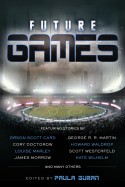 More Details
Human competition is eternal. No matter what the future brings, sports will be a part of it. But what forms will these games take? Who will be the spectator, who will play? Will aliens be our opponents or machines? What rules will we play by? What will be at stake? What rewards will be reaped by the victors? What fates await the defeated? Will the entire universe be our arena or will our world be smaller than today? Visionary authors speculate on what swifter, higher, stronger will mean in the near and distant future.
CONTENTS (alphabetical order)
"Distance" by Maya Kaathryn Bohnhoff
"Ender's Game" by Orson Scott Card
"Anda's Game" by Cory Doctorow
"Breakaway" by George Alec Effinger
"Pawn" by Timons Esaias
"Will the Chill" by John Shirley
"Diamond Girls" by Louise Marley
"Run to Starlight" by George R.R. Martin
"The Fate of Nations" by James Morrow
"The Survivor" by Walter F. Moudy
"Listen" by Joel Richards
"Name That Planet!" by Elizabeth Ann Scarborough
"Man-Mountain Gentian" by Howard Waldrop
"Unsportsmanlike Conduct" by Scott Westerfeld
"Ladies and Gentlemen, This Is Your Crisis!" by Kate Wilhelm
"Kip Running" by Genevieve Williams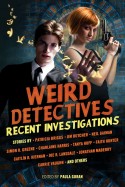 More Details
Paranormal investigators. Occult detectives. Ghost hunters. Monster fighters. Humans who unravel uncanny crimes and solve psychic puzzles; sleuths with supernatural powers of their own who provide services far beyond those normal gumshoes, shamuses, and Sherlocks can provide. When vampires, werewolves, and thing that go bump in the night are part of your world, criminals can be as inhuman as the crimes they commit, and magic can seep into the mundane—those who solve the mysteries, bring justice for victims or even save the world itself, might wield wands as well as firearms, utter spells or simply use their powers of deduction. Some of the best twenty-first century tales from top authors of the century's most popular genre take you down mean streets and into strange crime scenes in this fantastic compilation.
Contents (alphabetical by author):
"Cryptic Coloration" by Elizabeth Bear
"The Key" by Ilsa J. Blick
"Mortal Bait" Richard Bowes
"Star of David" by Patricia Briggs
"Love Hurts" by Jim Butcher
"Swing Shift" by Dana Cameron
"The Necromancer's Apprentice" by Lillian Stewart Carl
"Sherlock Holmes and the Diving Bell" by Simon Clark
"The Adakian Eagle" by Bradley Denton
"Hecate's Golden Eye" by P.N. Elrod
"The Case of Death and Honey" by Neil Gaiman
"The Nightside, Needless to Say" by Simon R. Green
"Deal Breaker" by Justin Gustainis
"Death by Dahlia" by Charlaine Harris
"See Me" by Tanya Huff
"Signatures of the Dead" by Faith Hunter
"The Maltese Unicorn" by Caitlín R. Kiernan
"The Case of the Stalking Shadow" by Joe R. Lansdale
"Like a Part of the Family" by Jonathan Maberry
"The Beast of Glamis" by William Meikle
"Fox Tails" by Richard Parks
"Imposters" by Sarah Monette
"Defining Shadows" by Carrie Vaughn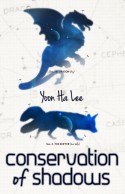 More Details
There is no such thing as conservation of shadows. When light destroys shadows, darkness does not gain in density elsewhere. When shadows steal over earth and across the sky, darkness is not diluted
In this debut collection of short fiction from one of science fiction and fantasy's most notable new writers, Yoon Ha Lee often integrates tropes of science fiction with elements of myth to create tales that are both wonderfully fresh and deeply ancient. No matter what the theme, her wide variety of stories are strikingly original and always indelible.
With an introduction by Aliette de Bodard.
Yoon Ha Lee is an award-nominated Korean-American writer who majored in math and finds it a source of continual delight that math can be mined for science fiction and fantasy story ideas. Her stories have appeared in such publications as Clarkesworld, Tor.com, Lightspeed, The Year's Best Science Fiction, The Year's Best Science Fiction and Fantasy, The Year's Best Dark Fanasy and Horror, and other venues. Lee has written for Alderac Entertainment Group's roleplaying game/collectible card game Legend of the Five Rings and recently authored the browser-based StoryNexus game Winterstrike. She lives in Baton Rouge, Louisiana with her husband and daughter.
Publishers Weekly:
[STARRED] Lee's short fiction has been lauded by respected anthologists and discerning readers; this fine collection of 16 stories (one original) gives Lee's work the chance to reach the wider audience it deserves. Of particular interest are "Ghostweight," whose protagonist's desire for revenge brings terrible results, and the thematically related "Effigy Nights." These provide an interesting contrast to the moral dilemma faced by the heroine of "Swanwatch," whose masters have placed her in a cruel game. As the author's notes make clear, Lee draws on a wide range of inspirations, using other genre fiction and Korean history as a seeds around which to crystalize stories. Lee's stories are often dark and tragic, and always worth the reader's time.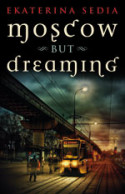 More Details
Introduction by Jeffrey Ford

The first short story collection by award-winning author Ekaterina Sedia. One of the more resonant voices to emerge in recent years, this Russian-born author explores the edge between the mundane and fantastical in tales inspired by her homeland as well as worldwide folkloric traditions. Singular and lyrical writing that will appeal to fans of slipstream and magical realism, as well as those interested in the uncanny and Russian history.
[Starred Review] In this sterling collection of 21 fantastic tales, Sedia demonstrates the talents that have earned her a place on the Tiptree Honor List and a World Fantasy Award. Old enough to have lived in the actual Soviet Union, the Russian-born author refuses to pander to North American readers' notions of life behind the Iron Curtain. While stories like "Citizen Komarova Finds Love," in which a Russian noblewoman finds the grimmest of accommodations in a newly soviet Russia, and "Tin Cans," whose protagonist is haunted by the specters of secret police chief Lavrentiy Beria's victims, acknowledge the grim side of the U.S.S.R., Sedia allows present-day characters moments of nostalgia for the good that was lost "after the horrible and hungry 1990." She also touches on other times and places, as in "The Bank of Burkina Faso," which spins a 419 scam letter into a sweet and funny fairy tale. This masterful stylist's lyrical stories will delight the thoughtful reader. — Publishers Weekly