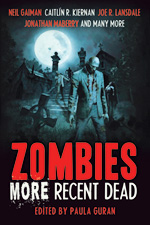 Zombies: More Recent Dead
Zombies are now a phenomenon constantly revealing as much about ourselves—and our fascination with death, resurrection, and survival—as our love for the supernatural or post-apocalyptic speculation… zombies stories for even those who think they don't care for them!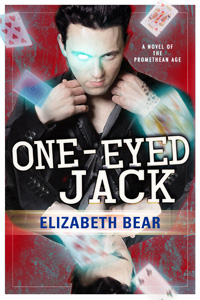 One-Eyed Jack by Elizabeth Bear
All stories are true, but some stories are truer than others. The One-Eyed Jack and the Suicide King are personifications of the city of Las Vegas—its history, mystery, mystical power, and heart…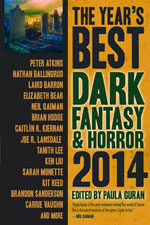 The Year's Best Dark Fantasy & Horror: 2014 edited by Paula Guran
This fifth annual volume offers grim futures, distorted pasts, invasions of the uncanny, paranormal fancies, weird dreams, unnerving nightmares, mundane terrors, supernatural visions, and much more!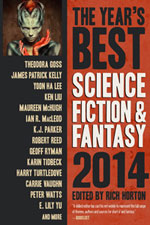 The Year's Best Science Fiction & Fantasy: 2014 edited by Rich Horton
This sixth volume of the year's best science fiction and fantasy features over thirty stories by some of the genre's greatest authors… your guide to magical realms and worlds beyond tomorrow.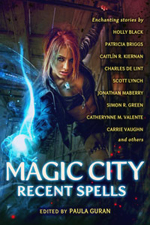 Magic City: Recent Spells edited by Paula Guran
City living, at least in fantasy fiction, is full of both magical wonder and dark enchantment. Some of the best stories of urban enchantment from the last few years.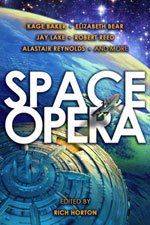 Space Opera edited by Rich Horton
A truly stellar compilation of tales from one of the defining streams of science fiction, old and new, written by a supernova of genre talent.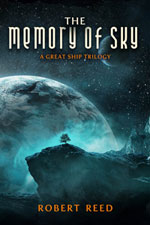 The Memory of Sky: A Great Ship Trilogy by Robert Reed
An epic story begins when a young boy steps into the world his parents have so carefully kept him from, a world where gigantic trees each house thousands of humans and another human species, the papio, rule its far edges…
Her Husband's Hands and Other Stories by Adam-Troy Castro
Stories from acclaimed author Adam-Troy Castro whose short fiction has been nominated for two Hugos, three Stokers, and eight Nebulas.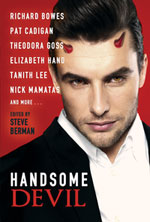 Handsome Devil: Stories of Sin and Seduction edited by Steve Berman
The alluring fantasy of Handsome Devil highlights Lucifer's role as the beautiful trickster who steals hearts (as well as souls), and features stories—both new and old—of tantalizing tempters, sexy incubi, demon lovers, and devils who beguile and betray.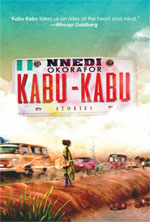 Kabu Kabu by Nnedi Okorafor
"With a knack for dialogue and an ambitious imagination, Okorafor effortlessly blends original characters with fantastical elements into the vivid scenery of Africa to create stories worth reading again and again."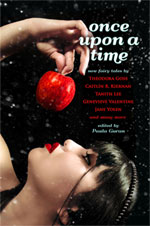 Once Upon a Time: New Fairy Tales edited by Paula Guran
Imaginative reinterpretations of the familiar, evocative new myths, speculations beyond the traditional realm of "once upon a time." Brilliant dreams and dazzling nightmares with meaning for today and tomorrow…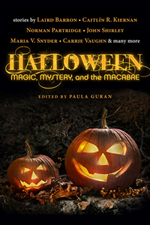 Halloween: Magic, Mystery & the Macabre edited by Paula Guran
Eighteen original stories from mistresses and masters of the dark celebrating the most fantastic, enchanting, spooky, and supernatural of holidays…
Shades of Blue & Gray: Ghosts of the Civil War edited by Steve Berman
Tales of the supernatural, ghost stories that range from the haunts of the battlefield to revenants on the long march home. Yank. Rebel. Both finding themselves at odds in flesh and spirit…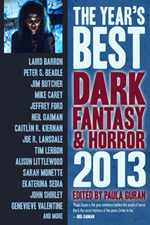 The Year's Best Dark Fantasy & Horror
Edited by Paula Guran
Our outstanding annual exploration of the year's best dark fiction that includes thirty-five stories of quiet fear, the utterly fantastic, the weirdly surreal, atmospheric noir, mysterious hauntings, seductive nightmares, and frighteningly plausible futures.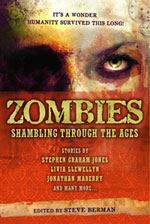 Zombies: Shambling Through the Ages
Edited by Steve Berman
It's a wonder humanity ever survived into the twenty-first century. Editor Steve Berman has collected stories that reveal the threat of revenants and the living dead is far from recent. From the Bronze Age to World War II, this anthology guides us through millennia of thrills, chills, kills, carnage, horror, and havoc wreaked throughout history by the walking dead.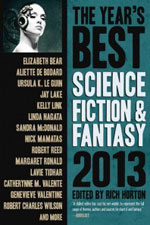 The Year's Best Science Fiction & Fantasy
Edited by Steve Berman
This fifth volume of the year's best science fiction and fantasy series features thirty-three stories by some of the genre's greatest authors, including Elizabeth Bear, Aliette de Bodard, Ursula K. Le Guin, Jay Lake, Kelly Link, Robert Reed, Lavie Tidhar, Catherynne M. Valente, Genevieve Valentine, and many others…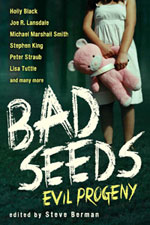 Bad Seeds: Evil Progeny
Edited by Steve Berman
Children are supposed to be all sugar and spice and everything nice . . . but we know that's not the truth. Dark tales of wicked tykes and dangerous kids playing vicious games that lead adults—sometimes their own parents—to their demise…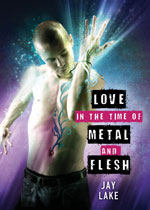 Love in the Time of Metal and Flesh
By Jay Lake
Markus Selvage has been bent by life, ground up and spit out again. In San Francisco's darkest sexual underground, he is a perpetual innocent, looking within bodies—his own and others'—for the lost secrets of satisfaction…"The writing is graceful and sometimes even poetic…the subject matter tests the bounds of the word 'explicit'…"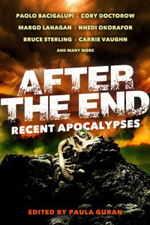 After the End: Recent Apocalypses
Edited by Paula Guran
No matter what the doomsday scenario, we inevitably believe that even though the world perishes, some portion of humankind will live on. Outstanding post-apocalyptic stories selected from the best of those published in the tumultuous last decade.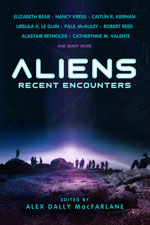 Aliens: Recent Encounters
Edited by Alex Dally MacFarlane
Under the countless billions of stars in the universe, what forms will alien life take? How will they live? And what will happen when we meet them? Answers from some of today's best science fiction writers. From first encounters to life alongside aliens to stories of the aliens' own lives…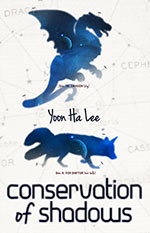 Conservation of Shadows
By Yoon Ha Lee
"Lee draws on a wide range of inspirations, using other genre fiction and Korean history as a seeds around which to crystalize stories. Lee's stories are often dark and tragic, and always worth the reader's time."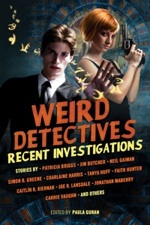 Weird Detectives: Recent Investigations
Edited by Paula Guran
Paranormal investigators. Occult detectives. Ghost hunters. Monster fighters. Some of the best twenty-first century tales from top authors of the century's most popular genre take you down mean streets and into strange crime scenes.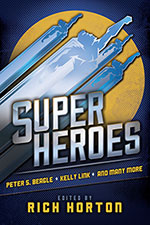 Superheroes
Edited by Rich Horton
Stories brimming with amazing adventure and imaginative power…super-speculative fiction full of thrills, chills, fun, and insight. For anyone who ever wanted to wear a cape or don a cowl!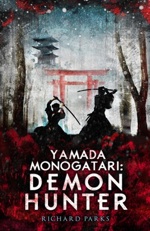 Yamada Monogatari: Demon Hunter
By Richard Parks
In an ancient Japan where the incursions of gods, ghosts, and demons into the living world is an everyday event, an impoverished nobleman named Yamada no Goji makes his living as a demon hunter for hire.
See our catalog for a complete list!