By Paula Guran
Welcome to the inaugural The Year's Best Science Fiction and Fantasy Novellas… which brings us immediately to the rather gnarly question of defining "novella" beyond "a work of fiction longer than a short story but shorter than a novel."
In the literary world, some feel a novella is not defined by word count, but its unity of purpose. And George Fetherling was probably correct in stating that comparing one version of prose fiction to another based solely on length is "like insisting that a pony is a baby horse."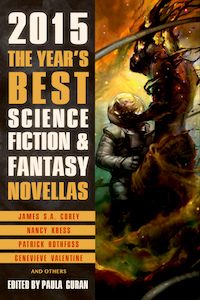 Even if one saddles oneself to the word-count baby horse, you'll often find the definitive range varies from a minimum of fifteen- or twenty-thousand words to as many as fifty-thousand words. Well, at least we know a novel is a minimum of fifty-thousand words… or maybe forty thousand…
Except practically, in the world of adult commercial fiction, you will be hard-pressed to find a publisher wanting to publish anything less than seventy-five thousand words as a novel. Cozy mysteries and category romance, however, can be shorter. Science fiction, fantasy, and horror novels (depending on subgenre) start in the eighty- to ninety-thousand word range. (Yes, of course there are always exceptions.)
As in life, one finds truly hard and fast countable rules only in games or particular situations/systems. In the science fiction and fantasy world that means "awards." Word count is the determinative factor for award categories. Both the Nebula and Hugo Awards set the length for works in the novella category as between seventeen-thousand-five-hundred words and forty-thousand words. The Shirley Jackson Award (for psychological suspense, horror, or dark fantasy) agrees with that length, but the World Fantasy Award considers one word over ten thousand as the distinction between short fiction and novella; the British Fantasy Award considers fifteen-thousand words as the minimum.
Confused?
It comes down to deciding which genre "standard" to choose. For this opening foray at least, we chose to go with fiction between seventeen-thousand-five-hundred words and forty-thousand words. The shortest novella chosen is about eighteen-thousand-two-hundred words long; the longest is thirty-eight thousand.
---
The next question is: why single out science fiction and fantasy novellas for a year's best anthology? Aren't they included in already-published annual series? Well, yes and no. Gardner Dozois and his The Year's Best Science Fiction (Macmillan)—now in its thirty-second year—is about seven-hundred-fifty pages or so. Dozois has the room to reprint several novellas along with shorter works, and he usually does. The Best Science Fiction and Fantasy of the Year: Volume Nine (2015, Solaris), edited by Jonathan Strahan, has at least one novella this year. Our sister series from Prime Books—Rich Horton's The Year's Best Science Fiction & Fantasy (2015 marks its seventh volume)—includes one or two. I usually include a couple of novellas in my own The Year's Best Dark Fantasy & Horror (sixth edition for 2015), but its theme—though broad—is on the dark side. Ellen Datlow focuses solely on horror in her The Best Horror of the Year Volume Seven (2015, Night Shade Books). The Year's Best Weird Fiction (from Undertow Publications, overseen by Michael Kelly with a different editor each year) obviously concentrates on "the weird."
Then, quoting Stephen King from his introduction to Different Seasons (1982):
[The novella is an] ill-defined and disreputable literary banana republic; it is too long to be published in a magazine or literary journal and too short to be published on its own in book format.
In other words, it is hard to find places to publish novellas. More than three decades later, his statement is, to an extent, still true. But in science fiction and fantasy, you will find novellas in some print and online publications, the occasional anthology, and published as (often limited edition) books and chapbooks. Nowadays, they are also being published as standalone ebooks. That's a lot of sometimes obscure territory for the average reader to cover.
There is also the problem of knowledge and access. One of the best science fiction novellas published in 2013 was Black Helicopters by Caitlín R. Kiernan. It was available only as a companion hardcover to the six-hundred copies of the numbered, signed, limited edition of her collection The Ape's Wife and Other Stories. Published by Subterranean Press, the beautiful collection cost $60. Another outstanding novella from 2013 was Spin by Nina Allen, published by TTA Press in the UK. More accessible as far as price, but the average reader—at least in the US—was probably unaware of it. Yet another, "Rock of Ages" by Jay Lake, was published only in an audio anthology, METAropolis: Green Space. Do you listen to novellas often?
Finally, on the artistic level I will quote Robert Silverberg:
[The novella] is one of the richest and most rewarding of literary forms… it allows for more extended development of theme and character than does the short story, without making the elaborate structural demands of the full-length book. Thus it provides an intense, detailed exploration of its subject, providing to some degree both the concentrated focus of the short story and the broad scope of the novel.
In sum, we think we have reason(s) enough and hope you agree. Admittedly, the novellas in this first The Year's Best Science Fiction and Fantasy Novellas are not ALL of "the best" published in 2014. Among other stellar short novels (which, for various reasons do not appear herein) in alphabetical order by author:
We Are All Completely Fine by Daryl Gregory (Tachyon Publications). I'll quote the Publishers Weekly review: "[S]cathingly funny, horrific yet oddly inspiring . . . [b]lending the stark realism of pain and isolation with the liberating force of the fantastic, Gregory makes it easy to believe that the world is an illusion, behind which lurks an alternative truth—dark, degenerate, and sublime."
"Children of the Fang" by John Langan (Lovecraft's Monsters, ed. Ellen Datlow: Tachyon Publications). The unnamed race of reptiles in H. P. Lovecraft's "The Nameless City" is not among his best-known eldritch creations, but Langan takes them and runs with a story of a long-kept family secret that ultimately affects three generations. (I have reprinted this one in The Year's Best Dark Fantasy & Horror: 2015, also from Prime Books.)
"The Regular" by Ken Liu (Upgraded, ed. Neil Clarke: Wyrm Publishing). Liu again shows he is a masterful, highly readable writer with this compelling tech-based futuristic detective noir story.
The Good Shabti by Robert Sharp (The Good Shabti: Jurassic London). A marvelous weaving of two stories—one set in ancient Egypt; the other in the near future where some brilliant, but perhaps now wise, scientists are attempting to revivify a Pharaoh's mummy—that updates the iconic mummy story for this century. (This one will be reprinted in another anthology I've edited, the forthcoming The Mammoth Book of the Mummy.)
"Entanglement" by Vandana Singh (Hieroglyph: Stories and Visions for a Better Future, eds. Ed Finn & Kathryn Cramer: William Morrow). An outstanding hard science-fiction story about ecological disaster that (for a change) optimistically reminds us human beings can help each other, even if they are connected only by a high-tech experimental network.
"The Prodigal Son" by Allen M. Steele (Asimov's, October/November 2014). If Earthlings were to attempt to populate a distant world, transporting only genetic material and not people—what ethical and religious conflicts might arise?
"Grand Jeté (The Great Leap)" by Rachel Swirsky (Subterranean Press Magazine, Summer 2014). Three narratives—Mara's, a girl dying of cancer; Jakub's, her father who has built an AI version of Mara; and Ruth's, the "automaton"—combine for an emotionally resonant exploration of family, love, and loss.
Lavie Tidhar, "Kur-A-Len" (Black Gods Kiss: PS Publishing). A "guns and sorcery" novella featuring Gorel of Goliris. I'll quote the Locus review: "[A]lmost the pure essence of pulp—violent, action-packed, paced like a runaway freight train, politically incorrect, and socially unredeemable." (This, too, is included in The Year's Best Dark Fantasy & Horror: 2015.)
Between the nine novellas republished here and those I recommend above, I think there are enough examples to convince you—if you are not already a true believer—of the worth of science fiction and fantasy novellas… at least until we return with the 2016 edition!
Paula Guran
28 April 2015 International Astronomy Day