Flashing swords and fearsome magicks… high adventure and wondrous wizardry… dread monsters and vast rewards…
"Paula Guran has curated an anthology that could do more for mummy fiction than anything in the past decade, and is sure to bind and capture the imaginations of readers."
Angela Slatter's first U.S. collection features twelve of the World Fantasy and British Fantasy Award-winning Australian author's finest, darkest fairy tales, and adds two new novellas to her marvelous cauldron of fiction.
Kaiju: Every roar from these giant monsters shakes the earth, every footstep wreaks havoc; a simple stroll lays waste to cities and wreaks havoc on all. A truly mammoth compilation of mega-monster stories to feed your need for killer kaiju!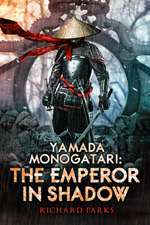 Yamada Monogatori: The Emperor in Shadow
Richard Parks' fourth Yamada Monogatori book (and third novel) finds Lord Yamada helping Prince Kanemore ensure that Princess Teiko's son, Takahito, inherits the Chrysanthemum Throne. Unfortunately, assuming the throne proves to be the easy part . . .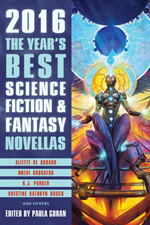 The Year's Best Science Fiction and Fantasy Novellas: 2016
Anthology featuring some of the year's best novella-length science fiction and fantasy. Gathering a wide variety of excellent SF and fantasy, this anthology of "short novels" showcases the talents of both established masters and new writers. (Includes Hugo Award-winning "Binti" by Nnedi Okorafor) . . .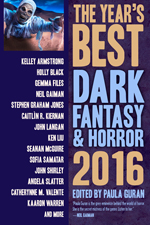 The Year's Best Science Fiction & Fantasy: 2016
Modern authors carry on the disquieting traditions of the past while inventing imaginative new ways to unsettle us. The best dark fantasy and horror of 2015: more than 500 pages of tales from some of today's finest writers of the fantastique—sure to delight as well as disturb.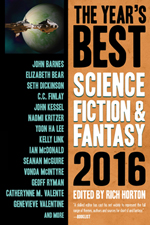 The Year's Best Science Fiction & Fantasy: 2016
Rich Horton returns with the eighth annual edition of outstanding science fiction and fantasy by some of the genre's greatest authors: your guide to magical realms and worlds beyond tomorrow…
Winner of the British Fantasy Award! "In these extraordinary tales, American Book Award-winner Due uses a clear-eyed view of history to explain (but never excuse) the present . . . Even facing the end of the world and what comes after it, Due remains in control, carefully unveiling characters' thoughts and feelings to her enthralled readers."
See our catalog for a complete list!
Save